[bsa_pro_ad_space id=1]
When I think of "Square", it's inevitably one of two companies: Square Enix, one of the world's foremost creators of video games, or Jack Dorsey's Square, Inc.
There is a third Square, and that Square is Square Mobile: a local development house born 4 years ago in the picturesque halls of Peradeniya University and bred in the fairly closeted arena of Sri Lankan app development. Their specialty is customer engagement: by tapping into the vast majority of citizens who still prioritize SMS over email and the like, they've helped businesses redefine how they promote themselves. Recently, they've been making the rounds with Topnotch – their  "Customer happiness platform", as they put it: an ambitious, multi-channel system that pairs loyalty schemes with customer analytics – both inside the shop and online across social media.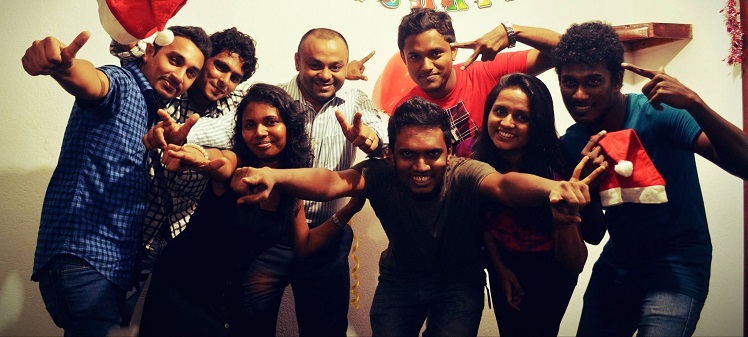 Square Mobile is still on the path, as it were – something tells me their defining works still lie ahead – but they have the courage of their convictions. They're focused on products, and they believe services are not the way forward for Sri Lanka – a fairly bold claim given that the service industry contributes the majority of Sri Lanka's IT-based income. They're not too big on the idea.
And so, the board set, we talked to Tharindu Dassanayake, the CEO and founder of Square Mobile, and to Asanka Nissanka, the soft-spoken software engineer who's been in and out of Square ever since it began as a college project.
THE STORY OF SQUARE MOBILE
The whole thing started when Tharindu and a bunch of friends decided to make an app for the Etisalat App Zone.
Tharindu was in his second year at the university of Peradeniya. He had absolutely no desire to set up a startup; he simply wanted to make apps. He had friends who agreed. They came up with an app called Word Puzzle: an SMS-based English-ed game that ended up hitting the top charts – this would have been back when Telco applications had yet to experience the huge surge they're going through right now. Mbillionth – the South Asian award done by the Digital Empowerment Foundation – featured them. Etisalat helped out with the marketing, nurturing this first batch of app developers.
Four years later, the app was in Nigeria, running on top of open-source APIs the Square guys had cobbled together. But for the moment, Square did not really exist – it was five friends hacking away, all from different departments. One of these friends was Akila Wijetunga; she and Tharindu were Square Mobile's original founders. Another was Madura Pradeep, with whom Tharindu launched multiple projects, hacking out stuff that they thought were cool. Most failed.
One was for the travel industry – something to help people find things to do around them. Gyppzy, as it was called, was a good experience for the fledgeling developers. A friend of one of their fathers had a great deal of experience in the travel industry. They started talking to him to define what Gyozy could be, popping over to his place for long meetings in the evening, inadvertently coming across the critical process of listening to the customer.  They also had friends working on companies in Colombo, so when they came back to Kandy on Fridays, the Square Mobile folks would meet them in restaurants and discuss the more technical aspects of getting stuff done. Everyone was keen at doing something, but no-one really knew what: realizing that they needed a base to start with, they started meeting customers to try and suss out their needs – a rather complicated process, given that Peradeniya was some four hours away from Colombo, where everything happened.
They did run into difficulties. They'd have to cut lectures to make deadlines meet; most of the lecturers were good with it, but they ran into difficulties nonetheless. Tharindu had to stay back three months after graduation to complete his degree.
And despite a grant from Spiralation, ICTA's incubation program, they couldn't make gyppzy.com scale the site still runs, but it wasn't the success they wanted. Another of these products was an SMS messaging API that let customers create and push out personalized SMSes. At the time, it wasn't making any money, but the seeds of Square Mobile were there.
Eventually university ended, and so did the collective. Akila, succumbing to parental pressure, left; her liking for studies led her to work on an M.Phil at Peradeniya. One of them departed for MAS.
Asanka Nissanka, who had worked with them right up to the end of university, realized he needed some level of industry experience to see how things actually worked. He applied to 99X. He would return a year later.
That left just Tharindu and Madura.
MAKING THE LEAP
Initially they found a place in Kandy, but it was too far to be of much use, especially with the meetings: most businesses had head offices in Colombo. They made it through to Borella, in Bawa's place, in front of the Keel's Super. The Word Buzzer app, working from its Nigerian userbase, was helping keep things afloat, bringing in about a hundred thousand rupees a month – but they were still bleeding money.
They pushed ShoutOUT. One can only assume that worked well, because I have on my table a flyer from Saaraketha, stating that ShoutOUT nets some 40% of their online sales. In February 2014, Harshi Samarasekara joined to run their marketing. Six months later they needed another developer. And later, Asanka joined them. Saaraketha, Gonuts with Donuts and Arabian Knights are now among the 15 SMEs currently pushing out personalized messages using the ShoutOUT service
While all of this happened, they had also discovered MIT's Global Startups Lab program, which was happening in Sri Lanka. They, together with some other participants from the University of Moratuwa, brainstormed a rough concept called Topnotch. Spiralation picked them up. They made it through MIT GSL. In February they went to the Mobile World Congress, exhibiting both TopNotch and ShoutOUT, gaining another team member in the process. The curve was heading up.
Topnotch today has yet to hit the mainstream market, so whatever Square Mobile is cooking up is theirs to show or tell. One thing it brought, though, is opportunity. The Square team ended up with the run of MWC in Spain, Innovfest in Singapore, and Tharindu went on study of the US startup ecosystem.
That journey was an experience in itself, says Tharindu. He toured Kansas, Silicon Valley and more, taking in the culture and bringing as much as possible back here to their own business model.
"What I learned was that they have a failure culture," he enthuses. "They don't have a big problem with failing; whereas here in Sri Lanka, failure is a huge thing, and that makes us not take risks. There investors are extremely mature, and that support system, the incubators, really helps. In Kasas, I got to go to the startup village, and that was brilliant. We take too long to go to the market, our ideas are too small, and we don't fail fast and move on to the next one."
OF COURSE, NOTHING IS EASY
Initially, they had to deal with how far their home turf is from the action.
"The biggest barrier to us in Kandy is that we don't have a lot of resources, and getting to and from Colombo is difficult," says Asanka: "Actually, there's a lot of stuff happening at the university of Peradeniya, but nobody hears of these things. Moratuwa and so on are well connected, especially with the press, but Peradeniya is far away, and for a company to even get there requires both budgets and determination. Students also should have the dedication to make the rounds for exposure. "
Then there were also parental concerns to deal with. They've settled for telling their parents that if it doesn't work out, they'll find something else to do. There's also the problem of attracting people: in Sri Lanka, a startup is rarely considered an attractive career move.
If someone invented a time machine and gave it to them, I ask as we wrap up, what would they have told their past selves just coming out of uni?
"The first thing is focus. Most startups do services and pet projects. I strongly believe that services are the lazy way to become an entrepreneur; take the risk, do products.
"How most startups seem to come is they're working somewhere, and they get a customer, and they set up a company to do this. In that case, you're not seeing anything new coming. It's sure money, but your project isn't admired or recognized for being your own. That's why we wanted to go build our own products – it's not about delivering a quotation: it's a product, and if it's good, people use it. It takes a bit of courage to make a product and get it to work. You can't do the next big thing while being a service company. We should focus one one thing, build products. Sri Lanka is popular is a destination to outsource. We should change that perception. Perhaps the reason most startups take this route is because there's not a lot of money coming in, but I think people should take the risk."
"We had this issue ourselves," confirms Asoka. "We still get so many requests, ideas, and so on. There was time when we were doing several projects, but what we found was that you need to focus to do the best work.
The other main thing is you need to bring take your ideas outside. In Sri Lanka, startups don't like to express ideas; they play it close to the vest. In Singapore, we participated in a couple of events where startups get together and pitch ideas in a co-sharing space. That kind of mindset is still not here: we try to protect out ideas and release later. By the time it's released people figure out that they could have done it better, or that someone else had beaten them to the punch."
Future plans? They intend to work on TopNotch: after all, the thing's generating quite the buzz – even without many people seeing the end product.
"After MIT GSL, we had a few investors approaching us, but we figured it was better to focus on the product and the customers best. We still haven't been through the process, but right now I believe we have to validate a product and get more money onboard when we want to accelerate and scale. At this moment, I don't think we need investors. In the future – who knows?"