On the 20th March 2013, the Google Summer of Code winners (which included 1-APIIT, 1-SLIIT, 1-UCSC, 4-UoP, 28-UoM) were awarded souvenirs from higher education minister S.B. Dissanayake who was the chief guest.
Some key participants were Julian Persuad, Managing Director of Google for Sales and Operations in South and South East Asia, Rohan Jayaweera, Google Sri Lanka country consultant and the staff of University of Moratuwa.
Sri Lanka continues to record significant achievements in the international arena by winning the highest number of awards at each of the annual Google Summer of Code (GSoC) competitions held from 2007 to 2012. This is a significant achievement for the students in Sri Lanka placing them internationally among well-off countries like USA, India, Canada, China and Germany with better programming expertise and larger student population.
This global software development programme is organized by the search engine giant Google targeting universities. Students from all over the world are invited to apply, where successful applicants are awarded stipends to write code for various open source software projects of renowned organizations.
Google, in collaboration with several open source, free software and technology-related groups identify and fund several projects over a three month period. Since its inception in 2005, the GSoC has brought together over 1,500 students from all parts of the world with over 130 open source projects. Since its inception in 2005, countries such as USA, India, Canada, China and Germany have been key players in the programme.
Despite the small population of the country, Sri Lanka has still managed to be in the top ten with respect to total participation for the last 7 years. But the most outstanding feat is that, although countries such as USA, India and China have secured the top positions for total participation, none of the Universities in any participating country could boast a count of 164 awards from a single University over the last 7 years, which the University of Moratuwa has managed to achieve.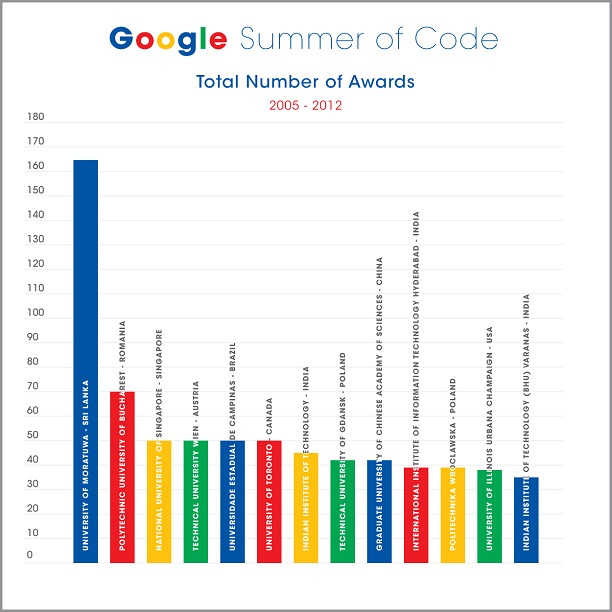 Any university student in Sri Lanka can apply to participate in the GSoC 2013 by visiting here. Student entries will be closing on May 3rd.
The event pictures could be found here
Have something interesting and IT related to share? email the [email protected]