Monash University prints not one, but two jet engines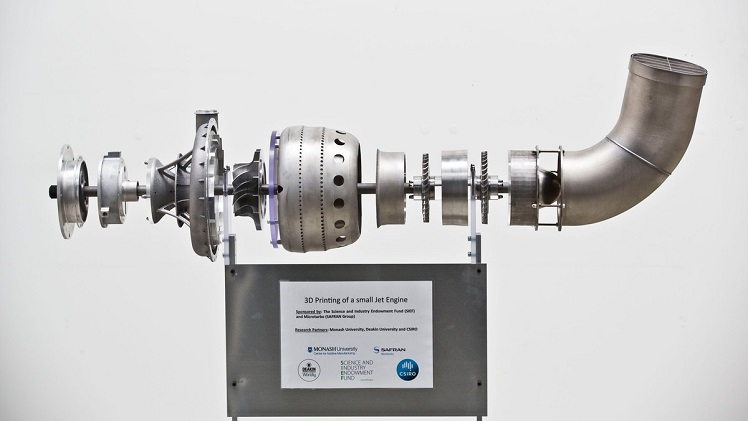 We've seen a variety of stuff get printed. From toast, to pokemon, to 3D selfies. But how about something a little more unorthodox?Researchers at University of Monash in Melbourne together with the CSIRO and University of Deakin have printed not one, but two metal jet engines.
The proof-of-concept prototype in partnership with Amaero Engineering, has already gained attention of international aerospace companies such as Airbus, Raytheon and Boeing.
The use of 3D printing in the aerospace industry can actually be beneficial as it helps with reducing the length of time spent on a project, creating a lighter engine while reducing operational and production costs. Using a printed model, engineers can reduce wastage by up to 90%, leading to both a reduction of cost, and a reduction in the environmental impact from manufacturing.
The researchers were given an old auxiliary powered gas turbine engine by French aerospace supplier Safran that could be pulled apart and copied using a 3D printer. The process, known as additive manufacturing, allows the powder form of metals to be melted and then fused together into objects using a laser. It also allows the printing of two components at once as well as designs to be tweaked more easily and parts to be printed as needed.
The researchers are currently doing cost analysis to compare the printing of parts using the new technology, with parts that should remain manufactured in the traditional way. Then there's the testing to see what parts of the prototype would be worth producing on a larger scale for aerospace companies. Already, Amaero has been commissioned to make hundreds of prototype fuel injectors for testing.
The Netherlands will have a Wind Wheel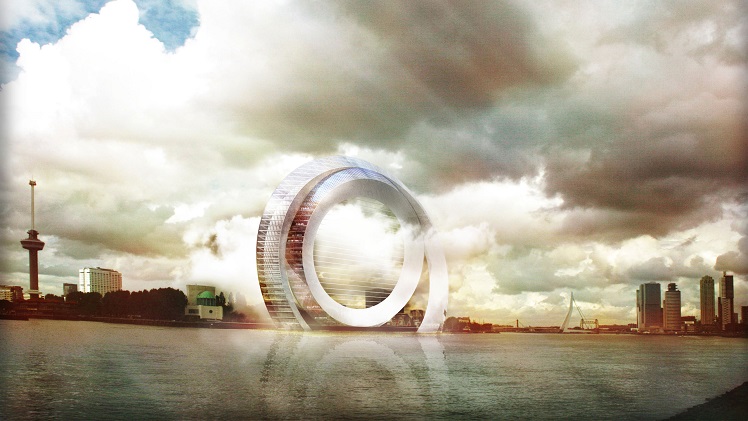 So the Netherlands could be getting a somewhat unique landmark.
An association of Rotterdam-based companies is proposing a building called the Dutch Windwheel, 571-feet tall, that would act as a roller coaster, an apartment complex, a hotel, a restaurant and finally, a bladeless wind turbine that would generate electricity.
The bladeless wind turbine would work on an electrostatic wind energy converter, which was developed at Delft Technical University. The converter is forged from a framework of steel tubes that would span the center of the building. The tubes capture the tiny electrical charges of particles in water droplets that travel through on wind currents. Also because there are no moving parts, the turbine is virtually noiseless and requires very little maintenance.
In addition to capturing wind energy, the structure would also be equipped with photovoltaic thermal hybrid panels that harness sunlight for additional electricity. Reservoirs would collect rainwater to be used in the building for flushing toilet or watering plants.
The Tablet that turns your iPad into a Holographic Projector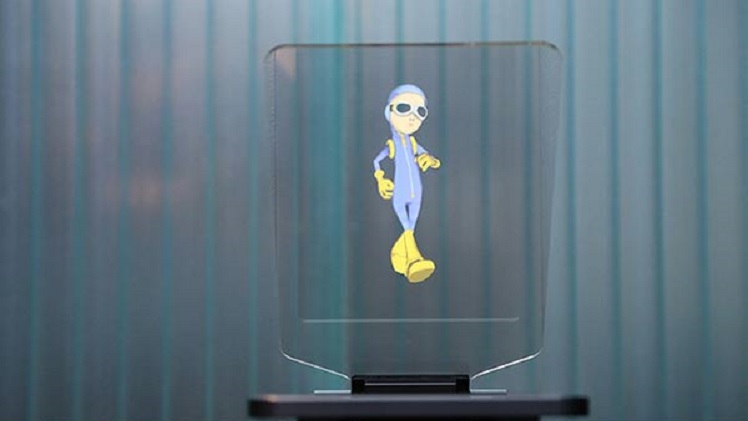 Now here's something cool.
A device called the Holocube HC tablet is able to transform your iPad into a holographic projector. The tablet's transparent synthetic mirror has a solid hinge at a 45-degree angle that is able to capture moving media on the screen and projects it into the air.
Since the device allows users to turn 2-D images into 3-D, the device could actually make holographic technology available for home and family use.
H+ Technology, the company behind Holocube, will launch its Kickstarter crowdfunding campaign on March 18, 2015. It hopes to raise $100,000 to help kickstart the project. A price for the Holocube Tablet has not yet been revealed, but participants in the Kickstarter round could get one for around $500.