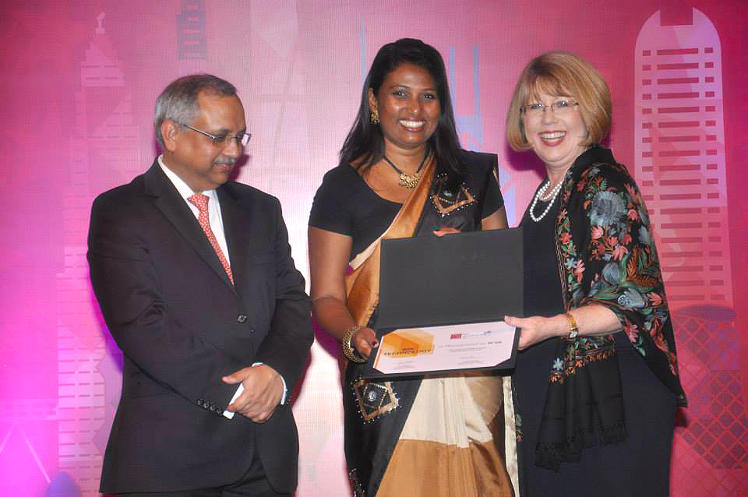 99X Technology Process and Delivery Manager Shehani Seneviratne receives the Asia's Best Workplace award from a representative of Great Place To Work Institute at the awards ceremony, held in Mumbai
Software engineering firm 99X Technology makes the news quite a lot, and this time it's because they've been recognized at the Great Place to Work Asia Awards Ceremony in Mumbai. To wit, it's named as one of the Best Workplaces in Asia, making it the only Sri Lankan company to ever claim that award.
To quote 99XT: "The company won this accolade in Asia's Best Small and Medium Workplaces category, and is one of 60 organisations in the Asian region recognised for dedication towards sustaining high-trust cultures for employees. Putting their people first is a key priority for these companies and these workplaces have been distinguished by their extraordinary levels of trust, pride, and camaraderie."
"Being ranked on this esteemed list is a landmark achievement for us, both as a company and as a Sri Lankan entity representing our ICT sector on a global platform. We are truly honoured to be recognised in such an arena, for our efforts in improving the lives of our people and look forward to being a leader in pioneering workplace practices, spearheading the way into this fast-evolving economic age," stated 99X Technology Co-Founder and CEO Mano Sekaram, commenting on this accolade.
The current win places 99XT among global powerhouses including Google, Microsoft, Marriott, American Express and Hyatt, among others, all of whom have been listed on the inaugural index of Best Workplaces in Asia.