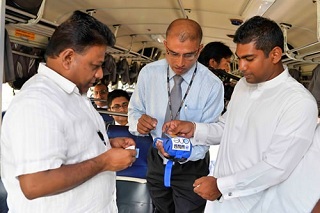 A few days ago we spoke of how mobile giant Dialog Axiata is to soon go on a field trip with their "TOUCH Travel Card". However, from the looks of it, Airtel has already hopped on the bus with their e-bus ticketing mechanism with their NFC enabled multi-functioned payment system.
Also read Introducing the Touch Travel Card in Sri Lanka
Before any of us launches into our own speculations, let us put the required institutions and details in place:
Airtel Lanka and Airtel Enterprise Solutions
Hatton National Bank
Sony FeliCa (contactless RFID smart card or e-money cards)
Matara Passenger Transport Company
The e-bus tickets will be made available on 225 long distance buses that belong to the Matara Passenger Transport Company and the payment system on the 'HNB One Card' (a NFC payment card launched last Christmas). This means, we can all stop worrying about getting our wallets picked when asleep.
According to news sources, the e-bus ticket would soon translate to being made available for ATM transactions, other transport facilities, expressway toll stations, drive-through restaurants and supermarket and fuel stations.
About the 'HNB One' Card
For those who don't know, the 'HNB One' card is a NFC enabled ATM and (global) debit card. Keeping in line with the NFC card branding of "tap and go", a long-term use of HNB One includes faster checkout counters replaced by Point of Sale network with NFC-enabled machines that would not be dependent on inefficient cashiers. 
So here's a closer look at what "HNB One" partners would be doing as part of their collaboration.
Airtel Lanka
Reason(s) for partnership:
The connectivity technology for the complete system
Sony FeliCa
Reasons for partnership:
Renowned for secure and authentic transaction platforms
Provides the required NFC technology with the contactless IC card
First in South Asia! (maybe Asia too, it seems)
The "FeliCa Card" has the highest security and encryption standards as per the 2004 NFC Forum. The card entails wireless communication technology operating at 13.56 MHz over a distance of about maximum 10 cm and greater transaction speeds of 0.1 seconds or less to complete reading and writing data in to the card with highest encryption standards.
Smart Metro
Reasons for partnership:
Local software application development company specialised in NFC technology
Familiar with Sony FeliCa technology
Would supply NFC enabled terminals (such as bus ticketing machines)
Matara Passenger Transport Company
Reasons for partnership:
Dummy project required!
If a success would be highly beneficial for private bus owners, conductors to function more efficiently and for passengers to travel at ease without being a victim of malpractice and annoyance.