So, last Wednesday we found ourselves at the Airtel Sri Lanka's Digital Calendar Launch Event. Curious as you are, yours truly walks up silently having no idea what this is all about.
After a brief wait, Airtel's Head of Brands and Marketing Communications – Charith de Chickera starts the evening's proceedings displaying the following phrase on screen – #shareyourworld. And remarks – We all have a new language through which we communicate these days. Not English or Sinhala, but it's through images, memes, or vines…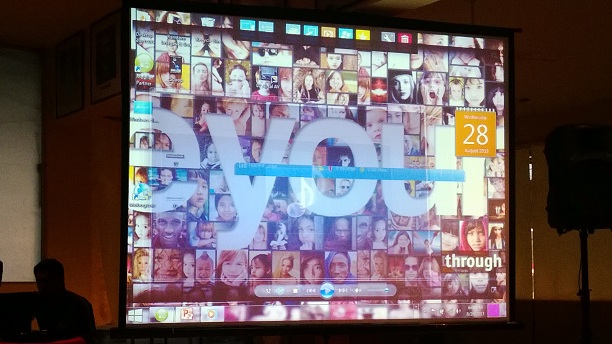 A video played next which showed happy people having fun times, viewing /taking pictures, posting up pics, and icons of several top social networking sites along with the phrases 'sharing is a primary human purpose,  sharing enriches lives and we strongly believe in it' started giving us an idea of where we were heading to. And ended saying 'airtel invites you to share your world with us'
[youtube]http://www.youtube.com/watch?v=aqW32t0bEqg[/youtube]
Charith explains: We all have different angles in viewing the same thing. Each of us have a different perspective about what our country is. And at Airtel, we want to showcase what we think of Sri Lanka to the world. For that, we will be making our 2014 calendar with content with a Sri Lankan flavor.
So, Airtel has launched a competition on their Facebook page where fans can submit an image / meme / vine, which displays a fresh, novel and meaningful perspective of being a Sri Lankan. Out of the submitted lot, the top 25 will be shortlisted, and chosen to be featured on their 2014 desktop calendar.
Conditions
Open to anyone on the Facebook community

Should be original (No copying stuff from SL Memes!)

Have to be Sri Lankan in context

Any number of entries can be submitted
Summing it all up, Airtel wants to mine out the loads of creativity which is ever so present on the online world, and give it a serious place in the real world – your desk-top!
So get ready with your cameras and PC's people! Let's show the power of Internet Memes to all those desk hugging cave men from the previous era.
Have something interesting and IT related to share? email the [email protected]