Dell's Alienware Division, which is basically the Special Forces of Dell's PC Business, recently unveiled its latest flagship Area-51 gaming PC.  Rather than simply updating the spec sheet to match the times, Alienware has gone completely berserk with its insanely cool chassis (they're calling it the Triad design). As a result, the new Alienware top dog looks absolutely gorgeous and refreshingly different. It's almost a gaming industry take on what Apple did with their (in) famous new Mac Pro.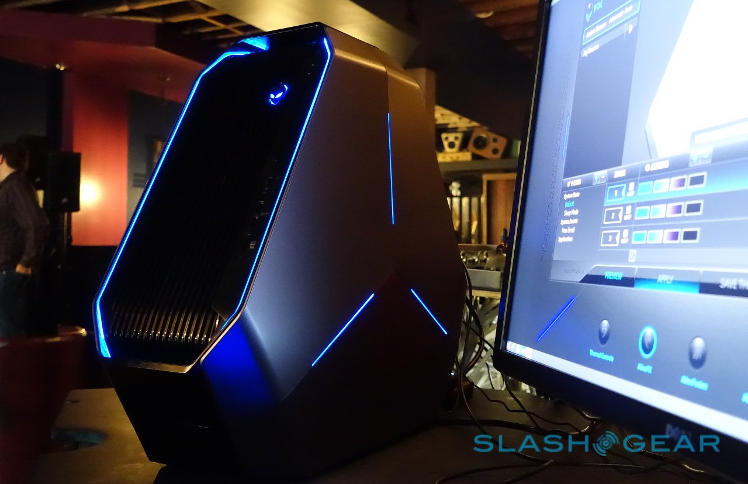 However it's not all show and no go. The new design according to Alienware offers a host of benefits to the user apart from the jaw dropping chassis design.  The new design allows better airflow especially when placed against a wall. The hot air is exhausted at the back upwards thanks to the new angular edges.
Apart from the design changes, the new Area 51 introduces DDR4 RAM,  Intel's all new Haswell-E CPUs and the X99 Motherboards. They're also rolling out the Alienware Command Center 4.0 software which allows a host of customizations from lighting, overclocking to maintaining hardware profiles. Apart from that, there's apparently enough space for three graphics cards.  According to Alienware, they're good for up to 3 Ultra HD 4K displays – a mind boggling 11520×2160 resolution for those who want to play Powerpoint presentations rather than smooth games.
The pricing for this behemoth is still not announced but it's surely going to cost an arm and a leg for most of us – you'd likely be able to build yourself something better for the money. It's still got brand appeal, though.
On paper the new Area 51 looks like the next killer gaming PC that we all want but can't afford. Here's hoping that someone lands a unit in Sri Lanka when it supposedly launches in October.
This isn't the only thing we're looking forward to. There's also the Alienware Steambox, a roughly $550 device that Techradar got to try out at E3.