Ladies and gentlemen, welcome to bestweb.lk. A site which looks uglier than ye typical high school keyboard warrior's blog, judging "the best Sri Lankan websites" and handing out a few awards. Oh, and read the terms above. You also get to attach that really ugly logo to your website. Free pngs for the win, eh? Oh yes, and you get to find out who won the "Best 'Sinahala' website" award and numerous others.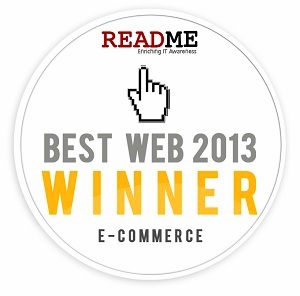 But are these websites actually deserving of their titles? Are the picks unbiased and fair? Who are the judges – people with relevant experience or is it done in lottery fashion? Are the criteria even relevant to judging the best Sri Lanka has to offer? Do they indicate the importance of a site to the local websphere?
We at ReadMe don't think so.
So without further ado, let us present…
THE #ALTERNATE BESTWEB 2013.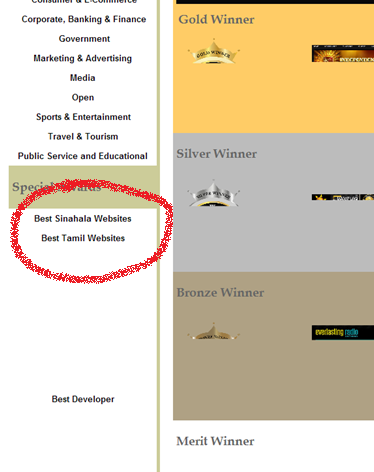 A daily, part-by-part series dedicated to recognizing the true best websites in Sri Lanka, something that we're qualified to do. Disclaimer: We understand how websites work. We believe in design, form and function. We have a website that doesn't look like Clipart from the 1990's. We can also spell right (see left screenshot).

We will NOT be relying on the apply-only list that Bestweb.lk uses. Why? Because the best websites haven't applied (who would?). That's right: only a tiny fraction of .lk sites are there, and to give an award to one of those calling it the "best website in Sri Lanka" seems pretentious. It's all or nothing.  
Firstly, let's start off by saying that we disagree with the "Consumer and e-commerce site" label. Why? Because it makes no sense. Look at the winners of the 2013 Bestweb. Lumped in there, in this category, you'll find Tasty.lk, a beautifully designed website that has notable similarities to Yamu.lk in both form and function: yet you find Yamu elsewhere, winning the Travel and Tourism category. Either this is bad judging or bad categorization. We, in the hopes that it is the latter, will go with Sri Lankan e-commerce sites in one category and Consumer sites in another.
BEST SRI LANKAN E-COMMERCE SITE
GOLD
Bestweb.lk pick: Anything.lk
Our pick: Ikman.lk
Reason: Anything.lk is successful, but in terms of intuitiveness, simplicity of design and effectiveness, we find ikman.lk quite a few leaps ahead. This is the site that lets you pick your advertisements based on your locale. Not to mention it features everything from electronics equipment to jobs, all coherently browsable. Setting up an advert takes just minutes. No, it doesn't have the dark bling of anything.lk: it's clean, open and a damn right easier to use. It also looks less like a WordPress theme.  Ikman is the modern wow.lk
SILVER
Bestweb.lk pick: www.odel.lk
Our pick: www.odel.lk
Reason: One of the few times we agree with the Bestweb.lk folks. Odel.lk is a great website. Clearly at least one of the judging committee, at some point in their lives, has been too lazy to go to all the hassle of actually visiting the store.
BRONZE
Bestweb.lk pick: www.aviratefashion.lk
Our pick: www.sarasavi.lk
Almost Mac-like, the Sarasavi website is a great blend of minimalist design and functionality. The Odel website takes similar steps in a slightly more spirited artistic direction. Sarasavi clocks in second.
Notable mentions:
Laabai.lk – Powerful design, but woefully little items for sale. Laabai.lk is definitely going places. Their services are also as good as their site. Given enough items, we see this becoming the #1 online retail marketplace in Sri Lanka very soon.
Fashionbug.lk – A great site that is trumped by the winners. It's doubtful whether the site catalogs their entire stock. 
Wowmall.lk – Ironically enough, this site seems to be based on the Anything.lk software (or run by Anything.lk). Why we like it? A clean, intuitive design that stands out head-and-shoulders above the rest with their cluttered home pages, epilepsy-inducing blinking ads and the whole nine yards. It has an extremely limited list of products, but more and more companies (including Breadtalk, Dialog and the Hilton) are offering services there.
Wow.lk – What, did the judges suddenly forget the existence of wow.lk? Sri Lanka's venerable and much-followed classified site is still hanging in there thanks to a design update that makes it easier than ever to find the stuff you need. Though on the decline, it still gets this mention due to content and for bringing the e-marketplace to the masses.
*WINNERS RECEIVE PERMISSION TO USE THE README BESTWEB 2013 AWARD GRAPHIC ON THEIR WEBSITE. It's no big deal, you can grab it off the top of the article. Didn't win? Talk to us and we'll let you have that shiny badge.