Google I/O recently concluded on the 27th of June 2014. Honestly, it was more along the lines of Android I/O because all the buzz was around the sneak peak of the latest Android OS tantalizingly codenamed "Android L" (we suspect this stands for either Lollipop, Laddu or Lunu miris).
Interestingly, in his keynote speech, the senior vice president of Google, Sundar Pichai addressed one particular point: the slow adoption of smartphones in the Indian region (Pichai's homeland). He stated that Google would embark on an initiative to help the country along: Android One.
Now some people seem quite confused as to One is, and some readers may not know it at all. Android One – the project – is designed to allow local hardware manufacturers (OEMs) to build smartphones that are cheaper while offering a good value for money performance in comparison to higher tier brands. This, in turn would enable more people in emerging markets to be able to afford a smartphone. That's the long and the short of it.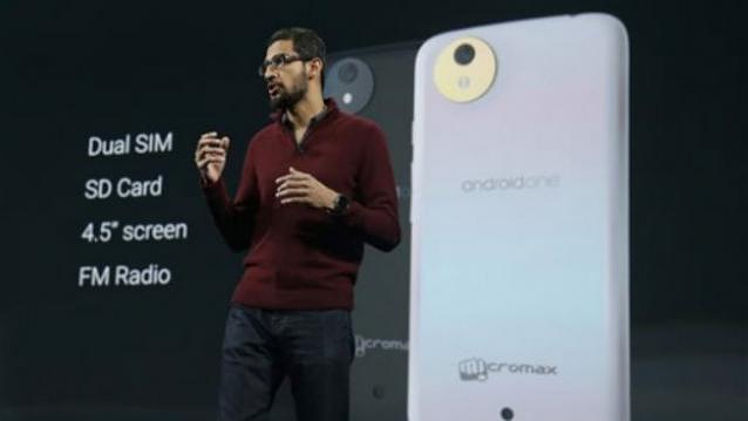 Pichai walked on stage with the following statement; "When I go back home to India and other countries like that, it is exciting to see the impact phones have on people's lives, but it's disappointing that only less than 10 percent of the population has access to smartphones. We want to change that."
He showed off a phone: none other than a prototype Android One, a spec that seems especially tailored towards an Indian market – a 4.5 inch screen, dual SIM cards, FM radio and a swappable memory card – for $100 and below. Yes, the Android One platform will be a specification for a feature packed device starting at the 100-dollar mark. That's about LKR 15,000. These phones will run on a stock version of Android, hooking up to the Play store like you'd expect any modern Android to do.
"We can bring high-quality, affordable smartphones so that we can get the next billion people access to these devices," Pichai stated. "We are going to be launching this around the world, but we start this journey in India."
Npw to do this Google has partnered with some of India's largest mobile equipment manufacturers: Micromax, Karbonn and Spice. Now these brands may be unheard of or vaguely popular over here in Sri Lanka, but in India, they are literally selling faster than ye average cupcake. In fact, Pichai demonstrated a Micromax phone he'd been using – a phone designed specially for this project.
Interestingly, Android One presents the world with a curious issue. By helping smaller manufacturers make cheaper phones, by unifying that experience and helping them up, Google's actually stealing some of the low-end thunder from companies like Samsung and Sony, which have thus far been catering to the low-end Android market (albeit not with the specs one can expect). Like the Nexus, Android One is a statement from Google: this is what you should get for this much of money, It certainly makes sense to begin in India – a huge population, low smartphone penetration, huge potential for growth and companies that are already redefining budget smartphones – it's got them all. How this works out internationally, we'll see….soon.