This is a sad way to start a month. Today, the 3rd of February, is the final day of operation for what was always one of the best gaming journalism sites on the web: Joystiq.

If you haven't heard of them, Joystiq is a video game blog that began life in 2004. It's got – or rather, it had – some of the finest video game journalism on the web. While other sites were busy posting top ten lists and clickbait photos of Zelda cosplays, Joystiq stuck to its guns. They wrote good content. They built a massive community. They explored the waters of a multi-billion-dollar industry bigger than anything Sri Lanka's entire tech industry put together.
Now, AOL – the company that owns Joystiq – is pulling the plug on an operation that's been ten years in the running and folding the name into Engadget, another of their properties. TUAW – The Unofficial Apple Weblog, something I haven't really had much experience with –
will also be shut down.
Cruelly, these were deaths that Re/code reported – Joystiq ran a quirky piece investigating their own demise, but you can see things were crashing in the background. Apparently the AOL staff hadn't done told them yet.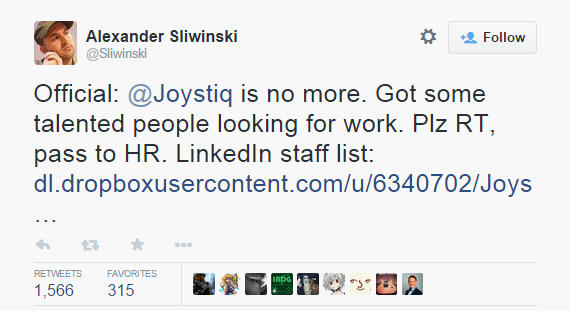 I'm not here to explicitly vilify AOL, though I don't understand their reasons for shutting down the blog. Finances? AOL made money. 18% year-over-year growth.
Traffic? Joystiq had traffic. Especially in the United States. SimilarWeb estimates it got 5.3 million visitors in December last year.
Now, that's probably nowhere near what the Huffington Post, TechCrunch and Engadget (yes, all three are AOL) make, but hell, that's a lot. I guess to someone in the management makes sense to fold all the tech content into Engadget rather than operate a separate site.
Ten years is a long time on the Internet. Ten years ago I was jumping up and down in excitement as my father unpacked my first PC. Ten years ago we had dial-up Internet and would have a cup of tea and a biscuit while waiting for sites to load. It's a rude shock to hear that something so old and so respected can die just like that because some faceless VP decides to pull the axe.
Brian Crecente – News Editor at Polygon, one-time editor at Gawker Media's Kotaku and Joystiq's chief competitor, said it best in this eulogy:
"Game journalism is a profession that at times hinges on telling people bad news, what they don't want to hear, essentially being the messenger that everyone wants to kill. And then expecting those same upset people to support them.
It's a tricky line to walk and anyone, any site that can do it for as long as Joystiq, doesn't deserve just accolades, it deserves to survive."
It's not easy to build a company, a brand, an entire site on game journalism – countless others have tried, even myself. It's not easy. It's hard to stay honest and still make money. It's hard to be a blog and build a brand. It's hard getting a comment that's not from a spambot. It's hard to write day-in,day-out about games and keep 5 million people coming back to read what you wrote. Joystiq deserves better.
Farewell, Joystiq. You will be missed.
Drop by www.joystiq.com/tag/joystiq-presents/ for the staffs' stories on how Joystiq happened over the years, massively.joystiq.com/2015/01/30/massively-that-was/ for Massively Editor Brianna Royce's farewell.