APEA Recognizes PCH Chairman S.H.M Rishan for Entrepreneurial Excellence Mr. S.H.M Rishan, the Chairman of PC House PLC the leading ICT solutions  provider to the nation, has been presented the coveted Outstanding EntrepreneurAward at the annual Asia Pacific Entrepreneurship Awards organized for Sri Lanka by Kuala Lumpur based organization, Enterprise Asia. This accolade, which is  recognized on a national and regional level, recognized the trailblazing efforts of Mr.  Rishan and his significant entrepreneurial achievements.
The development of PCH from a micro-scale, single proprietor business into the  diverse trendsetting corporate entity that it is today is in itsel  a testament to the  entrepreneurial skills of Mr. Rishan. Further PCH's diversification into various fields  including ICT products, services & solutions, mobile handsets, GPS navigational  systems and setting new standards in the industry by island-wide branch expansion  and introduction of IT Super Store concept to the local market by establishing of its  flagship showroom chain "PCH 9 to 9 super stores" and competing effectively with  local and international corporate powerhouses is a hallmark of the innovative  entrepreneurial strategy being adopted, allowing PCH to achieve the necessary  biennial accumulative turnover of over 50 million US$ through tenacity and novelty making Mr. Rishan eligible for this award.
PC House PLC was originally established in 1997 and during its short tenure in the  industry fledged in to a Group of companies which offers a complete product  portfolio in ICT, including ICT products, services and solutions. In 2005 he embarked  a journey in investing in diversified businesses by establishing PC Pharma, an  organization destined to promote health to the nation. Taking the benefits of this  profitable organization to the investor public, he took the organization to the Colombo  Stock Exchange. A Majority stake buyout by him of Orient Garments PLC saw his  strategic venture in to the prospering Apparel sector while a premeditated entry to  Activated Carbon was witnessed when he brought over Biecolink Carbons Lanka  Private Limited, Sri Lanka's second largest activated Carbon producer and exporter.
He also formed PCH Holdings, an investment and consultancy driven holdings  organization to which Biecolink, Orient Garments and PC Pharma are now  subsidiaries of.  The title of Outstanding Entrepreneur of the Year is open to individuals who have  steered a business that proves perseverance, tenacity and continued innovation and  diversification, while positively responding to competition, environmental factors and  adverse situations. This must be a benchmark for positioning themselves as leaders in  their respective industries and fields, inspiring future entrepreneurs. 
Commenting on receiving the award, Mr. S.H.M Rishan said, "It is indeed a privilege  to be recognized with this award for entrepreneurship amongst a host of candidates  from a multitude of fields. It is a testament to the adaptability and diversification  process that has made PCH the growing corporate entity that it is today. This award  recognizes entrepreneurial excellence and seeks to give benchmarks and role models  for future entrepreneurs; it is indeed an honor to be counted among corporate  innovators. This award also opens up opportunities for partnerships with other  enterprises within the region, opening doors to network and share business  opportunities with other entrepreneurs and affiliated companies throughout the  region."Enterprise Asia, the organizers of the Asia Pacific Entrepreneurship Awards has a  vision of creating an Asian region that is rich in entrepreneurship and employs it as a  source of progressive and sustainable economic and social development.
Their main  objective as an organization is to cultivate a culture of corporate integrity and social  responsibility within Asia. The APEA awards were started as a means for recognizing  outstanding entrepreneurship and have now evolved into a credible mark of  professional excellence for entrepreneurs within their respective countries.
The president of enterprise Asia Mr. William Ng said that "Given the economic  challenges the region is facing, the need to promote and encourage entrepreneurship is  even more urgent. We have already seen how the European debt crisis has affected all  of us in Asia. Whilst the West can be our friend some of the time, do not make the  mistake to think that they will continue to be our friends all the time. We must  mitigate our risks by enhancing intra-regional ties within Asia." He further stated "This year, one of Enterprise Asia's key initiatives is the launch of Invest Asia. Invest  Asia is a multi-prong framework to encourage intra-regional trade and to match  successful businesses across boundaries with an aim for capital appreciation and  market development." "A world without entrepreneurs will be devoid of innovations and competitiveness – the very essence of humanity and progress. Here in Sri Lanka,  after two decades of ethnic tension and civil war, the need and urgency to promote  entrepreneurship is never greater than now. Through a vibrant entrepreneurial climate,  Sri Lanka can and will move towards becoming a more stable, prosperous nation and Sri Lankans can expect a better standard of living and insulation from global  economic uncertainties."
PCH is the new corporate brand identity for PC House PLC which is listed on the  Colombo Stock Exchange. The new brand identity reflects the change from a family  owned business to a public company with a vision to be the benchmark for ICT in SriLanka. PCH was recognized as the 50th most valuable brand in Sri Lanka for 2011, in  the Brand Finance with an A+ brand rating. Its Board of Directors consists of Messrs  S.H.M. Rishan, Mangala Boyagoda, Sarath Wikramanayake, Modarage Thilakasiri,  Shanti Kumar Nadarajah, Kuvera de Zoysa and Mrs. Sharmila Rishan.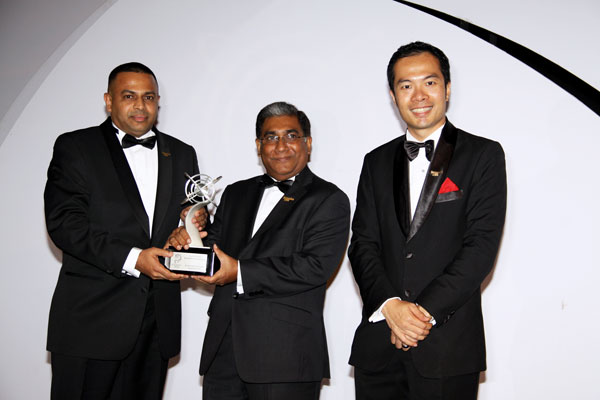 In the photo: Mr. Rishan (left) accepting the award from Mr. Russel De Mel,
Director/Chief Executive Officer of NDB Bank, while Mr. William Ng, President of
Enterprise Asia looks on.