So you spend your days running back and forth between corporate meetings and coffee induced deadlines. What's the ONE thing you need? A LAPTOP. What's the one thing that's bad about laptops? The battery life *play ominous music*.
Enter the Asus Transformer T100T, retailing for Rs 64,900 (EPSI) and a little bit more elsewhere (laptop.lk lists it for Rs 79,000). This ultra-portable laptop also acts as a tablet PC with a fully operational touch screen. It also, according to Asus, lasts a ridiculously long while on battery – 11 hours is the quoted figure. If it does, this would be the first such hybrid we've seen with such epic battery life – so let's get right down to the review. (photos courtesy of Kaushalya Prabuddha).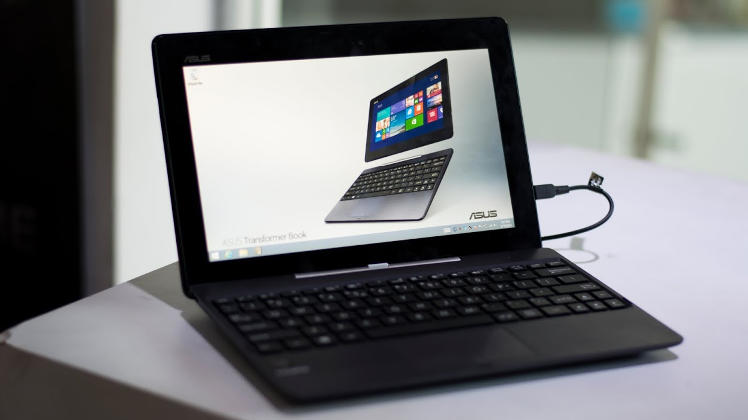 Firstly, it boasts a 10.1″ screen with an screen resolution of 1366*768. It's quite clear and quite easy on the eye so prolonged usage is not an issue. It measures 6.7 by 10.4 by 0.41 inches –  with docking increasing the system thickness to 0.93 inch. Even then the full thickness is barely noticeable in a briefcase or slim case.
The key feature when it comes to ultra-portables of this nature is the "transform" in the transformer. Essentially, with the press of a button the top half of the notebook detaches from the keyboard and the user is left with a full touch tablet complete with 5 touch points.
The screen and base weigh about 500 grams apiece – making it competitive as a tablet and lighter than most ultrabooks, when you get right down to it.
Under the hood, this little device is powered by the latest Intel Bay Trail Atom Z3775 quad core processor (yes it's a proper quad core) with a clock speed of 1.46 GHz, backed up by 2GB of DDR3 RAM. Generally the Atom CPU is not recommended for laptops or ultra-portables, since Atoms notoriously lack the performance and cache to handle day to day activities. But as with every rule, there is an exception: these new Bay Trail chips pack quite a bit of horsepower.
Storage wise, a 32GB SSD is included for your Operating System (which in case you're wondering, is genuine Windows 8.1 32-bit on this). For additional storage, Asus has incorporated a 500GB HDD  into the base (it acts as a removable storage device or a hot swap drive).
On the sides, you'll find a Micro HDMI port – which Asus claims can support a resolution for up to 2560*1600; a bold claim indeed –  and a USB 3.0 port is included on the base for usage of a keyboard or mouse. The drawback to this is that if you want to use the tablet alone you cannot access the USB 3.0 port. To counter this, a Micro SD slot is included in the tablet. Charging is done via a micro USB port – by far the norm when it comes to smart phones and tables nowadays. The charger is a220V/3A charger which does a decent job of charging the tablet from near empty to a full charge in around 4-5 hours.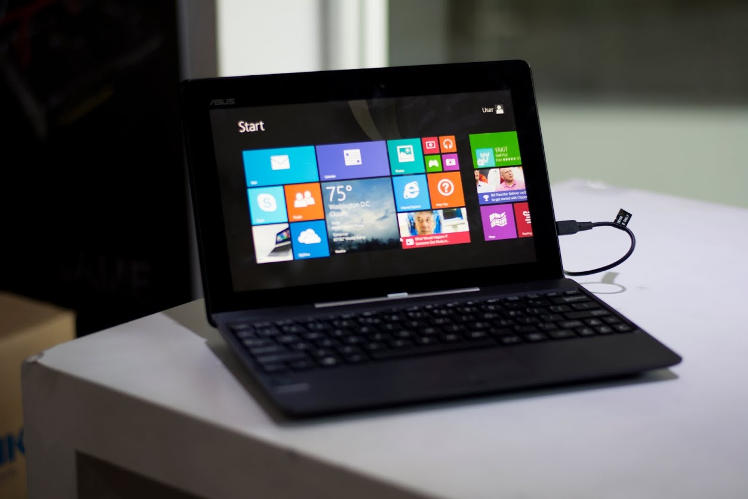 All this sounds good on paper. But does it walk the walk, or just simply talk the talk?
A little bit more than meets the eye
The tablet is powered on via a small button located on the top of the screen. Once powered on, a tiny LED next to the button indicates whether the device has enough power to start up or if recharging is required. Once powered on, the user is greeted with the familiar Windows 8/8.1 loading screen interface. Loading the operating system and applications is super-fast thanks to the SSD.
Also impressive is the Bay Trail CPU, which keeps everything surprisingly nimble – none of the usual laptop lags: it works as advertised.  Scrolling is quick, videos are stutter-free (as long as you stick to playing one at a time), and opening a handful of Google Chrome tabs is no problem. Word, Excel, and PowerPoint felt sprightly, if not instantaneous.
As with most laptop/tablet hybrids, the usual headphone jack and stereo speakers are inbuilt into the tablet itself. The speakers were surprisingly good; not in terms of loudness but in terms of audio quality and clarity. Of course for best results, it is recommended to use either a separate audio system or headphones. The tablet also has an inbuilt camera with a native resolution of 1280*720 (essentially a 720p camera) for those who wish to Skype a bit.
A volume rocker and Windows button is located on the left side of the device. The volume key is a nifty feature for those who are simply too lazy to adjust the system volume via Windows. The Windows button on the other hand provided a "meh" experience as users can just simply swipe left on the touch screen to access the start menu or press the Start key on the keyboard.
The real beauty of the device is seen when you press the somewhat large button located on the keyboard that allows the user to snap out the top half of the laptop essentially transforming (pun intended) the laptop into a tablet PC with full touch screen and onscreen keyboard support. Having a x86 architecture means that unlike the Surface RT, the user actually gets a full Windows 8.1 experience. Essentially think of it as having your desktop PC, in a touchscreen format, that you can carry around like a book. Of course, running Photoshop is a bit of a tall order – but you get the picture.
Battery life is the key word here. The T100T does not disappoint. It's rated  for up to 11 hours on a single charge, and it does get the job done: as I type this (on the laptop itself), I've clocked in over 10 hours of use and have yet to charge this thing.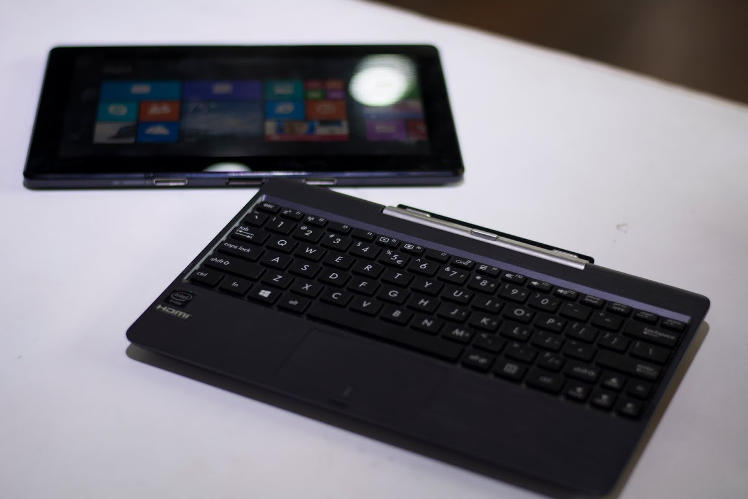 Now, typing on the T100T is solely dependent on the user's preference. Some may complain that the keyboard is too small and feels cluttered whilst others may find it quiet satisfactory. I find myself somewhere between both – it does feel cramped and cluttered, yet you can type without major issues. The device is also somewhat of a fingerprint magnet due to its somewhat glossy body and screen – I did spend a lot my share of time wiping it to make sure it stayed nice and shiny. There's nothing much to say about the inbuilt webcam – it does an adequate job for video calls and the display is acceptable for a 10.1" 720p screen.
For some bizarre reason, after a while of use, the touchpad stops responding and/or goes to sleep. This was a quirk I found rather annoying as one has to spend a good minute or two simply trying to get it to wake up. This maybe a battery saving function, but to me was downright annoying.
In a nutshell…
Overall, the Asus Transformer T100T is a solid machine. For some it may appear bulky but I found it just the right thickness without being a hassle to carry around. It's not the first of its kind but it gains points solely for being the thinnest and most lightweight device among ultraportables and detachables.
For a device retailing for around Rs 65,000, it has a lot going for it. Genuine Microsoft Windows 8.1 32 bit AND Microsoft Office Home and Student both are included in the package. This was what you would spend on a fairly blocky, low-end laptop by default – and now for the same money, you get a small, sleek device that doubles as a tab. Couple all these facts with a quad-core Atom CPU and 32GB SSD and you have yourself a winner.