TL;DR: Asus reinjects performance into the Netbook class with this Rs 45,000 rupee laptop. 
It's time again to review another Asus laptop – this time around it's the X200MA.
The X200MA is basically a 30.2cm x 20.0cm x 2.56cm (WxDxH) device. It has a smaller footprint than earlier models we reviewed, and weighing in at a little over 1.2 kg, it's got the portability part covered. Underneath, it's powered by an Intel Pentium N3520 clocked at 2.16GHz. It has 4GB of 1333MHz DDR3 RAM on board to start off with and can support an additional 4GB of RAM via the secondary RAM slot. Price? It retails for Rs. 45,000 and is available at EPSI and selected retailers in and around Colombo.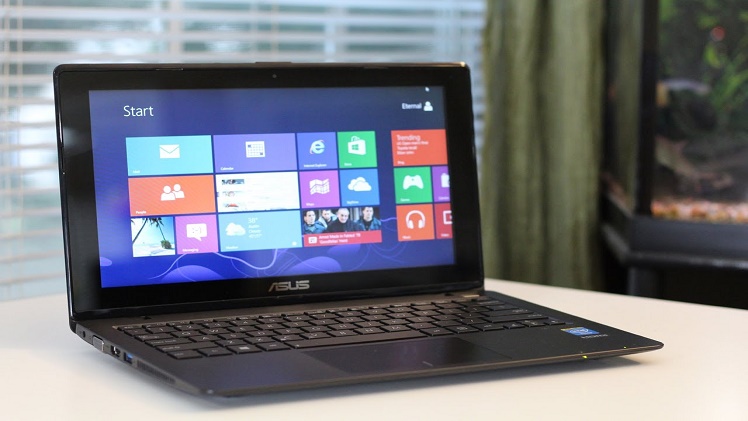 Features and Build Quality
The laptop comes in 4 colors; Blue, Black, Red and White. We got our hands on the black version for the review. It arrived in Asus's classic packaging (brown cardboard box decorated with mono colored logos and text), with the laptop covered with a white protective cloth and the charger in the compartment below that. The charger is an immediate hassle: it has sort of clip on for the plug base that sits rather awkwardly when plugged into a plug base because it tends to stick out. However, that's a minor detail. On with the show.
The laptop body is comprised of a plastic shell with a grid pattern on the surface that makes it easy to grip, with a silver embossed Asus logo which also helps set a nice finish to the device. The overall finish makes it appealing and actually makes it appear a tad more premium than it actually looks.
On the left side of the laptop you will find the charger port, D-Sub and HDMI connectors and a single USB 3.0 port. Next to that is the cooloing vent for when things start to get heated up. Moving to the right side of the laptop you will find a Kensington security lock, RJ-45 LAN port, 2* USB 2.0 ports, a combined headphone/microphone audio port and an MMC/SD card slot. The front bottom of the laptop houses stereo speakers provided by Sonic master which again is commonly found in most of Asus's laptop and tablet lineup.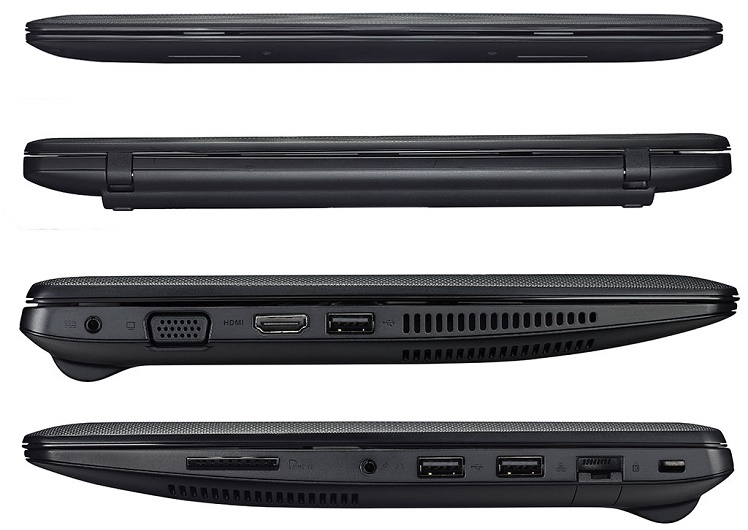 The device sports a 11.6 inch 1366*768 display. For a laptop of this price range, the screen actually does a pretty good job. Viewing angles are good even in broad daylight. Mind you its no IPS or anti-glare screen. Just your run of the mill 16:9 LED backlit screen. On the other hand though, due to it being a bit on the glossy side, expect it to be a fingerprint magnet. An interesting twist with the display is that it also doubles as a touch screen with full Windows touch support and up to 10 touch points. We've seen this in a number of Asus's laptop lineup so we won't be going into much detail about it.
Using the Asus X200MA
Powering on the laptop for the first time, you are greeted by the Asus logo in the BIOS screen followed by the Windows 8 loading screen. Speaking of Windows, the X200M comes pre-installed with genuine Microsoft Windows 8.1 and Microsoft Office 2013 both of which have to be activated via Internet. Once the initial setup is done, the laptop then displays another loading screen while your settings and options are calibrated according to the information entered after which you are presented with the Windows 8 desktop
You are now ready to use your new laptop. You will also see that in addition to the regular Windows 8 apps, there are a few additional apps that have been installed as well. Among them are Asus PowerDirector, NetFlix and Asus WebStorage. These offer various features such as video and photo editing, online cloud storage and streaming for your favorite movie etc. With the installed 4GB RAM, multitasking is handled quite well and even tasks such as multiple tabs in Google Chrome are handled without lag.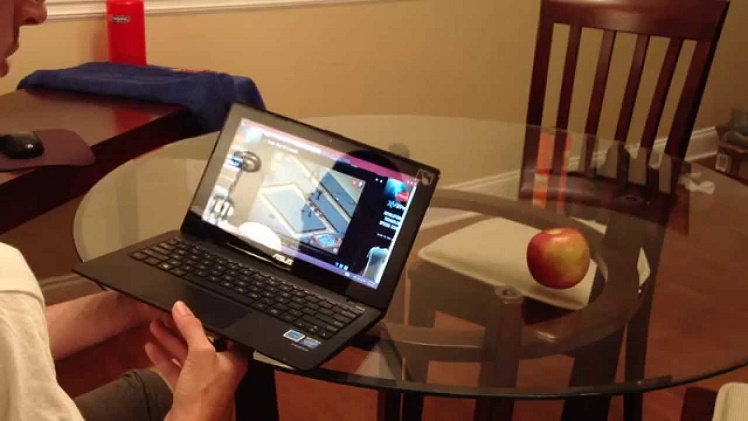 The interesting part about the X200MA's CPU is that it is in fact a quad core Pentium. Yes, you read that right the first time, there exist in the world, quad core Pentium chips.
We do not know why they exist or what their purpose is, but what we do know is that while this may seem a tad unusual or even sound like a marketing ploy, it does indeed get the job done and on a performance scale, comes close to a dual core i3 CPU (i3 3217U in this case). As stated earlier, it clocks in at 2.166GHz with a turbo of up to 2.42GHz. It also has a grand total of 4 cores and 4 threads, which means that each core can handle one thread or application thereby handling 4 applications at the same time.
While this does seem too good to be true, playing around with the laptop did in fact reveal that the somewhat new Pentium gets the job done – albeit with a little bit of lag, but then again that is to be expected.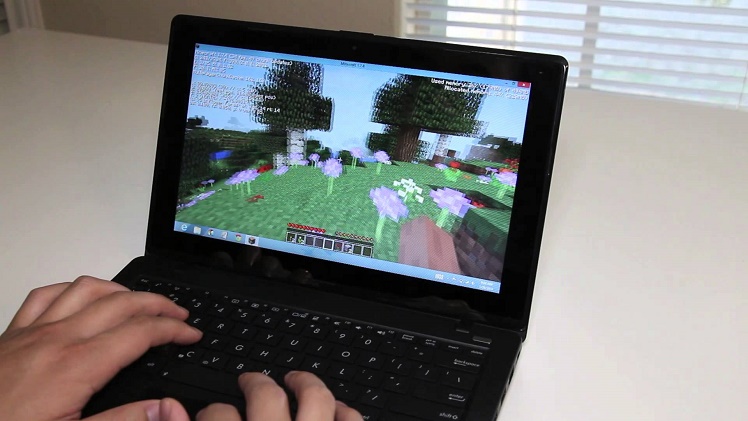 The overall shell of the laptop is sturdily built with the cooling vents on the X200MA doing a really good job of keeping the laptop cool during work hours. Being virtually silent it is ideal if you're a writer or someone who likes to work in a quiet environments. The hinge is also quite steady with little to no wobble or flex when opened with a bit of force.
The keyboard is standard and offers no number pad which is to be expected given the laptop's dimensions. The feedback is acceptable with each key press registering a sufficient amount of feedback. But one thing I noted was that the keys tend to flex even under the slightest of pressure. It is primarily seen towards the middle area of the keyboard while the outer region of keys doesn't seem to have that issue or is not directly visible. With regard to overall comfort of the keyboard, it's acceptable if not for the flexing keyboard issue. Typing for a prolonged period of time is not recommended anyway and on the X200MA, the same advice should be followed.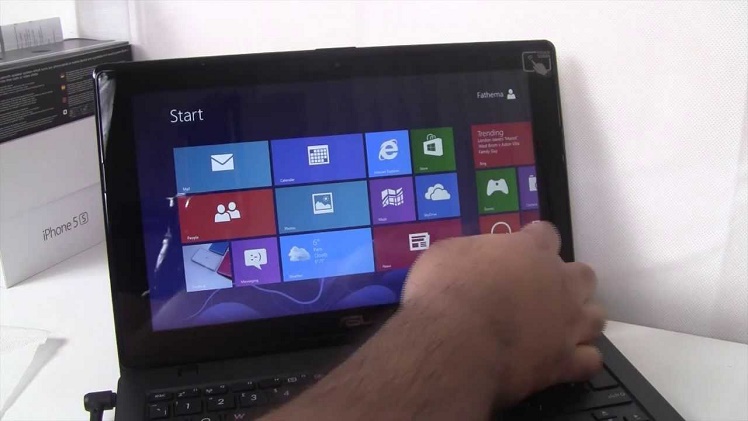 The touch pad too has much to be desired. It does a good job of tracking and is accurate but the left and right click buttons don't exactly give the proper feedback we're looking for and gives the "clicky" feeling that is actually quite loud when pressed which makes it sound rather cheap. We've seen much better touch pads on other Asus laptops but again for the price you pay, you get what you pay for.
Despite Asus being known to make some good products, they are also known for making some not-so-good products. The X200MA would fall under the good products category. The Asus X200MA is a cheap and compact device, and despite shortcomings offers quite a decent amount of value for money.