Deals are a beautiful thing. You get something you want for less. You're happy, the business is happy to gain a happy customer and most importantly your wallet is happy…for a given value of happy, that is. But the problem with most deals is that 9 out of 10 times they're so poorly promoted such that they can be classified as spam.
This is where

BigBon

comes in. Not to be confused with the noodles, Big Bon is an app by the folks at zMessenger. It's available for iOS and Android and helps you find the latest deals around Colombo. Truth be told, it does this job pretty well.
When you first start the app you'll be asked to create a profile. This is used to help you find relevant deals. Thankfully the process can be simplified by just signing in with Facebook.  Once you've logged in you'll be greeted by the list of deals available around Colombo on the homepage. Click on the menu icon on the top left of the screen and you can view deals based on a wide variety of categories. There's also a search bar in case you want to find details of a deal you heard about elsewhere.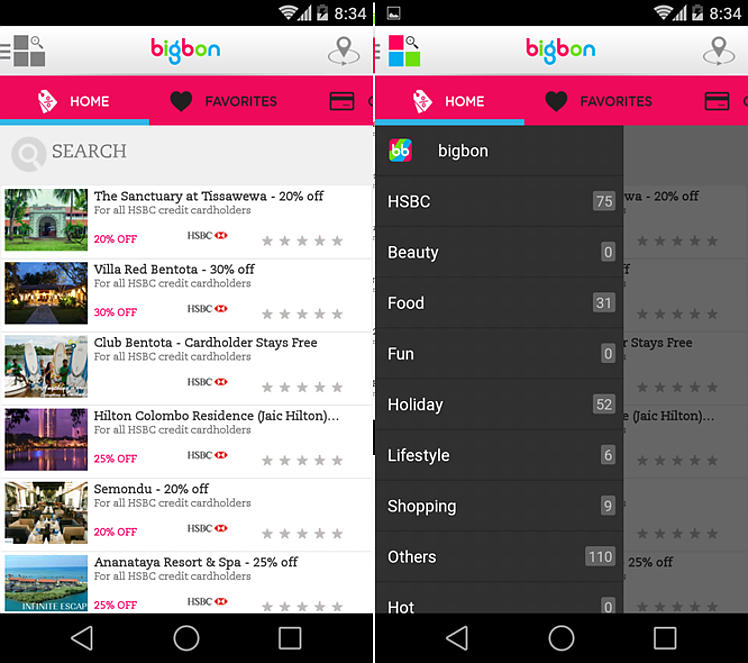 While all this is helpful in finding out what deals Colombo has to offer, you'd still have to scroll through a list to find the deals you want. This is why BigBon lets you select your interests – and once you've added them to your BigBon profile there's a menu dedicated to showing deals based on your interests. Similarly you can also select any credit cards and any memberships you're enrolled in to view deals offered by them.
In theory, this would help you find the deals you want without having to scroll through deals you don't want. In practice it does as well. The only issue would be actually adding those details to your BigBon profile. When it comes to interests you just have so many options offered, some of which seem the same. As for cards and memberships, IF your (HSBC) card or membership is among the few listed at the time of writing, then you'll have to jump through a few screens to select your card and then back to view any deals. Hopefully we'll see more credit cards and memberships added to the list in the future.
Another interesting feature of BigBon is Scope View – its Augmented Reality browser. Simply tap on the button that resembles a check-in icon on the top right of the screen and it loads your camera. Once the camera is loaded, move your phone around and it'll show you the nearby deals in the direction your phone is facing.
While it's a neat feature, it honestly feels more like a fancy gimmick rather than a feature that you'll use regularly. You're going to look like a loon waving this around in public, but we can see the usefulness of something like this in, say, a shopping mall that you don't know. Still, mapping out the deals on a map would be much better. It's cool: it's just needs to be a whole lot cooler for us to use it often.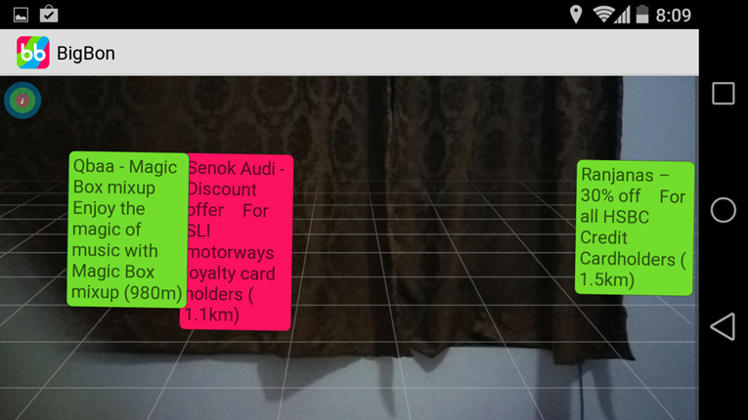 In conclusion, if you're a regular deal hunter or simply looking to cut down on your spending then you will want to install the BigBon app on your phone. It does an awesome job of finding almost all of the deals that are available – and more importantly, helps you find the ones you want. You can get BigBon on Itunes here or on the PlayStore here. When we spoke with the zMessenger folks, they mentioned that they'd (eventually) roll out a Windows Phone version and that yes, a lot more cards and companies will be joining them soon. Time to get that credit card out, Watson.