Great news for all ye lady hackers who have not yet shown up at all the hackathons thus far: SLASSCOM, the US Embassy and Microsoft are teaming up to bring you an an exclusive womens-only Hackathon. This project is part of Microsoft's Asia Pacific Week of Code.  
Getting back to Sri Lanka – the Women's Hackathon, which is to be held on 22nd April 2014 at Dialog Future World, is open to female students from state universities and private higher education institutions – including those awarding foreign degrees in Sri Lanka and those offering degrees of their own. Anything offering a degree recognized by the UGC is eligible. Each institute can nominate one team of upto four female students, who will go head-to-head in a roughly 12-hour coding session starting at 7.30 am. Drop by this Facebook Page to apply.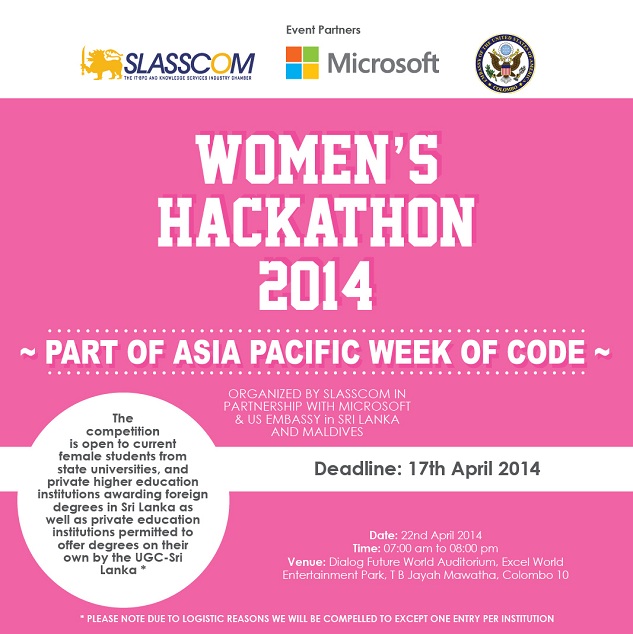 There are rules, of course. All projects must be coded with  Microsoft tools and technologies. Participants can form their teams and plan their application ahead of time but cannot code until the day of the event – there'll be a code review at the end to verify that there was no foul play. The apps made there will be judged on four criteria: 
The quality and innovation factor of the contest App.
Impact of the contest App.
Technical Achievement
User Friendliness
On the table are cash prizes of Rs 30,000, 25,000 and 20,000 for the first, second and third places respectively. It's a bring your own device event, so pack your own laptop, dongle and peripherals. You're required to start off with an over pitch video or presentation explaining what your app does and how it related to the contest, so now might be a good time to convince your Dean and begin on that PowerPoint.