World's fastest growing car marketplace enters its 7th country in Asia
Carmudi, the world's fastest growing car classifieds is set to make inroads into Sri Lanka. Backed by ecommerce conglomerate Rocket Internet, Carmudi is bound to become the leading vehicle marketplace in Sri Lanka. This announcement comes shortly after the business received a $10 million funding to further strengthen its operations in Asia.
According to a '2013 Review and Opportunities of Sri lanka' Report by Nielsen, Sri Lanka is home to more than 4 million vehicles and counting, especially motorcycles – which are becoming the transportation of choice and the future it seems. At the close of 2013, there were 2.7 million motorbikes on the road – steadily making them the vehicle of choice. Carmudi, headquartered in Germany, offers buyers, sellers and car dealers the ideal platform to find motorcycles, cars and commercial vehicles online.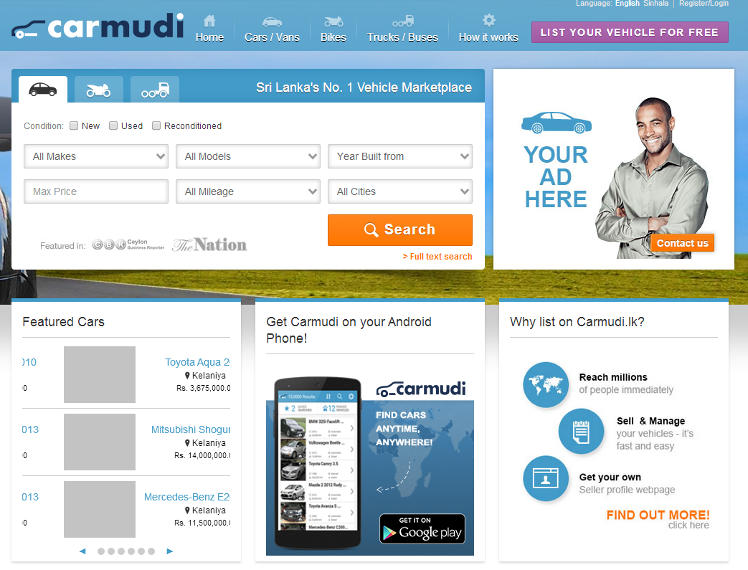 Firaz Markar, Managing Director of Carmudi Sri Lanka stated: "We are targeting a market of 21 million people in Sri Lanka where we see a clear need for a platform that is really trustworthy and takes buyers and sellers seriously. Carmudi is the one-stop solution that will address the growing needs of the residents of Sri Lanka, be it cars, motorcycles, tips, advice or reviews from car experts. Sri Lanka is a high potential market with a growing middle class and rising Gross Domestic Product (GDP) of over 7% alone last year. With Carmudi's firm success and growth in Asia so far, we are sure to become the market leaders in Sri Lanka as well."
Undoubtedly, Sri Lanka promises huge potential in the online sphere. It is estimated that there were about 2.8 million internet users at the end of 2013. And as of September 2013, there were 1.2 million mobile broadband connections in Sri Lanka, and the number is steadily increasing. With the increasing digital growth, platforms such as Carmudi are bound to become a necessity.
If you are looking for a ride this summer, head over to www.carmudi.lk, a vehicle marketplace that enables customers to easily buy or sell their car, motorcycle or commercial vehicle online. Carmudi offers diverse vehicle listings, an intuitive website design and high security standards to avoid fraud.
The business platform operates under a high level of transparency through professional photos, updated listings, detailed descriptions, reports and rankings for 100% of its vehicles in each market. At the same time, vehicle dealers get a trusted online presence through a personalised webpage. The Carmudi platform helps sellers manage their inventory in a fast, easy and stress-free way.
About Carmudi
Carmudi was founded in 2013 and is currently available in Bangladesh, Cameroon, Ghana, Indonesia, Ivory Coast, Mexico, Myanmar, Nigeria, Pakistan, Philippines, Qatar, Saudi Arabia, Senegal, Sri Lanka, United Arab Emirates and Vietnam. The vehicle marketplace offers buyers, sellers and car dealers the ideal platform to find cars, motorcycles and commercial vehicles online.
This is a press release. Opinions expressed herein are neither provided nor endorsed by Readme.