With microprocessors getting smaller, more powerful and greener, so does computing. The Dell Latitude E7440 follows suit, and is the result of a mix of premium features molded into one sleek shell.
Aimed towards the businessman and executives, does the laptop make the cut?
First impressions
The E7440 is an Ultrabook. At a glance, the E7440 looks exactly  like you'd expect an Ultrabook to look like – black keyboard; soft metal top – simple and elegant. The build quality is frankly excellent. The top's composed of magnesium and aluminum, with has a matte base finish: it's mounted on two massive hinges to allow the display to be opened a full 180 degrees with no loss in stability. The whole thing is just 2.1 inches thick. We loved how much flexibility you get with that display without the display bending or the laptop tipping over. High marks for the E7440on this one.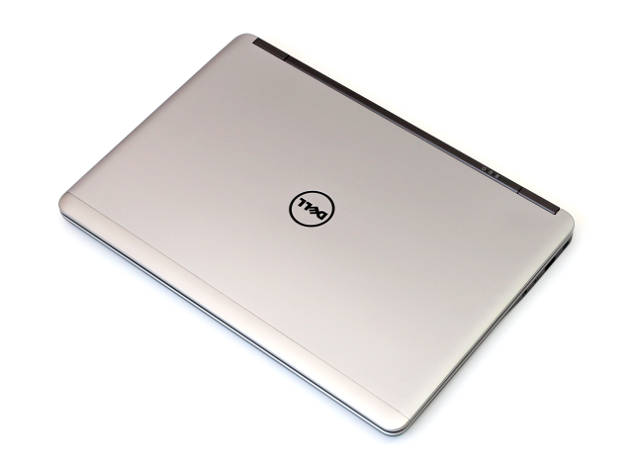 Like most ultrabooks on the market,  the E7440 comes with a matte, 14-inch WXGA screen with 1366×768 pixels. It's a TN panel. not an IPS. While the display isn't the best choice out there, with its background illumination at 179 cd/m², the competition offers no better. The matte display is good for outdoor use as well, but don't expect it to show crisp and clean under direct sunlight. 
Under the hood
What have we got here? Haswell, of course – a ULV (Ultra Low Voltage processor) courtesy of Intel. Our review unit was equipped with a Core i5-4200U clocked between 1.6 up to 2.6 GHz paired with 4GB of DDR3L-1600 RAM. Apart from Turbo Boost and Hyper Threading, the CPU also supports the new AVX2 extension that was introduced by Intel with the new Haswell generation.  he TDP has also been improved, dropping to 15 Watts from 17 Watts and also includes the energy consumption of the now-integrated chipset. No complaints here – this is standard for ultrabooks. 
Graphics are handled by the DirectX-11 capable Intel HD Graphics 4400, which as we've said before can render most current games in an acceptable frame rate – provided you drop the settings all the way down – we comfortably enjoyed Dota 2 on medium settings! Multi-tasking was acceptable – you could run Chrome to your heart's content – but not exceptional: trying to run Photoshop and chrome and a game of Dota will simply end up with you crashing early and often. It's an Ultrabook, after all, designed more for computing on the move rather than massive number-crunching. 
As for storage, Dell has it covered with a 500GB Seagate Momentus Thin HDD running at a speed of 5,400 RPM. We could argue that an Ultrabook merits at least a small flash storage or an SSD cache instead. However, average transfer rates of 87.3 MB/s and an access time of 18.9 milliseconds –  which is in the upper third for current 2.5-inch hard drives – don't look so bad: the E7440 runs fine with the HDD. Mind you, it could have been better. Performance is behind more expensive counterparts with 7200 RPM or SSD drives.
Keyboard and touchpad
While you'd expect a chiclet keyboard on a modern ultra-book, Dell has decided to stick with the classic design. The 18 x 14 mm feel generously sized and a smart choice from an ergonomic perspective.
Not only does this keyboard give you comfort on your fingertips, it is also softer and in no way does this result in the loss of precision or feedback. Along with the high quality matte finish on the keys, the keyboard also feature background illumination.  The lighting can be adjusted in 4 steps and improves the typing experience in dark environments. We're supremely satisfied with the keyboard.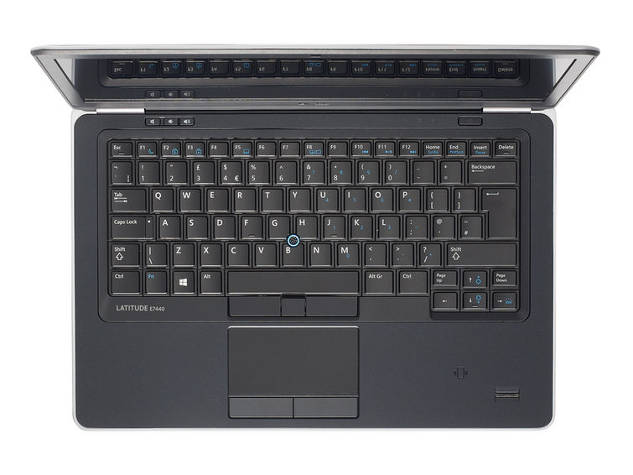 The touchpad is from Alps Electric and it provides a 9.0 x 4.7 surface with support for common features like numerous multitouch gestures and a convenient palm sensor. The precision and gliding capabilities of the touchpad leave little room for criticism: fortunately, Dell decided to omit the click pad and included dedicated mouse buttons. Interestingly, they've also thrown in a TrackPoint – that tiny mini-joystick-like button you can use in lieu of a mouse. It's an interesting alternative that takes some getting used to – if you plan on using it. We simply fell back to the capable touchpad.
Multimedia
It's logical not to expect great sound quality from speakers of office ultrabooks, being used as they often are only for system sounds or similar meaningless purposes. The E7440 chucks that logic right out of the window. 
The sound quality from the discrete openings at the front of the notebook just blows many multimedia notebooks right out of the water, delivering outstanding high tones, rich medium tones and a surprisingly powerful bass line given the tiny body. It's also loud, loud enough to negates the necessity to have to attach external speakers.
In video calling, though, the E7440 falls back due to the low quality of its 0.9 MP webcam. Low-light environments give washed-out colors and a lot of picture noise. The microphone on the other hand is very clear and well-intelligible and will often make an additional headset mic unnecessary.
Connectivity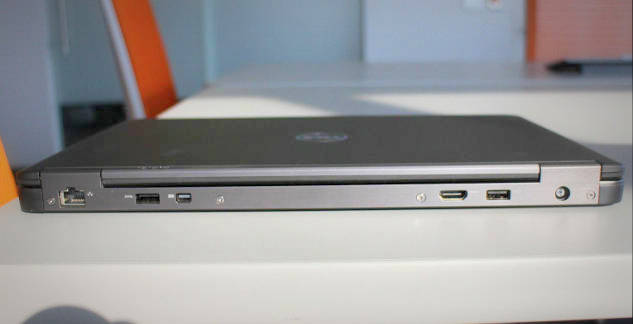 Surprisingly, The E7440 offers a wide range of connectivity options:  3 USB 3.0 ports (and one of them allows USB charging even when powered down): Gbit LAN; an SD card reader; two digital display outputs; even a smartcard reader. Apart from one USB 3.0 port and the 3.5mm jack, all the other ports are neatly placed on the back of the ultra-book – a well-managed way of ensuring cable management when connecting peripherals, and also slightly annoying when it comes to plugging in multiple drives. As for wireless connectivity, our review unit came with the Dell Wireless 1506 that offers a maximum transfer rate of 150 Mbit/s and turned out to be quite stable even with a distance of a few meters and some walls in between.
Battery life and final words
Finally, the true test of a laptop: battery life. The E7440 runs on a 34 Wh battery. . With energy-saving mode, minimum brightness, WLAN deactivated you get an impressive 10 hours and 15 minutes while idle. If you intend to use it (which, after all, is the whole point of owning a laptop), WiFi and  adjusted display brightness will get you a runtime of 5 hours and 17 minutes. Not stellar but definitely on par with expectations.  The final verdict? We like it. It has a dew drawbacks, but for its size, mobility and price range, it's a rare rough diamond. If you're in the market for something sleek, sexy, portable and doesn't break the bank, you really want to keep an eye out for this one.