Yes another hackathon, what's interesting is that each and every one of them has something special and something unique. Well, in this case, as they say; Code Sprint is the first Inter-University Hackathon. But what we found more interesting is that we saw some new teams in the game.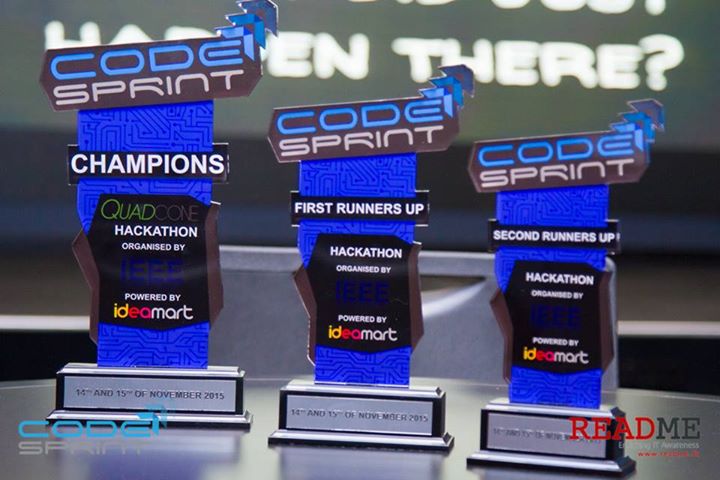 Code Sprint 2015 is a 24-hour hackathon organized by the IEEE Informatics Institute of Technology Student Branch in partnership with Dialog Ideamart. As any Ideamart hackathon, this too was happening at the scenic 15th floor of the Dialog head office. They have shortlisted 10 teams out of all the proposals that were submitted, but 1 team apparently didn't show up on the hackathon. The event commenced on the 12th morning and went till the evening of 13th.
Day 01: Eat, Sleep, Code;
As planned, things promptly started at around 10 am as per the schedule. After the welcome speech by Damian Perera – Secretary at IEEE IIT, there were two sessions by guest speakers.
The first session was on Mobile Enablement where Mr. Rashmika Nawaratne, the Executive Director (CEO) at SL2College and also a Software Engineer at 99X Technology; spoke on hybrid mobile development basically. In his talk, Rashmika gave an in-depth analysis on what hybrid mobile development is comparing it to native development. One of the interesting things he spoke apart from the vast knowledge he delivered was, 'why PhoneGapping the same website won't work' in other words, converting the same website you have to an app is not just going to work out. Reason being the User Experience. He encouraged participants to use Apache Cordova in their developments of hybrid mobile apps.
Next on stage was Mr. Sumedha Rubasinghe, a Tech Lead and a Product Manager from WSO2. His talk was on the IoT platforms of WSO2. His talk started with a question; "What is IoT?" quite a tricky question since many could come up with various possible answers. Gladly the one who answered covered most of those answers. Moving on, he explained the various hardware technologies that they use and the software that runs the whole process.
When can we start?
The talks lasted approximately two hours and gave everyone especially the participants, valuable knowledge. Shafraz Rahim from IdeaMart then briefed the teams on the guidelines and the nature of Code Sprint. Afterwards, all the teams were given 2 minutes for a pre-pitch where they had to explain what they are going to build within the next 24 hours. After the 9 pre-pitches, it was all about making that idea real.
Day 02
24 hours had passed, it was the 13th of November and the clock struck noon. It was time to wrap things up. After the teams refueled themselves with a tasty lunch and a 'challenge to eat chocolate fudge' (we can neither confirm nor deny actual chocolate fudge was served) we were back at the auditorium for the pitches.
The teams were then judged by Mr. Roshanth Gardiarachchi, Unit Manager – Product Service Innovation Dialog Axiata PLC, Mr. Tharindu Dassanayake – CEO and Founder of Square Mobile, Mr. Keshan Sodimana – Country Engineering Consultant Google Inc. and Dr.Thilak Chaminda from IIT.
Trash Coders
We first met this team from Jaffna at the Yarl Geek Challenge. It was nice to see them coming all the way down to Colombo to conquer this challenge. Their idea was called Rate Market, a hybrid mobile app and alongside USSD features.
The main intention of the app is to connect the agricultural producers to the wholesalers and vice versa. They are planning to initially deploy the app in the Northern District with the help of unions and societies.
It looked like the same product we saw at the Yarl Geek Challenge. To clarify whether it is, we decided to speak with the team. According to them, this time they have upgraded it by properly integrated the Ideamart API along with provisions to the Web RTC platform (which wasn't integrated at that time). Small improvements but it's a great idea nonetheless if implemented.
Team Challengers
From the University of Colombo School of Computing, Team Challengers have come up with an IoT device which they have named 'HydroMeasure'. This device is capable of proving real-time information about threats of flooding.
It incorporates 3 Ultrasonic sensors to detect the water level and this data will be sent over to a remote database using a GSM module. The app will then analyze the data and if it's at a risk level, SMS alerts will be dispatched to subscribed users via the Ideamart API. We haven't seen this in action. However, if implemented this could potentially save many lives and valuable amounts of property.
Dream Team
"We are not going to kill the tuition class, it will be just an online presence of the class", said the team as they opened their pitch. Dream Team representing the Kotelawala Defense University came up with a project named, 'Sir.lk'. It is a mobile compatible web platform to connect students with teachers.
It follows 3 simple steps; Discover, Connect, Learns. The app lets students find the best teachers in the town, which will be powered by a community-based rating system.
They can then subscribe to a teacher for a monthly subscription of Rs. 30. By making use of the e-class, teachers can post study materials including notes, questions, and videos. We can't help but wonder how effective this could be as we have seen similar systems before that failed horribly.
Bits Please
Representing the University of Moratuwa, this team presented an app which helps you in indoor navigation. 'Livio' helps the app user to get to an exact location without using GPS or another technology which uses the internet. This app instead uses the phone's own accelerometer and the magnetometer.
The real play comes in if it is possible to practically implement this to be used in shopping malls. This way, they could pitch to shop owners since the app itself is into the location-based marketing scene.
An interesting idea but it failed horribly during the demo. According to them, it's because of the extensive test cases they had run on that device which led the sensors to be irresponsive. Wouldn't that be an issue when you implement it in real life as well?
Girl Coders
As the name itself says, this was a girl only team from the University of Colombo School of Computing. They pitched a web application, 'See More' which can be used to find if you are color blind or whether you have any defect in your eyes.
The app provides several tests, based on which will recommend what to do next. It will also recommend eye surgeons, hospitals or opticians. The team plans to incorporate Google Cardboard into this system, which will further increase the accuracy and be a unique user experience.
PM2K
From Sri Lanka Institute of Information Technology, P2MK presented 'Fare Share SL'. It's a hybrid mobile application that allows individuals to split taxi fares. It also has features like scheduling the time and choosing gender preference of your potential taxi partner.
From the technology aspects and the features, the application seems to be at a very promising level. But during their presentation, they mentioned that this can be used by individuals who owns a car as well. Our question also was of the judges, how practical is it in that particular situations when it comes to splitting the fare, how are you going to measure it unbiasedly?
Valar Morghulis
And then we have a team consisting of Game of Thrones superfans. 'Whitestick' an app for visually impaired people by this team from the University of Moratuwa. The app gives users audible and hepatic feedback and can be used as an aid for onscreen navigation. The other features include speed dialing, voice memo, and an emergency SMS service.
An interesting question that was raised by the panel of judges was how can the app be initiated or simply opened; well, unfortunately, someone else has to open it for the user. No comment.
Southern Fox
This team from Sabaragamuwa University came up with an app named 'Accident Tracker'. Yes, it's exactly what you are thinking. It's also a system which incorporates IoT technologies.
It will be an electronic unit that will be fixed into the vehicle. The system will be equipped with several sensors to measure and detect variables like force, pressure and temperature during a collision. This data will be sent over to a web app which will analyze the severity of the accident. The app is capable of informing different entities like police, health care, fire brigade and relations via SMS. They are targeting to market this app to insurance companies. A great idea that could save countless lives but they've yet to build the hardware components of the project.
Think X
'Easy Chem' by Think X from UCSC was the only game we saw at Code Sprint 2015. Easy Chem will help AL students learn Chemistry. It's an old fashion mix-em-up game. When compared to the other projects that were presented, we felt that this was at a very primitive level and is way below what we could expect from a team of Undergrads.
What Else Happened?
Along with everything happening, the organizers also hosted a best Tweet and the best Dubsmash competition where they gifted Rs. 1000 coupons from Takas.lk to the winners. All the participants were awarded Certificates of Participation.
Moving on, the judges were ready with the results. The much anticipated moment.
Winners *Insert drum roll here*
Champions: Dream Team
Runners up: Girl Coders
2nd Runners up: Trash Coders
With the vote of thanks marked the end of Code Sprint 2015. Congratulations to the winners and everyone who participated. Winning or Losing isn't the case, it's about whether you deploy it and make it a real business that helps people solve real problems.