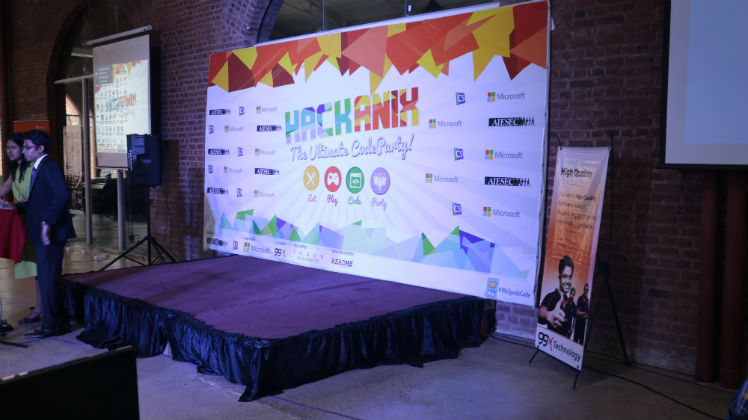 TL;DR: Trace Expert CIty's seen quite a few events, and the latest was Hackanix, organized by AIESEC. Being the first ever hackathon organized by AIESEC, the event which lasted two days, kicked off on Friday the 27th and concluding with an award ceremony on the 28th. The keywords for the day were "Educating the general public on", and this was the main theme that the contestants or teams had to base their ideas and applications on. Around us were scores of bleary eyed young students. By the time we'd rolled by, they had been here for 24 hours, and even though they were exhausted, they were excited to show off the fruits of their labor.
Each team was given 5 minutes to present their idea and application and a further 5 minutes for a Q&A session with the panel of judges which included prominent figures – such as Wellington Perera of Microsoft Sri Lanka and Fayaz Hudah of ICTA.
1) Team CodeHackers with their app titled "Citizen Adviser", which provides support for legal issues. Basically, if you have any legal issues, the app provides offline support to solve the issue. If no solution is found, he/she can go online via social media to find solutions. Speaking of solution, the app is available for Windows Phone and desktop too. They plan to monetize the concept by buying reputation points or via donations. Sadly though, the team uses all of their allocated time and the result is that their presentation is cut off.
2) Team CodeRAW with an app that basically "links applicants to companies" without the hassle and need of job searching both online and via newspapers.They weren't very clear on the how or the why, though.
3) Codice Dominos came up with an online community platform titled "Milieu" which aims to connect consumers to those involved in the production, sale and distribution of eco-friendly products. Users can sign up and see products offered by various partners and you are also able to add products.
4) Team Dark Matter's idea was to build a platform for online communities in order to increase awareness of social issues. We're not entirely clear as to how or on what they plan to build.
5) Team DroidX had a parent based learning system for children. They called it a "Learning Pool". The app was similar to a web portal for most universities, only in this case, for the use of parent, to track their child's progression and to learn about various programmes offered by universities.
6) Team Enigma's nithiya.lk platform attempted to provide an online platform for learning and getting help on law. Citizens, they pointed out, are unaware of Lankan laws and their changes. Their business model has a number of phases: on a surface level, users can ask questions, and are answered by designated lawyers. It also included a forum and a profile of lawyers that can be searched by a given criteria. 1st 5 questions are free and each question after that is charged Rs. 10. Questions were raised on as to why a lawyer would provide free consultancy (which is a good point). The team's reply is that it can be seen as a chance for lawyers to showcase their skills and gain some recognition. (At least that's the plan).
7) Team Hackbots and their MedAid app is all about educating Sri Lankans about treating and preventing diseases. They match users based on their symptoms and provide a solution. The symptoms are taken from an online database. Doctors have to make a payment as they will be recommended to the patient.
8) Team Illusion Box brought an interesting concept to play, literally: Quizzer, a gamified approach to education. They say they will use game mechanics and puzzles to promote easy learning. The app will have a free version with ads, and in order to monetize it, there will be a paid version with no ads. As for deployment, it's already on Android and Windows.
9) Team Nova and their Novacare app was aimed at self-diagnosis. They aim the app at doctors, patients, students, knowledge seekers and the general public with somewhat of a commission based channeling service.
10) Team SAS Ninjas brought a touch of augmented reality to the competition with Educar which used said technology for educational purposes. They can basically scan an item and based on that they can generate a 3D model. It can then be manipulated by the user.
As with any monetary app, the basic version is free, offering in app purchases and product promotions.
11) Team Here4beer (quite an interesting name if we may add) showcases their app, ByLaw which is a simple representation of the Law. Any and all laws of the country put in layman's terms. A citizen can even choose to have it read in their own tongue. There's a catch though. In order for the app to work though, you'll need internet access.
12) Team thatTeam (again, points for creativity) presented mediCare; an app that will supposedly educate you on your medicinal intakes.
13) Team The Others also had a similar app. They call it "Keep Me Healthy" and it is a personal health care planner & tracker to keep yourself healthy. In addition, it also suggests diets and what food to eat and what to avoid.
14) The Tesseract (Marvel reference? Yes/No) showed off their app titled "The Attorney", which is their take on a universal encyclopedia on law. They also plan to employ their own lawyers. Lots of law apps here – rather curious. It's the first time we've time we've seen such a focus on law and lawyers at a hackathon.
15) The last team, Team Titans also debuted their own law-related app for looking up laws in Sri Lanka in an attempt to make them easier to understand. They also have a forum for discussing laws and any issue pertaining to it.
That brought an end to the presentations and the panel of judges expressed their views. After that, the event broke for dinner and in true Sri Lankan spirit, everyone headed to the cafeteria, ourselves included.The award ceremony took place after dinner. Mrs. Janakie Karunaratne, Manager, Community Affairs at Microsoft gave a few words of encouragement and advice regarding the event. Consolation Gifts were handed out which include best tweet, most amount of likes and best selfie,
Team Enigma was placed third, with Team Illusion Box placing second and the grand prize and first place being awarded to Team SAS Ninjas. The remaining teams received awards of participation, and with a few words from the organizers, the event drew to a close with an after party for those involved. We were quite impressed with the organizers and the committee for their helpfulness and corporation. As for us, we decided to hit the hay and as such headed to the exit. Our destination; 127.0.0.1.