The backbone of any company is the people behind it. There's no doubting that. Bringing together people who are passionate about people, SLASSCOM was proud to host the People Summit 2016.
Back for the sixth consecutive year, SLASSCOM's People Summit 2016 aimed to kick off the year by providing leaders at all levels with pioneering talent management insights and perspectives from renowned global leaders, as well as a prime networking and experience sharing opportunity.
Held at the glamorous Oak Room at the Cinnamon Grand, the event was backed by IFS coming onboard s the Platinum sponsor, TATA Communications as the Silver Sponsor and Orion City as the co-sponsor.
Mano Sekaram, Chairman of SLASSCOM and Chief Executive Officer of 99X Technologies delivered the opening speech.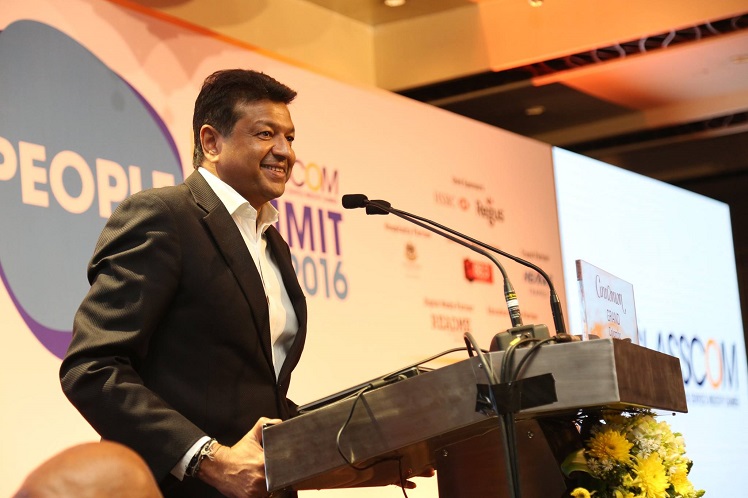 "We need to think outside our company borders and think as a country to proceed forward"
Mano kept his speech short but covered a number of important points with regard to human resources and the modern trends especially with regard to developing one's business. He ended his speech with the following words:
"Build your own people, they will build your business, more importantly, they will build the country."
The first speaker of the day was Ranbir Singh, CEO of Ekam Evolution Ltd and the former Managing Director of JP Morgan Chase.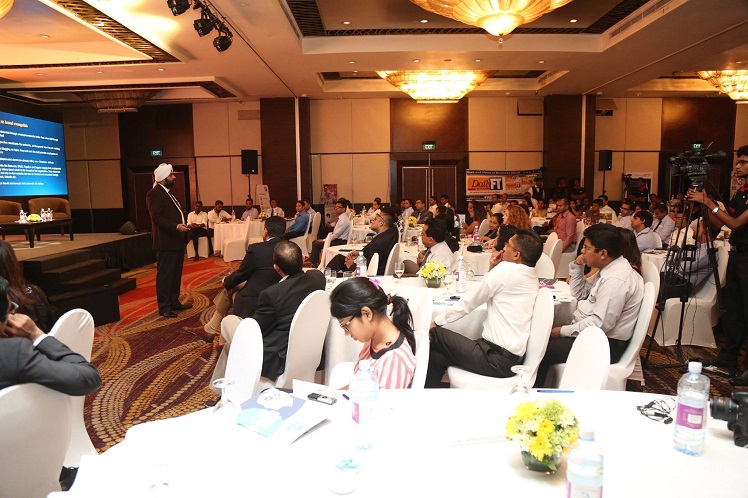 His topic was simple, yet provoking; Talent Goes Social-  The Naked Organization. His main points revolved around the talent in the industry and the possibility of a talent shortage.
"We have entered a global economy where talent end and skill shortages challenge world economic and business growth around the world" – Klaus Schwab
Ranbir went on to explain about the employer brand where the perception of a certain brand is considered what it is in reality rather than what the brand actually is. Furthermore, Ranbir noted the following points.
Your employer brand is your company's reputation as an employer.
People build their own picture of what your company is really about.
People rely on what other people say about your company rather than just accepting what you say your company is.
Ranbir's first piece of advice was to know your audience. You must know who you're talking to and more importantly why you're talking to them. From there, build a pool of passive candidates. For example, Ranbir shared an experience where members of his organization would visit universities and colleges in order to encourage students to join their organization. He went into detail about passive talents especially with regard to the hiring of employees straight from colleges and universities where they employ a day zero hiring process where you could send a member from your company to pitch it to these students to develop awareness with the college and show that you are interested in hiring their students for your organization.
By continually connecting with them, they will see your USP (unique selling proposition) in a sustained manner over a period of time. Finally, let them see how your employer brand is relevant to them.
His next point was not to try to be everything to everybody. More specifically he explained how huge performing workplaces aren't for everyone and they shouldn't pretend to be either. Furthermore, Be very clear in who you are and what the values is in working in your company. Tell this story so that candidates know what's required of them. Finally articulate yourself and your roles very clearly – help out candidates inside the role and the company, so that they know if it is the right fit for them.
From there, build a relationship with the talent pool. This involves knowing what candidates want from you. Remember, it's not only about a job. You need to engage them on things that interest them. Be ready for conversations. Most importantly, "Listen" before you "Speak". By treating relevant stories in line with the target group desires and deeds, you raise engagement.
"How many of you are comfortable with using your employees to talk about your company?"
Essentially the same values told through employees resonate better than when told through the brand itself. In addition, employee blogging on topics they work on are potential hotspots for employees who are interested on those topics.
For example companies make videos about what it's like to work in their organization. This helps build circulation on platforms such as YouTube and social media services.
His last point was on content. Content is vital. But you should ensure that all content is of high quality to have a unique perspective. Finally, human centric content strategy paired with robust targeting and strong engagement will super charge your employer brand on social channels.
With that Ranbir's session came to a close and he was handed a token of appreciation.
The next speaker for the day was Anjali Chatterjee who is the Vice President of Global Talent Management and Learning & Development at TATA Communications.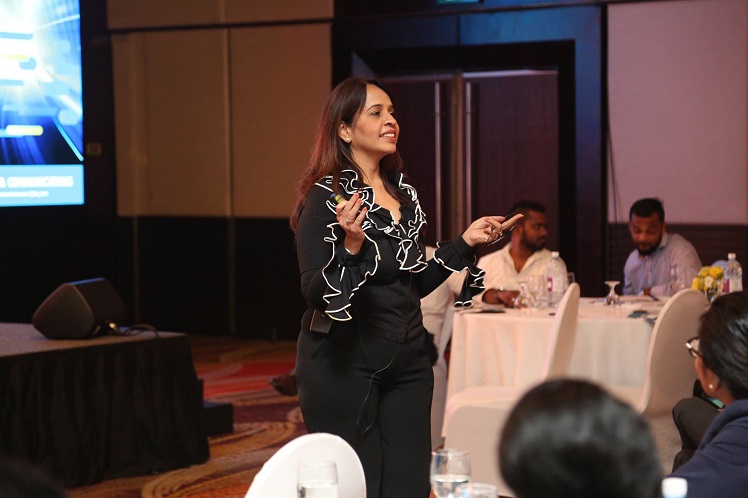 She gave a brief history of how the company began and how innovation helped the company grow.
"How do you differentiate creativity from innovation?"
That is indeed the question.
"Innovation is now recognized as the single most important ingredient in any modern economy"
Companies are now making innovation everyone's job. For many companies, innovation agenda is now as much about human capital investment as delivering new products and services. Her session was a basic run through of how innovation is changing business strategies and views and how businesses should strive for new innovations in order to stay alive in the market.
Her examples include fields such as robotics which is an increasing trend in the world where even Google has self-driven cars. In time, this would affect parties such as Insurance companies as their services would no longer be required.
Thinking in a standard way is now considered obsolete. If you don't have a competitive advantage, don't compete – Jack Welch
Her next area was about creating a climate for innovation. For example, cultural factors can often prevent innovative new ideas from advancing. A cultural factor which costs the average large company over $9B in revenue growth over 5 years. That is indeed a stifling blow
Anjali concluded her session by explaining that a company needs to be innovative and use innovation in business tasks in order to gain a business advantage.
After a small Q&A session, Anjali was presented with a token of appreciation
The final keynote speaker for the day was Prasenjith Bhattacharya, Chief Executive Officer of Great Place to Work® Institute in India. His topic, The Future of Work.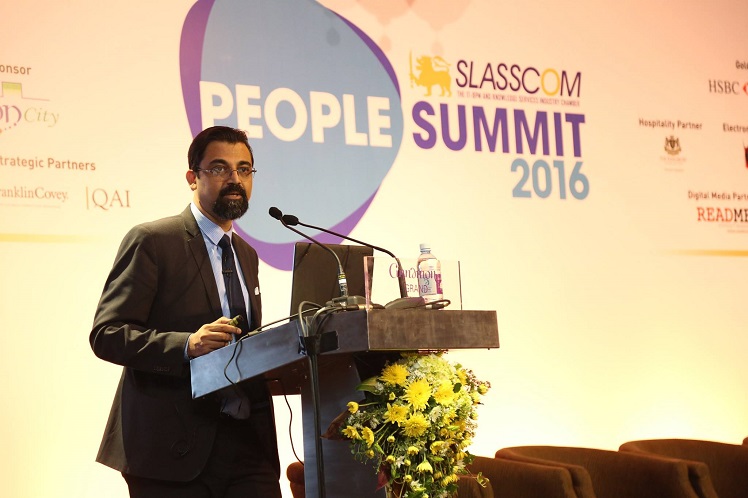 People are no longer willing to join and work in bad workplaces, Prasenjith says. If you are considered a best workplace, then you continue to deliver a superior shareholder value.
He then breaks down the future of work. For example, the "Big Fat" organization will cease to exist. They will still be powerful, but with a twist. The implementation of powerful technology will make a number of jobs obsolete. As corporate profit continues to increase the share of staff costs continues to decline. Despite this growth of technology, he also spoke about how technology is not creating enough jobs. For example, in India, despite economic growth, only 5.5 million of 12 million workforce get added to India's' the workforce every year.
Presenjith's session too came to a close and he too was presented with a token of appreciation.
With the key note speeches done, the next session was a Panel Discussion consisting of the following members:
Madu Ratnayake – Head of Digital, Senior VP & GM – Virtusa
Anjali Chatterjee – Vice President – Global Talent Management and Learning & Development – TATA Communications
Prasenjit Bhattacharya – Chief Executive Officer – Great Place to Work® Institute, India
Nirmal De Silva – Country Manager – Regus
Ranbir Singh – CEO – Ekam Evolution Ltd and former Managing Director of JP Morgan Chase
Dulith Herath – CEO / Founder – Kapruka.com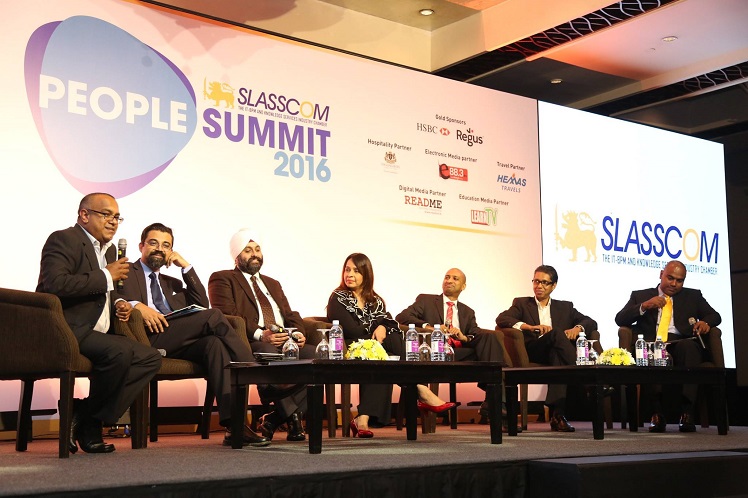 The topic for the discussion was Organizational Transformation and the Changing Role of HR, moderated by Hariharan Padmanaban – Chief Operating Officer Xcendant and Board Member of SLASSCOM.
After a hearty lunch, the session took a bit of a twist. The Oak Room was divided into two smaller halls with each mini-hall conducting a workshop on how to improve your HR skills.
The topics were:
"The Shifting Workplace" conducted by Prakash Hegde – Principal Consultant & Vice President of QAI Global. The workshop was interactive one on "Shifts in Employee Engagement Approaches" focusing on recognizing challenges, assessing impacts, identifying new levers of engagement and possible approaches. The second part of the workshop on "Shifts in the expectations around HR role and capabilities" covered changing business demands and aligning HR to Business.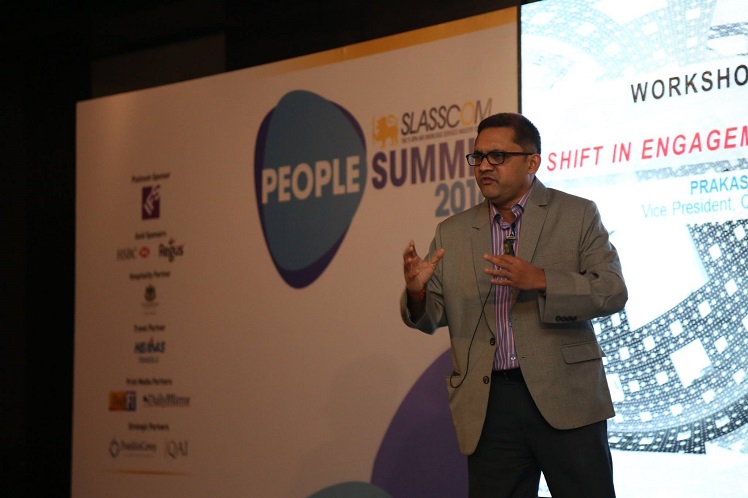 The second workshop went under the title "Unleashing the Potential in a Multi-Generational Culture" and was conducted by Ameer Ahamed who is CEO of Franklin Covey South Asia. The workshop revoled around the most sought after workshop "Unleashing the Potential in a Multi-Generational Culture" that would tap into the unique contributions of each generation and the understanding of the specific differences between the four generations in today's workforce and how leaders could leverage the differences between the generations.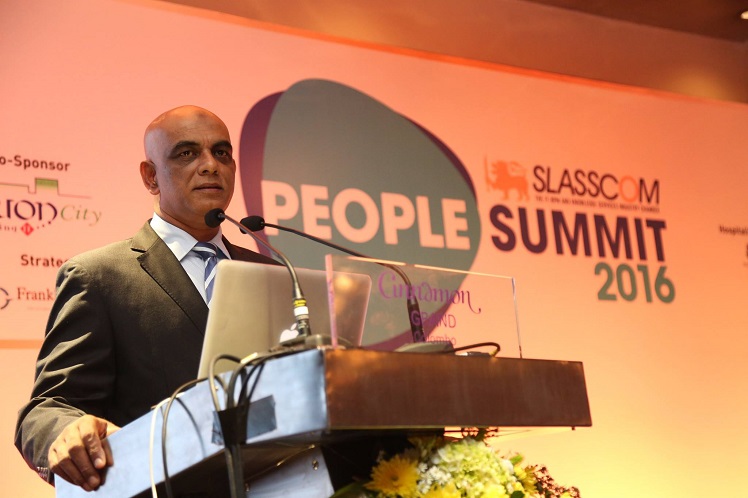 After the Summit, each speaker was presented with a token of appreciation. The end of the workshop signaled the end of the Summit as well. The attendees were thanked for their participation and were then invited to help themselves to cocktails and indulge in a bit of networking. We too took part in said networking (obviously).
Overall, it was a job well done by SLASSCOM and we await People Summit 2017.
Till next time, stay cool folks.