In late 2015, we told you about a Sri Lankan software development company headquartered in Florida, USA, that announced ambitious plans to expand its technology, financial, and marketing departments based in Colombo.
Over the past year, ShipXpress Inc., has grown in leaps and bounds and recently, organized an event (to which we too were invited) at its new office premises in Nugegoda with their 'C' level executives, who had flown in from the US.
Running under the creative name of "Coffee with the C's", it was a casual chat between co-founders Charith Perera, CEO, and Raghu Misra, CTO and the employees of ShipXpress. Topics that were covered included the current state of the company, where it is heading, and a few motivational stories from their own lives that were part of the inspirational journey that built the company.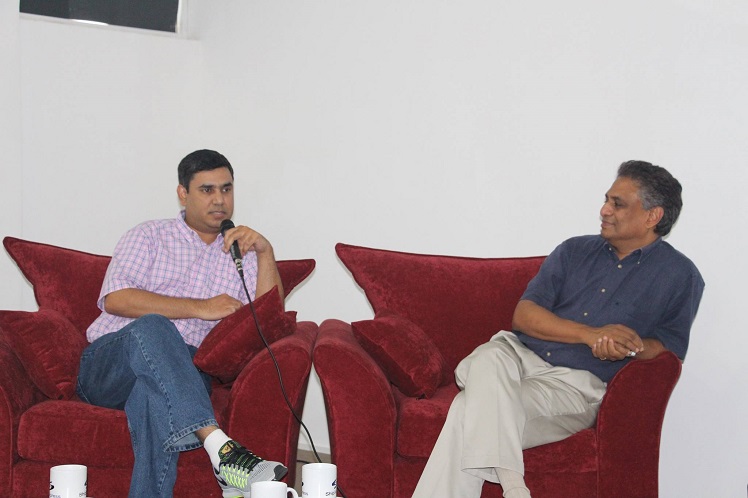 What really caught our attention were the answers to quiz-style questions shot at them by the ShipXpress team. For instance, when the team asked the CEO who his role model was, he confessed that it was each person he met, each of whom had something valuable to teach him in the course of his life's journey.
After that exciting 'did-you-know' segment, it was time for snacks, followed by a musical performance by ShipXpress's very own band! And yes, they even have a stage set up for these talented folks to perform!
It was refreshing to see the ShipX colleagues and their bosses engage in a genuine TGIF environment and during all this, we got a chance to personally chat with the dynamic 'C' duo.
In the beginning
ShipXpress first started its operations in the US in 2000 and at that time, it had a few developers and coders. After this, the company experienced rapid growth, so it moved its development processes to India, which was later brought to Sri Lanka in 2003. "It's been an interesting journey. What's more satisfying is being able to create a learning environment and creating opportunities for everyone to grow as a whole," said Charith.
Why Sri Lanka?
Since Raghu is from India, we were curious to find out why ShipXpress ultimately chose Sri Lanka from the man himself. Raghu had an established operation in Hyderabad during the late 90's but then giant multinationals stepped in and started offering to pay IT executives over 5 to 6 times of what they usually made.
Thus, it made practical sense for ShipXpress to setup its operations in Sri Lanka, for one thing. About this, Raghu said that "a majority of our current employees have been with us for 5 years or more and that is something we are very proud of. There is no way I can ever think of that happening in India," he added.
Secondly, Raghu admitted that "if it was India, it'll be my headache; but now since it's in Sri Lanka, it's his," he said, gesturing to Charith. Hmmm, was he hinting that a Sri Lankan workforce is more loyal, comparative to our neighbors in the north? Certainly seemed that way.
Growth
About ShipXpress's expansion plans, we asked Raghu how the hiring process happens.
"In the past, a product development company wanted to hire only experienced people. When we were small, we couldn't afford to make mistakes so we slowly put in place a solid recruitment structure."
Expanding on that, he said that now ShipXpress is not really interested in a potential employee's work experience, but favors pure enthusiasm and talent. He also said that they had recruited many interns from prestigious local universities like the University of Moratuwa and the University of Peradeniya. The company is also planning to pick more fresh faces and groom them to hone their skills and become future leaders.
"Attitude is more important than Aptitude" – Raghu Misra
Culture
Building on that, he said: "If you don't have the attitude of wanting to do more than what you are asked to do, you'll always be lagging. It's not just about following orders." Raghu mentioned that as a product development company, if you want to be innovative, the only way to define innovation is to out-think the customer as well as the competitor. "One needs to think like an 8-year-old and has to keep asking why?"
He said that this is something they always try to embed into ShipXpress's culture. They strongly encourage their team to be curious and engage with the world that is around them, including their work, so that they always question and try to figure out the "whys" and "hows" behind the "whats."
Wrapping Up
ShipXpress is always keeping an eye out for fresh talent and unique thinkers!
So if you happen to be one and if your way of thinking aligns with theirs, you stand a good chance of joining their international family!