If anyone was making a list of the most iconic devices, you can be sure the iPhone would be in that list somewhere. The original iPhone played a major role in revolutionizing the mobile industry and practically life as we know it by making mobile mainstream and of course, made Apple the giant it is, which kept producing notable successors to it, each being more popular than it's predecessor.
The latest successors are: the iPhone 5S and iPhone 5C, both of which are available all over the country (including the North & East), at the outlets of the official Apple partner: Dialog. Yes folks, you read that right, Dialog has been crowned the 1st authorized partner for the iPhone here in Sri Lanka by Apple themselves.
This means that, not only can we in Sri Lanka now have iPhones, but also the infamous AppleCare warranty with the service offered by Apple's partners, which means not only can we enjoy an iPhone if we get one for Christmas, but if it breaks, we don't have to worry too much either – which is a high priority, after all no one wants to spend a lot on a nice gadget and cry sadly, because they can't get it repaired without spending another small fortune.
Currently Dialog is selling, the following iPhones with 1 year AppleCare warranty along with the options and prices at:
If you want to compare the phones and find out more about them, you can do so at the well detailed comparison page Dialog has setup on their website here.
If you're a Dialog Priority customer, then you can enjoy your usual discounts on these phones if you decide to get them. Furthermore, if you have a credit card either from Sampath Bank or Commercial Bank, then you can enjoy an interest free payment plan. For other credit cards, Dialog is offering a 12-24 month payment plan.
You probably can get them a bit cheaper from elsewhere if you look around a bit, but remember folks; you won't get the peace of mind of the AppleCare warranty from anywhere except Dialog here in Sri Lanka, which is a pretty good reason to consider Dialog if you want to buy an iPhone.
Well, even if you buy the iPhone from somewhere else, you might want to take a Dialog SIM for it, because Dialog offers high-speed data speeds with it's 4G LTE network, which unlike Mobitel's 4G network, was selected by Apple themselves to offer 4G connectivity to iPhones, making Dialog the official service provider for it as well.
Being the official service providers, Dialog is offering two special packages, with Voice, SMS and of course the all-important data benefits, for anyone interested in getting an iPhone, named: the i500 Package and the i1000 Package, both of which are impressive since as you can see in the picture below, a subscriber would only need to pay for rental after a whole year.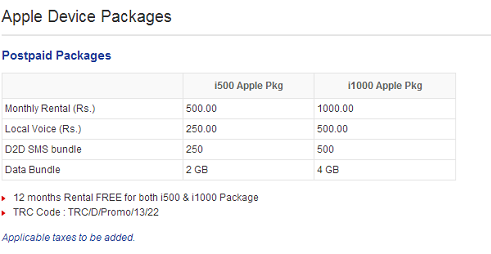 These are impressive achievements for Dialog, and with it's decent track record of customer service we're pretty sure that they'll live up to Apple's expectations.
This of course isn't the 1st time a service provider has gotten an attractive handset to attract subscribers, as an example: some of you may recall, a few months back Etisalat was the 1st to bring the Samsung Note 3 to Sri Lanka.
Are we entering the age where Sri Lankan service providers start competing, not just with attractive packages but also attractive handsets like those in the US? That is a question for future ReadMe because only time will tell us the answer to that one.