A scene inside the Taj Samudra: a well-lit hall, with a podium at one end and us scribbling at the other. Between the two sit a crowd of perhaps 60 individuals, most of them insurers. This is a curious cross-over: "Digitalization in the Insurance Value Chain", an event hosted by Value Momentum.
We picked up a brief idea of the event as we walked in: it was more or less a summit for exploring how the introduction of technology into insurance companies is changing things. As we took our seats, buzzwords started flashing onto the screen – mobility, analytics, internet, BPM, cloud tech, e-service portals, social media – as the speaker launched into a lengthy description of how far-flung and decentralized this process has become, affecting every aspect of the insurance value chain.
We saw various heads in the audience nod as each of these buzzwords was taken and dissected in an insurance context, and in terms of their impact of this particular industry. "Ultimately, we're looking at something called 'the Internet of Things', because everything is connected," explained the speaker, describing how each of these technological points interacted with each other to create something greater than the whole. Most of it would have made sense to an insurer, we're sure: from a geek perspective, it was the educational equivalent of having the Maheveli deposited in your brain.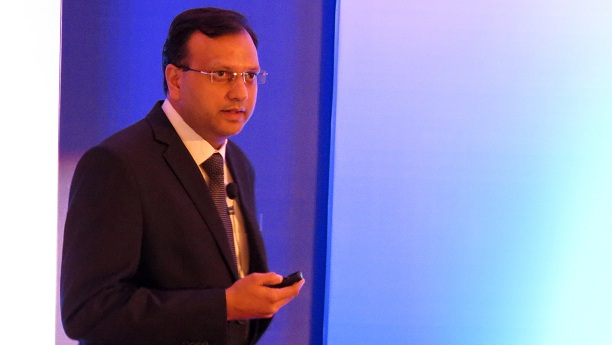 He then went on to discuss the actual utilization of all this tech. Statistics, we learned, were pretty low: roughly 10% of income came through digitalized efforts, despite the ability to score higher. It appears our insurance industry is not as advanced as everyone would like…or is it? A panel of top insurance leaders would take the stage to discuss this, but before that, the speech was ended with a Q&A session that brought out some interesting questions.
"I'm not an insurer. I've got nothing to do with any of you: I'm a journalist," began one gentleman. "One little question: I feel that there are too many insurance companies. We have 22 companies fighting for the same pie. What can you do to bring peace to the market?"
"We think competition is good," came the answer from Uma Gogenem, a longterm veteran of both the IT and insurance industries. "When peace settles in, innovation for the customer goes all the way down. We don't want peace."
Another member of the audience queried the speaker on the top-and-bottom-line benefits of digitalization, chief among them being profit. We took a turn at the mic next and tried to find out which companies did the best job of digitalization in Sri Lanka, but unfortunately the Value Momentum folks were mum on that.
Next came the panel discussion we mentioned. Ruwan Bakmediniya from Union Assurance; Namal Gunawardhene from HNB; Conrad Dias of LOLC and Thilak Vithanage of Janashakthi. While we can't record the full discussion that took place, here are some interesting facts we gleaned:
1)      The LOLC group runs a private cloud infrastructure
2)      Union Assurance has a pretty strong digital system for general and motor insurance, with clients and employees reportedly dealing through a digital system, and that most development is done targeting tabs. "We've moved beyond the laptop," as Ruwan put it.
3)      HNB is going strong on Facebook likes.
4)      Most of Janashakthi's software is written in-house. They have specialized mapping systems to chart accidents and floods.
The panel discussion evolved out into a discussion on big data, where things got polarized. Some in the panel were of the opinion that they needed more efficient methods of collecting data; others, that nobody really knew about big data in Sri Lanka; yet others that they had the data they needed, and what was actually needed was more efficient ways of analysing what they had. Questions flew back and forth, with people wanting to know how data and technology, for instance, were shared in the industry.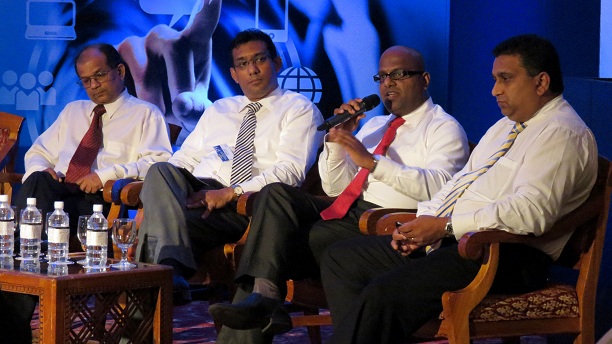 Next came 11-year Value Momentum member Uma Gogenem, imparting what we felt was the most valuable sharing of data of the day: a concise education on how to approach the process of digitalization, covering things from a user's perspective.
"It's not about competing with your local peers anymore," she said, talking about how companies should approach front-ends like websites and online claim systems. "People are going to be comparing you to Google, to Amazon. It's about creating a web experience that stands out on the Internet. You're competing for people's attention, and in that sense your closest competitor may not even be your rival insurance company – it may be anything.lk or any other site that's interesting more people than you are."