ETCA has suddenly become the focal point of social media jokes and serious discussions alike. Although it has been seen in many lights by different parties, an agreement of such nature and its impact on us cannot be taken lightly. This is our attempt to break down the effects of this agreement. Which is easier said than done since no one seem to have a reliable copy of the said draft document.
For those of you who are lost, the Indo-Lanka Economic and Technology Cooperation Agreement better known as ETCA (formerly CEPA) is a trade agreement that our government is set to sign with India. It's a trade agreement that's attracting large amounts of controversy in the IT industry. This is because according to initial reports it could permit the free movement of IT professionals across borders. These reports have sparked fears that we will soon see a mass exodus of Indian workers coming to Sri Lanka and competing with us for jobs.
To date, neither government has released the ETCA draft or any document pertaining to the agreement. What is floating around the internet are merely documents of unofficial nature which may or may not be accurate. Therefore, it's really difficult to gauge the impact of such an agreement. Therefore, we take this discussion on the assumption that Indian and Sri Lankan IT professionals can go across borders to find jobs and also businesses can set up shop in either country.
Impact on employees
The best case scenario for the agreement would be that each person wanting to work in either country should get a work permit, where in theory a skill shortage requirement may need to be presented for the work permit to be acquired. But given the nature of the process, it's almost a given that this work permit thing would not act as an effective control.
So how would it affect our employees? India with its massive population has IT professionals from all skill sets and skill levels. However, the chances are that cream of the crop and even the mid-level professionals may already be employed happily in all the large tech firms that have set up shop in India and also in large Indian owned companies. What is left are the unemployed lot that does not cut it.
In our opinion, it would be really difficult for them to be competitive in our mainstream tech job market. However, their low cost would make them attractive to certain companies that carry out outsourcing operations like customer support and even call center work. They may also be a good proposition for companies to fill entry level programming jobs. This would, of course, mean that fresh graduates and other hopefuls for these job categories would be threatened.
However, we feel that this may not be such a nightmare scenario as we seem to this it is in some cases. In the example of call centers, India is already a hotbed for them. The only reason we already have them in Sri Lanka should be due to a differentiator that only we can provide. We do think that it is our friendly Sri Lankan attitude and accent rather than anything else. This is something that the Indians can't fill. But looking at the entry level programmer issue does not have such a favorable outlook. There are some jobs such as product support that may actually be a good fit for organizations. This would threaten our entry level programmers, mainly fresh graduates.
Impact on employers
Our guess is that should employers want to bring Indians, they would go for a mixed approach where they mix 1 or 2 Indians with a local team to keep the costs in check. This may seem like a rather viable solution for companies, but it could hurt the IT sector in the long run because the next generation of youngsters who want to be IT professionals would be discouraged from being so. In theory, this could lead to a strategic decline in interest in our IT industry. Also, since the Indians would most likely work for less, there is a very real chance that the salary scales would also go down. All these would ultimately result in making the IT profession unattractive for the next generation.
Another aspect of this is the clash of perceptions. Most tech companies we know go for a quality over quantity policy in their businesses. In fact, this is our main differentiator in the IT sector as well. The few foreign companies that have operations here did not select us solely because of relatively cheap engineers, but also because of our quality. The level of skills we expect to get from India would push these standards down. As mentioned earlier, it would be the bottom crop who would be coming here and there is a very good chance that this would tarnish the image of our Industry as a whole.
This is not to say there are no advantages for local businesses. This influx of workers from India could easily fill low-level jobs thereby freeing up local talent to much higher levels of works such as R&D. However, there really aren't any strict measures to stop any employer from doing this already. With our industry competing globally, any employer can virtually hire Indians (any foreigners for that matter) to work in such roles. If there is an actual shortage of skilled labor, then all an employer has to do is simply prove this to the Board of Investment before getting approval to bring foreigners to fill this labor gap.
Impact on businesses planning to come to Sri Lanka
Assuming that Indians are also getting a chance to set up businesses here, the impact of that needs to be discussed as well. With our middle-class booming, opportunities are ripe for local entrepreneurs to exploit. We are seeing more and more startups setting up shop and the ECTA is an immediate threat to them.
India is way ahead of us in this race. India with its large middle class has some very good startups that have now grown with enough money to expand and with well-established business models. If they come down here, our local startups would face an unfair fight. This is especially true for business offering products. Indian companies will have a huge price advantage thanks to economies of scale because the same products would be offered in India and Sri Lanka to a much larger customer base, where the Sri Lankan business would only be offering them in Sri Lanka to a much smaller customer base. Indians would have a much better chance to undercut our prices and still stay profitable.
However, as it stands there's nothing stopping Indian businesses from coming to Sri Lanka and setting up here. If any foreign investor approaches the Board of Investment and shows a keen interest in investing in Sri Lanka, he'll be given permission to set up operations and X amount of visas to bring foreigners. In fact, we have already seen the Indian businesses such as Uber and Zomato set up operations here and hire Sri Lankans to manage them. All the ETCA does is simplify the process even further.
Impact on Sri Lankan businesses
Again if we look at this from a much higher level, it may not be bad as it sounds. This means that our businesses would have to find a differentiator that should appeal to the customers. There is a considerable segment in our market who would pay more to buy a Huawei or a mid-range Samsung phone rather than a cheap Micromax.
Likewise, our businesses would have to bring their A game which would drive our country forward in the long term. Right now it's too easy for a business to palm a few local officials and set up an agreement with their local competitors to even go as far as price fixing. Why do you think we are seeing so many deals sites with so many discounts? Because the profit margins are way too high. A foreign competition might just be what's needed to stem this trend. Just like what happened to mobile phone charges when Airtel came down. We still enjoy good rates thanks to the price drops that came when Airtel entered the market.
Also, there is no better motivator to improve yourself than being challenged and threatened. Most of our business and in some cases individuals like to sit comfortably playing in their comfort zones. This is something that inhibits growth. This threat or competition might just be the kick in the back we need to dust ourselves and put our game faces on as a nation.
The opinions of the industry
In its current form, the vast majority of professionals in the IT industry is strictly against ETCA. You don't have to look far across social media to find Facebook groups such as Protect Sri Lankan ICT or Protect Sri Lankan IT. There's even a Change.org petition asking the Prime Minister not to sign it. However, if we look at what industry leaders are saying then it's a more silent picture.
Thus far only the Computer Society of Sri Lanka has clearly stated that they are completely against the agreement. Speaking to the media, Dr. Dayan Rajapakse – the President of the CSSL has reiterated this stand, stating that if we open up our borders to Indians then it would lead to unfair competition and Sri Lankans losing jobs.
On the other hand, SLASSCOM has adopted a moderate approach, releasing the statement below.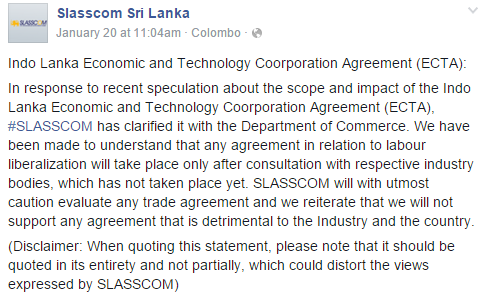 Then there is the ICTA which has officially maintained silence regarding this matter. However, Muhunthan Canagey –CEO of ICTA has commented on the issue with the statement welcoming the signing of the ETCA.
I would like to really know, do you really think the signing of ETCA will affect IT jobs in Sri Lanka? Are we Sri Lankans so inferior that we are so threatened to ensure doors are to be closed for IT professionals from India to come and join teams in Sri Lanka? Don't you all think that in a world where software code is being developed all around the world and being delivered through the Internet, protecting IT professionals coming and working face to face with local teams is bad and will destroy us? Anyway, the work can be outsourced online.

Look at Silicon Valley, what has got them there? It is the culture to embrace the best minds for the development of great products. Why do some Sri Lankan IT professionals feel so insecure? Is it because they want to be some dons in a small pond or they have really not seen the real world?

Sometimes many IT professionals talk big but when it truly comes to being challenged by diversity they become mice.

Just imagine the success of large companies such as Google and Microsoft have made some top persons of Indian origin as the head of their organization today; do those founders or IT professionals have such narrow-minded approach like some of our so called professionals? Their thought process is what has allowed them to get to where they are, and for Sri Lanka to remain where we are.

It's time we start embracing globalization if we want to build world class companies who can compete in quality and scale else we would have to lag behind.

It is important for supporting local startups and if we do not open out there is no way our local startup communities would be able to be entrepreneurs and build companies that will actually bring in value for the country and place Sri Lanka on the world map.
We spoke with a few other industry leaders as well. However, they declined to comment stating that until an official draft of the ETCA agreement becomes available they would not make an official stance.
What are your thoughts on the ETCA agreement? Should we welcome it or fight it to the fullest? Let us know your thoughts in the comments below.