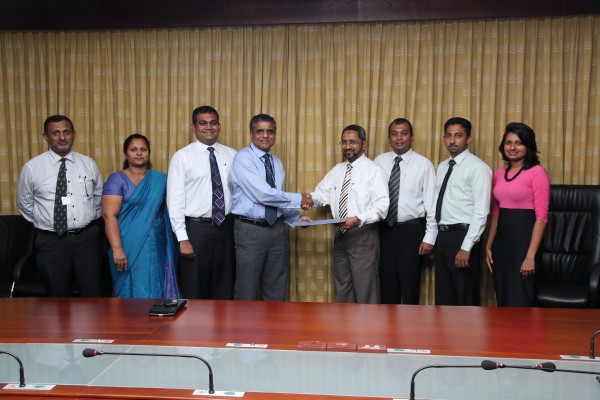 Etisalat Sri Lanka has partnered with Commercial Bank to introduce mobile banking via USSD (Unstructured Supplementary Service Data) technology, a global system for mobile communication used to send a text between a mobile phone and an application program in a network.
Etisalat users can now enjoy the convenience of conducting their banking activities with Commercial Bank through their mobile phones while accessing the menu driven USSD portal.
The USSD portal can be accessed by simply dialling #8823#. Once a customer who is registered with the Bank for this service, dials into the USSD portal, they simply have to select the required function and enter a Personal Identification Number (PIN) provided by the bank for authentication and the system makes the desired transaction.
Through this service, Etisalat users who have accounts at Commercial Bank can make Balance and Credit Card Inquiries, Bill Payments, Fund Transfers, PIN Changes, Top Up credit on prepaid connections and obtain Micro Statements. This service will give users access to a list of essential services excluding withdrawal and deposit of cash.
Banking via the USSD menu allows users to remotely pay utility bills without having to wait in queues or physically travel to the bank. This service enables the reload and bill payments of Etisalat, Water and Electricity bills in just a few minutes, all through any user's mobile phone.
This unique service is significantly different from SMS banking available in Sri Lanka. With SMS banking, a customer/ account holder must remember or keep record of short codes which are ties to each banking service. Banking via the USSD portal eliminates the need to remember short codes as it is a menu driven portal which is hassle free and easy to access. 
Commenting on the launch of this service, Commercial Bank's Chief Manager for e-Banking, Pradeeep Banduwansa said, "We are proud to partner with Etisalat to give Sri Lankans the power of mobile banking with USSD technology. It's a service that aligns with our vision to provide our customers with technologically advanced and innovative banking solutions. We understand the time constraints when it comes to business and having to physically come to the bank to conduct transactions. The service is a step into the future as Sri Lanka closes in on a technologically interdependent era. We also offer SMS Banking, ReLoad & Tri-lingual Mobile Banking facilities to our mutual clients."
Etisalat Head of Strategic Planning, Mahesh Amarasiri speaking about the launch of banking via USSD said "It's like having a mini-ATM facility in your phone. Etisalat is proud to offer an innovative service that will help change the future. We introduced a user-friendly platform that allows anyone to easily use and conduct transactions without having to physically be present at the transaction point or having to travel to the bank". 
What is USSD?
Unstructured Supplementary Service Data (USSD) is a protocol used by GSM cellular telephones to communicate with the service provider's computers. USSD can be used for WAP browsing, prepaid callback service, mobile-money services, location-based content services, menu-based information services, and as part of configuring the phone on the network.
USSD messages are up to 182 alphanumeric characters in length. Unlike Short Message Service (SMS) messages, USSD messages create a real-time connection during a USSD session. The connection remains open, allowing a two-way exchange of a sequence of data. This makes USSD more responsive than services that use SMS.