At every election, the Facebook money farm swings into action. The Ad Manager tractors roll out. The CPC and CPL men start haranguing the Newsfeeds, padding them out with Adverts. Organic post engagement is dragged, kicking and screaming, and fed head-first to the dogs. Somewhere in the depths of all this madness, Mark Zuckerberg's wallet grows a little fatter.
You get the picture.
The 2015 Presidential Election has seen the largest amount of political activity on social media in this country.
Advertisements for and against Mahinda Rajapakse and Maithripala Sirisena are on practically every Sri Lankan's newsfeed, propelled by an undoubtedly phenomenal amount of money being thrown at Facebook. In fact, Maithri even made it into Social Bakers' Fastest Growing Politics Pages list, right up there with Narendra Modi and Obama.
Here is a list of some of Sri Lanka's largest pages, with Kumar Sangakkara  as a neutral benchmark.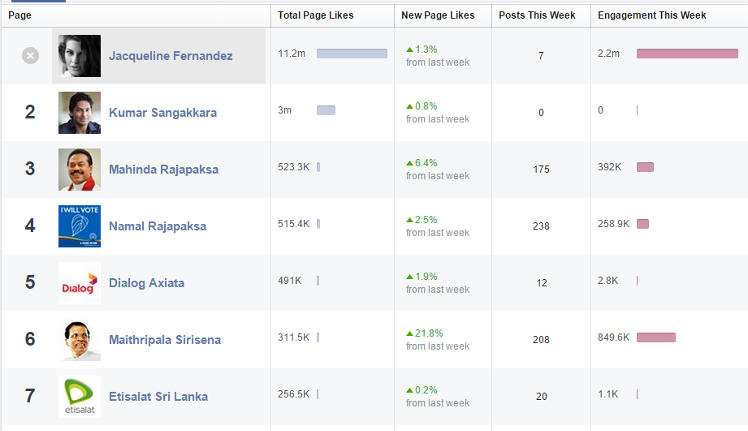 The President's social media strategy seems to be a split push. Facebook is absolutely full of pages dishing forth the blue vibes – anything even remotely connected to the current Government seems to have been turned into advertising platforms.  By far the largest pages here are that of Mahinda Rajapakse (523,337 likes), Namal Rajapakse (515,420 likes). Bringing up the official rearguard are the SL Blue Brigade (136,287 likes).
A brief analysis yields some staggering numbers.
On the first layer – Direct Command, shall we say – are five pages:The President, Namal Rajapakse and the Blue Brigade versus Maithripala's main page, the UNP page and the UPFA page.
The President's page pushes out 13.63 posts a day (on average). No replies are made by the page to posts, and hashtags are not used. Each post gets an average of 4,900 likes, comments and shares (taken as a total), for a total of 392,900 Facebook users engaged per week. Mahinda's engagement rate (Number of Likes / People Talking About This) is 21.97%.
Namal is taking it slower. His likes grow at a mere 9%. He puts out 8 posts a day on average.
The Blue Brigade pushes out a whopping 180.56 posts a day. That is superhuman. To call it Herculean would be to honor Hercules. It's also effectively killed its own organic reach; they produce a phenomenal number of videos, each watched on average by about 60 people: but hey, 180.56 posts. Even if there's no-one left to read it, that's an achievement.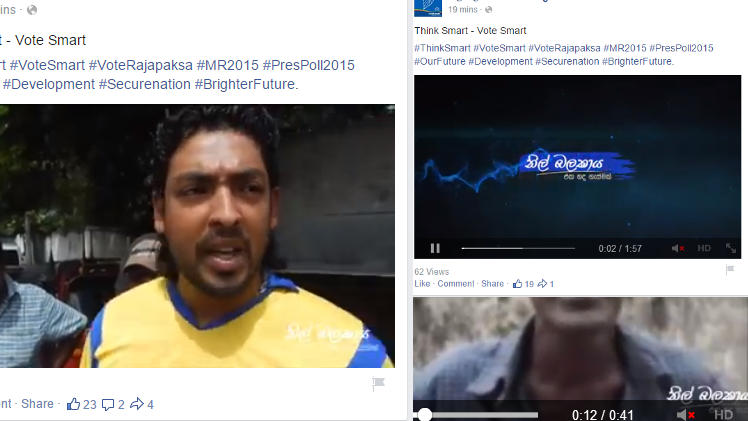 Maithripala Sirisena's personal page, on the hand, operates with a far lower base of likes (312,088). It pushes out 18.48 posts on average, each post clocking around 4,350 likes, comments and shares. Its engagement rate is a whopping 74.83%. 25% of his posts are photos, 25% are text status updates, 25% are videos and 25% are links. Again, no replies are made to posts.
Maithripala reaches 831,900 accounts every week.
To put the amount of spending that's going on here into perspective, Dialog Axiata (no 5 on that list above) has 491,100 fans and a dedicated company handling their social media. They do art. They do questions. They reply to their customers. It's safe to say they spend a lot of money and time on their Facebook presence. They're reaching 2,800 people right now.
With the exception of Jacqueline Fernandez, every other page in Sri Lanka is being outbid at an insane rate by the politicians; Jacqueline escapes because of her massive Bollywood following.
The next level of pages is those of supporting politicians.
The Rajapakse coalition doesn't seem to have an exceptionally powerful social media presence by politicians in this tier: Wimal Weerawansa is catching up, but there's not enough attention being paid to that page.
Here the Common Candidate has the bulk of his forces – pages like "Sajith Premadasa – Leader For Our Nation" coast along at the ideal of 2.8 posts a day, 5000+ likes, shares and comments, taking advantage of the higher attention given to images (approximately 83% of his posts are images). Best practices right there.
Others, like Anura Kumara Dissanayake, operate Facebook pages buoyed by more liberal spending. The most staggering is Sujeewa Senasinghe. LikeAlyzer lists a 1140% growth in likes for this man. That's not cheap.
Mahinda's tactics here have been to win over media figures along the likes of Iraj, which isn't going well: despite powerful engagement, these figures are experiencing a wave of backlash from fans. That engagement is largely negative or unrelated and therefore a difficult measure.
Finally, we come across the lesser support groups.
Mahinda definitely has the edge here. A rash of community pages have sprung up, with sponsored advertisements; meanwhile, there are also reports of pages being subverted – a classic example being the World Conference on Youth Page. There's also some on the other side, of course, and most seem more derogatory in nature – designed to slander rather than support an opposition.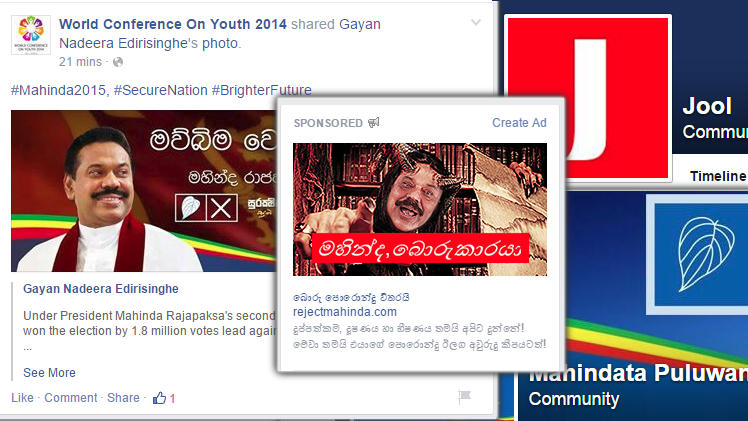 The spending – and thus the effect – of most pages is minimal; at a grassroots level, they're being outbid on Facebook by the main pages of the causes they espouse. The majority of these are nonentities in terms of the effect they're having. Larger pages, with above 50,000 likes, are having an effect, but are again being overpowered by posts from further up the ladder. The most popular recourse for most of these seem to be the right-hand sidebar (where ads are significantly cheaper).
Nevertheless, this is content. All of it pumped with single-minded intent into one platform, engaging users left, right and center and leaving a rash of rupees deposited as dollars into Facebook's bank account. As a direct result of all this money and content going into Facebook, reach on most corporate pages have plummeted, as priority is increasingly given to posts pushed out by political parties.
The moral of this story?
It doesn't matter who you vote for. Only one man is going to emerge unchallenged, unscathed and victorious. It is not the President. Nor is it Maithripala Sirsena.
It is…Mark Zuckerberg.