What is Facebook Studio?
A recent panel discussion we attended told us that some 1.5 million Sri Lankans were on Facebook. Why are so many people wasting their lives on it? (No pun intended). However, this time around let us look at those who are actually making money out of this. No, we're not speaking of those jobless randoms who 'work' at Facebook, but those who put up a page, run home bakeries among other things and ka-ching! In the midst of all these achievements earned and bags of money stored, Facebook Inc began wondering how they could add their two cents to it and voila, Facebook Studio was launched.
Facebook Studio was created to "celebrate agencies and marketing campaigns". Agencies and company need to sign up with Facebook Studio, submit their best work and the cream of the crop will be in the site's 'Spotlight' and also nominated for Facebook Studio Awards. Fancy. It gets fancier because the Awards are not based on the number of 'likes' or 'shares' or whatever else they do. There is an expert jury that sits in NYC that scrutinise, crticise and judge. According to Social Searcher, "The purpose of the site is to attract advertisement agencies to improve marketing strategies basing on the social site.". 
Fun fact: The likes on Facebook Studio's page is nearing the total Facebook usage population in Sri Lanka.
How'd it get Looped?
Two words: Loops Solutions. The company, which had been a rising star in digital marketing, has actually been nominated for four awards!

This is a Sri Lankan company we are talking about! We already remember that Jehan R video where people opted to sit on a Colombo, yes? So, yes. We at ReadMe are quite psyched about Loops' nomination and for Sri Lanka. Given the vast international pool of talent involved, four nominations is like four shortlists for the Carnegie medal or the Academy Awards.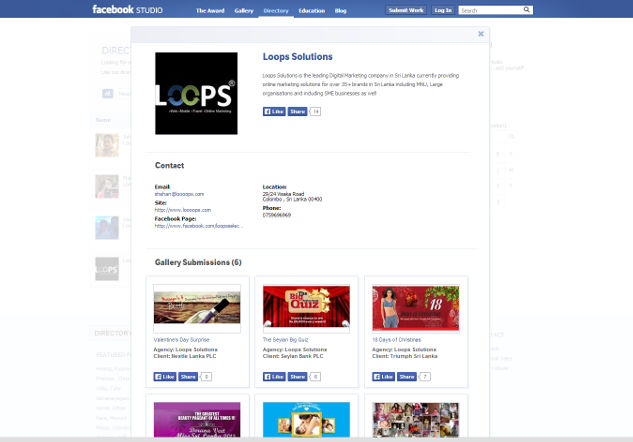 "Facebook Studio is the arm of Facebook where they recognise the best campaigns on Facebook and how brands have used Facebook effectively. Even being featured on Facebook Studio is a fairly an achievement as it shows that campaigns carried out in Sri Lanka are of international standards. We have been recognised for 4 campaigns for 2013 which is a significant recognition since there are only a handful of agencies that have been recognised for more than one campaign," said Shehan Selvanayagam, their CEO, speaking to us about the nomination. 

According to Facebook, the judging for the Awards take place between February-March 2014, so we will be on the loop.