Almost every internet provider claims to be the fastest in the island. We've seen it before – phamphlets, billboards in Nugegoda, the lot. It seems Airtel has taken a step ahead, involving the TRCSL, a government entity, in their bogus advertising.
[quote]
From an advertisement on www.ft.lk and Ceylon Today FT
"Airtel broadband continues to be fastest data network in Sri Lanka"
Bharti Airtel said yesterday that in the speed test results of the periodical survey conducted by Telecommunication Regulatory Commission of Sri Lanka (TRC) for the month of August Airtel Lanka has been recognised as the leader in the category of 3G Mobile Broadband.
…………
[/quote]
 
Aside from delivering on a promise hinged on reliability, the TRC results reaffirm Airtel's commitment to network excellence by showcasing a month on month win in mobile broadband speed tests against other operators in Sri Lanka."
This test comes hot on the heels of an upgrade to the Airtel Network, which may or may not make Airtel the fastest: we all know that no matter how many Mbps a service provider promises, we end up getting only a certain fraction of it. What the Airtel advertisement conveniently neglects to mention is that the TRCSL survey carried out the test only in the area of Mirihana (No. 276A/1, Kotte Road Mirihana, Nugegoda). There is no actual proof to support for their claims. Their advertisement is essentially misleading the public into thinking that the TRCSL endorses Airtel's leadership island-wide.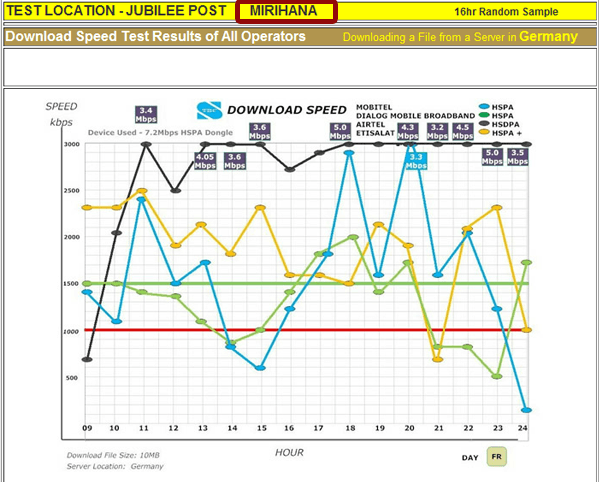 Airtel's technology is not at fault here: it's their advertising ethics that bother me. They've basically taken an incomplete area test conducted by the TRCSL and used that to word their advertisements in such a way as to make it appear that the TRCSL [which is an impartial entity] actually endorses Airtel over other service providers in the island.
If you've read this advertisement, take it with a grain of salt. Or several. When there is genuine proof of a network providing the fastest internet in every major district in Sri Lanka, then I'll accept that said network truly is the leader. Until then, ladies and gentlemen, it's all hogwash.
Happy downloading.