Firefox may be overshadowed by Google's juggernaut, but the open web browser hasn't given up the good fight: Mozilla just pushed out the Firefox 29 upgrade (29 versions, that's some massive history), bringing with it some refreshing new changes.
Now we all were Firefox fans before Google Chrome arrived on the scene – it did everything that Internet Explorer did, but better, and for the power user there was enough functionality to incite small amounts of drooling while web browsing. Then along came Chrome, and almost overnight the web rediscovered a clean, minimalist browsing experience that loaded fast and made both the Firefox and IE camps look like dinosaurs.
The Firefox 29 update tackles this head-on. For starters, it now looks better, thanks to a complete UI overhaul. Gone are the 2008-ish tabs: that top bar has been cleaned up, replaced by very Chrome-ish elements that, well, is frankly nice to see.
Menus have been injected with that same cleanness and a very subtle Mac-ish drop shadow. The main menu has been changed: it's now got icons pointing to the things you need most – saving pages, printing, history, search, options and addons, private browsing – in fact, I rarely use any browser's main menu, but this one simply takes the cake: it has I'm everything I look for. In fact, it looks very much as if the Mozilla UI guys sat down, redid Firefox to look like Chrome, and then took it a step ahead.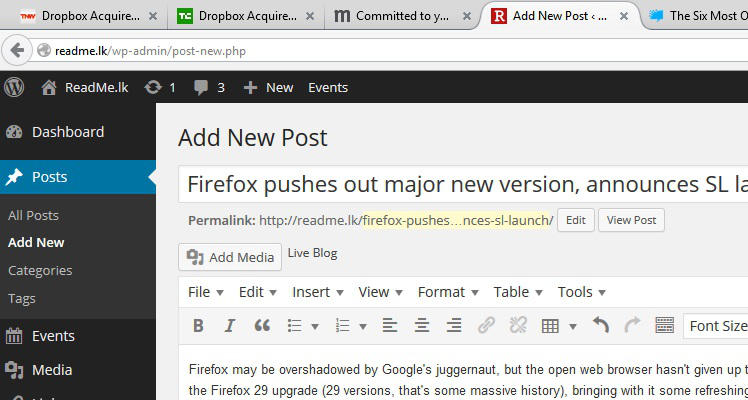 We're not complaining. It's beautiful. It works. It makes you want to migrate – which is kind of the whole purpose of the thing.
Performance-wise, you only ever hear about a browser when it completely destroys the competition or fails. Firefox 29 does neither: it simply works. Unlike Chrome, which registers up a new process for every tab, window and plugin, Firefox does it the way it's always done – one giant .exe running away. Other than that, it's pretty much the same experience. It's really the UI that makes the difference in this one. From a web developer's perspective, Chrome's Inspect Element with its easy code highlighting still take the cake.
To celebrate, Mozilla's having a launch party, starting at 8.30 AM on the 10th of May at NSBM (that's in Nugegoda). The UI change is a milestone for Firefox, so bring along your fanboi-isms, debate with the Mozillians and see if they can convince you to switch.