TL;DR: Another day, another cool event. This time, it was a little closer to home – well, my home, in this case. This was "FLIP IT – Getting the best out of everything", organized by Unilever SPARKS. SPARKS is a student ambassador programme designed for those students involved in their higher studies to work on and showcase their leadership skills; this programme basically consisted of 12 students representing both local and private universities across the country.
It was essentially a personal and professional development programme event, organized by the SPARKS Unilever student ambassador of the National School of Business Management (NSBM) in collaboration with the student activity center of NSBM. As such it comprised of a panel discussion and a skill-building workshop targeting undergraduates' knowledge, soft skills, expertise and improving self-awareness.
On with the show, then.
After waiting for the elevator for a good 10 minutes, I proceeded to take the road less travelled and trudged up 4 flights of stairs. Upon emerging on the 4th floor (albeit somewhat breathless and winded) I entered the auditorium and found a nice place for myself and set up for the event. All around me there were students excitedly taking their seats, getting together with friends and cracking really bad jokes. On screen (in this case two), a collection of songs play. Behind me an annoying friend of mine (who happens to be a talented artist) sang along to the song played.
As stated above, the purpose of the panel discussion was for students to develop their knowledge and to learn from experts in the field:
D.M.A Kulasooriya – Director, NSBM and NIBM (Due to unforeseen circumstances, he was unable to attend the event).
Lahiru Gunasekara, lecturer at NSBM, career guidance lecturer (substitute for Dr. D.M.A Kulasooriya)
Aarthy Arunasalam – Manager, Leadership and Development, Unilever.
Sandeetha Jayasinghe – Founder / Consultant and Trainer, Flying Elephant
The event was scheduled to start at 1.30 pm, but due to unforeseen circumstances involving traffic and possible alien abductions, the event started around 2.45 pm.
The welcome speech was given by a member of the student body and he quoted Walt Disney, saying "All our dreams can come true, if we have the courage to pursue them". He also walked us through safety precautions in case a disaster occurs. I make note of the nearest exit and staircase just to be sure.
Soon, the event began in earnest. First up was Lahiru Gunasekara and his topic "Education: A lifelong investment."
The first question asked by most students entering private or local universities, he told the audience, is whether they selected the correct course. And he has been asked this very same question countless times. Education can be divided into formal (well-structured education) and informal education, he says, where informal education is what we learn from birth and formal education is what is taught to us from our primary, secondary and tertiary education.
He drew from experiences from his life, especially during his O/L period when he wanted to further in language studies. But as luck would have it, his O/L results suggested otherwise. With 10A's, he decided to enter the Mathematics stream and got through his A/Ls. From there he was urged to enter the University of Colombo to further his studies in physical science where again, mathematics and physics were needed. His luck changed when he heard that the University of Wayamba offered a somewhat different option and he enrolled there studying Industrial Management and Computer Science.
He gave the audience two points to ponder:
Do what you like

After you make a decision, never look back.
In conclusion, he explained how if you look at the industry, there's no shortage of jobs, but rather, a shortage of skilled people. Food for thought, indeed.
Next up was Aarthy Arunasalam, speaking about leadership qualities and what is needed from a prospective student looking for employment. In contrast to Lahiru, Aaarthy's life was less glamorous, with her being not such a studious person but rather getting through her exams for the sake of doing so and even to the point where she completed her degree programme "just because it was what everyone else was doing". Applying for her masters at a University in India was her turning point, as she saw how tough it was to get a good educational degree and she questioned her purpose in life.
"Now that we're here, what next?" she asked.
She went on to explain Leadership skills, which you are definitely judged by in the corporate world. Unilever, for example has their own standards of leadership:
Growth mindset

Consumer and customer focus

Bias for action

Accountability and responsibility

Building talent and teams
"Grab every opportunity and keep learning." she says.
The final panel member, Sandeetha, was given the topic "being your own boss", especially since he is a well-known entrepreneur. He started off by giving out 3 pointers:
Have a positive outlook and smile

Have a vision and a dream 

Dreams are useless if not acted upon.
As like the other, he too draws from his own life and talks about how he passed O/L's with a narrow shave. He had a passion for mathematics but didn't want to wait for his University entrance, so he completed 2 stages of CIM. He also was employed at a number of companies, among them JWT and Lion Brewery Ceylon Ltd. His knowledge of English, he jokes was based solely on writing letters to his female classmates and his friends joined in as well.
"To be an entrepreneur, you have to be really passionate about what you do". He said his session by saying that becoming an entrepreneur is not something that can be done overnight. It takes time. But with dedication and commitment; it can be achieved.
That brought an end to the talks and it was time for the Q&A Session.
The first question asked was how success is a subjective measure, and the view on the supporting factors of success and the ingredients of success. Lahiru explained that its sheer determination for success and that no one succeeds by doing nothing. Drawing from teachings in Buddhist philosophy, he explained how the more you go through hardships, the better it pays off in the end.
Aarthy's views were that whatever you do, be the best at it. She explains and gives her views on how we should be passionate at what we do.
Sandeetha's view is a somewhat different approach. For him, success is being happy. It is subjective. What makes you happy may not apply to others. But on the other hand, you need money as well. As you gain monetary value, your happiness will also increase. It's the way of the world he says. He also says be passionate in everything you do. Whatever you do, give it everything..
The next question asked was how to achieve a balance between work and life whilst reaching personal goals. I'm sure a lot of us can relate to this.
Sandeetha was the first to reply, and he explained that we should indeed be passionate about the work we do, but that we should also make sure to plan out all elements so that everything gets evenly balanced out.
In Aarthy's case, work and life go hand in hand. But she also explains that with the world being more connected, one cannot simply cut themselves off from the real world, especially with advancements in agile working where your work is cloud based and can be accessed anywhere at any time.
Lahiru says that it all depends on the priorities you give. At present, some find it hard to distinguish between work and real life. When doing a given task, all effort must be put into it, but it depends on the situation. For example going to work whilst having a sick parent would not work.
A further question was asked on how to prioritize and categorize your work-life. Sandeetha suggested Eisenhower's Urgent/Important Principle.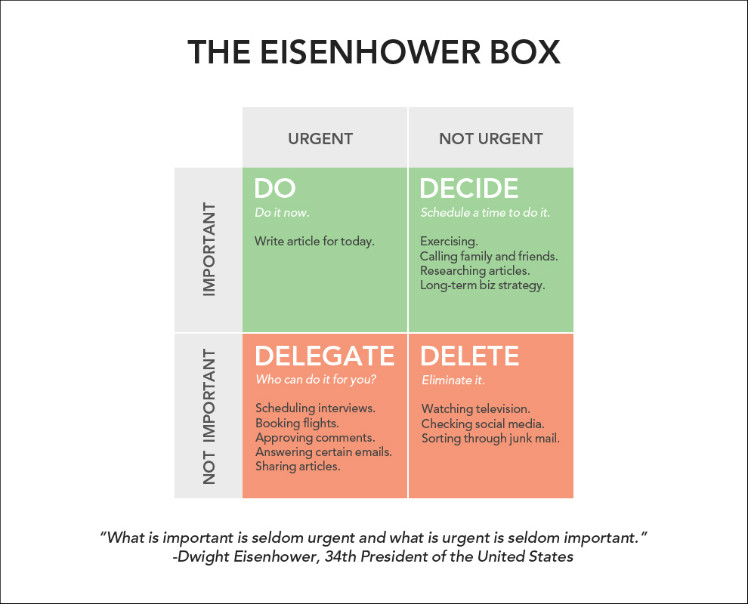 After a break consisting of Redbull (my kinda drink), the audience was seated once again, ready for a skills workshop conducted by Sandun Fernando who is also a toastmaster, with the objective of improving time management
Sandun started off by saying that nothing goes according to plan. He shares some tips with us with regard to what to do when we start a new job and how to be successful at it.
If you're gonna start something, you're better off doing it if someone pays you.
Just because someone says something, doesn't mean that it is true. What worked for them, it may not work for you.
He also explained how the younger generation does not stay in one place of employment for more than 1 ½ years, the reason being that they don't see eye to eye with their superiors. Sandun says that there is nothing wrong with working for another company: it teaches you the ropes and skills needed to develop which can then be used if you want to start your own thing.
He also argued that just because you're given a job, that doesn't mean you should take it. Always read between the lines and ask yourself "Is this what you want to do?"
He gave us a few pointers to apply when we are in a working environment.
Take responsibility

Invest in yourself

Be flexible

Network – Contacts bring contracts

Be solution oriented – If you have a problem, come up with a solution rather than wait for someone to make it for you. It shows that you can initiate and take charge of a situation.

Take feedback
The final section of his session was an interactive one, with three students volunteering and being asked why they should be hired given a particular job that they like. They were given 2 minutes to prove their point.
But as with any event, this too must come to a close. And so did this, with Sandun too being gifted a token of appreciation and with a few final words. The crowd dispersed, I myself among them.