Kaymu, the new e-commerce site, is pretty hard to ignore.
Ever since Rocket Internet (one of the world's largest e-commerce venture capital firms and startup incubators) decided to take a shot at the Sri Lankan market, Lankan consumers have been positively flooded with waves of online marketing from Kaymu.lk and Carmudi.
Within a very short time they've racked up over 1.7 million likes on Facebook – a feat only possible with extravagant spending on Facebook promotions, and one that gives them phenomenal reach online. 
Edit: as of the time of writing, 42,013 are Sri Lankan, as pointed out by our readers. See http://www.socialbakers.com/facebook-pages/428785900598277-kaymu.
Not a day passes when I don't see something from Kaymu on my Facebook newsfeed. It's an unprecedented achievement – even ikman.lk, which was famous for its massive Facebook advertising sprees, barely reaches a fifth of what these guys can access.
Kaymu's strategy seems to be slightly different from the norm. Instead of providing a bridge between retailers and customers (like takas) or being a purely hands-off classifieds like(like ikman), Kaymu brings on board sellers, promotes them on the Kaymu Facebook page and handles the delivery of the item to the customer.
However, Kaymu recently came under fire when they posted and promoted one particular deal – a Samsung Galaxy S5 "Vietnam" version, meaning a clone device – for an extremely low price. The post prompted a wave of backlash from Kaymu's Facebook fans. Reactions ranged from simple warranty questions to outright anger that Kaymu was marketing what is commonly seen as a fake product.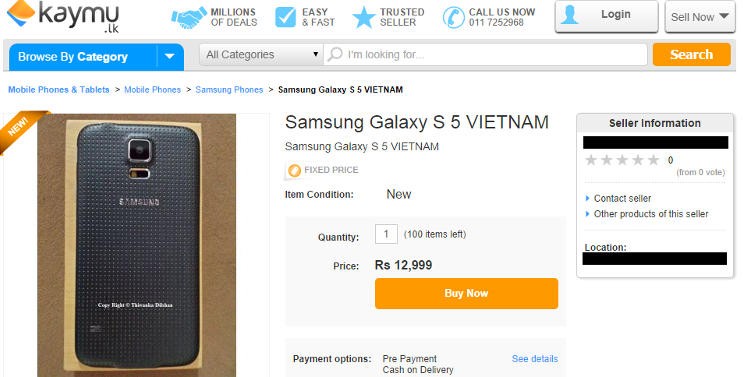 Editor's note: the Facebook post in question was retracted shortly.
In fairness to Kaymu, the item they were peddling was not their own. It was being sold by an independent vendor, like any other on Kaymu – after all, it is an Ebay-esque system.
However, the fact of the matter is that they were peddling the clone phone.
Now, I've used these phones before – in fact, I've owned two. By and large, they're excellent examples of what technology can do when it doesn't give a damn about compliance to standards, product quality or huge margins.These things have no warranty and generally start failing drastically after a few months of use. It's not necessarily a deception to the discerning smartphone user, but it is a device unregistered under the TRCSL, and also in violation of Samsung's local and international trademarks.
This is where things get sticky. Is it ethical to promote something that is a fake?
It's one thing for an un-named hole-in-the-wall in Pettah to push shady deals. There's no accountability there; possibly not even a business registration. It's another thing entirely for an international chain that aspires to such lofty ambitions. 1.7 million connections on Facebook and you use that to sell fakes that any established phone shop would shy away from?
A brief look over Kaymu's Facebook page shows a whole plethora of such promotions. Monsieur Dre in particular seems very popular.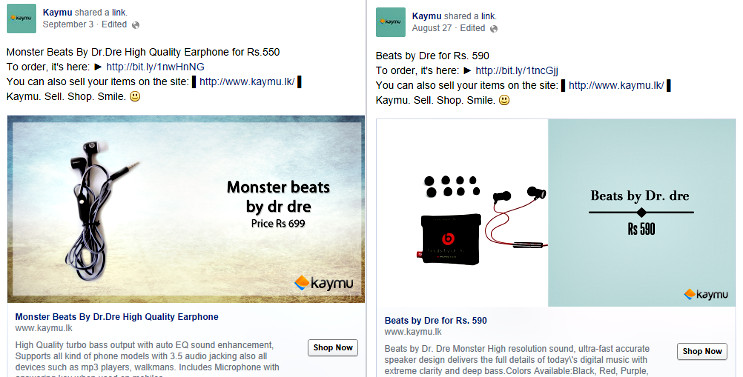 One inevitably wonders what Dr Dre or the Samsung marketing team would have to say about an international e-commerce franchise promoting rip-offs. Food for thought!