What do Geeks and Avurudu have in common? Well, usually nothing at all. The average geek would spend his/her time locked up in their room playing Dota or binge watching The Big Bang Theory etc. Well, this was different. This was the Geek Avurudu Celebrations. A collaboration between The Geek Initiative and Gamer.LK, the event was held at the Cinema Hall at BMICH. It was apparent from the start that this was unlike any avurudu celebration we've ever seen. It was all about getting your geek on. From Cosplaying, to Geek inspired Avurudu games to a fully-fledged mini Tournament, the event had anything and everything to get your inner geek drooling.
Let's start at the beginning
As with any event, this too stared off with the Lankan tradition of lighting the oil lamp. This proved to be a bit of a challenge as Deadpool (clad in a bathik sarong) attempted to run away with the candle and then refused to give it back. This was met with quite a hearty chuckle from the audience and it also helped set the mood for the celebrations.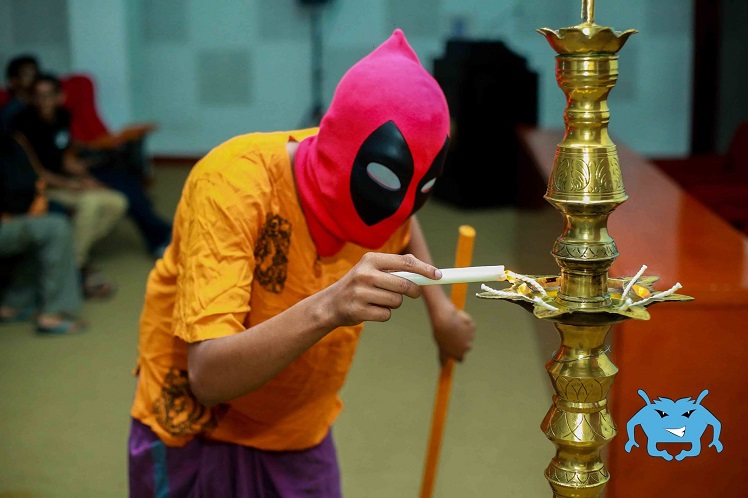 It was then time for the Geek Avurudu Games
First off was the Daredevil Mutti challenge. Hosted by a Deadpool wearing a Sarong, the first game was a traditional one where the player is blindfolded and given two sticks, akin to what Daredevil uses to fight crime.
He/she is then directed towards a line strung with several pots or "mutti"s and told to hit the pots with the stick. Think if it like a Sri Lankan version of Pinyata. Chaos ensued as one rather very-enthusiastic player went on to take a swing at Deadpool. Fortunately, he's Deadpool so he can handle a few shots with a pole.
The next event was Bat Nipples Thabeema. Akin to how Pin the tail on the elephant goes, this has the player attempting to draw.. well, nipples on a batman. Hilarity was at its highest as people attempted to prove their anatomical skills to draw the nipples that he deserves, and not the nipples he needs.
We later found out that the reason behind this was the batsuit that was used under the direction of Joel Schumacher.
The next game was LARP Batta Paneema. LARP or Live Action Role Playing takes cosplaying to a new level where the characters actually act out their roles. This variation of the game had the cosplayers divided into groups of 4. Speaking of Cosplays, we had 2 Daredevils, Sakura Haruno from the Naruto Anime and Manga series, a Nascar driver, a post-apocalyptic survivor and many more. The game involved taking a piece of paper (that has been balled) out of a bowl. These papers each had a number written on them. Each cosplayer was then asked to perform the action that corresponds to the number written on the paper in order to earn points. Points were awarded based on how well they perform the tasks. These involve dancing for a certain amount of time and standing on a chair of shame for two minutes.
But wait, there was more.
Over in the other corners of the hall we saw a mini tournament happening. The tournament, open to students of universities was unranked. But that didn't stop the players from going all out for the win. From CoD4 to Dota 2 and LOL, these teams showed off some pretty good skills indeed. The fun wasn't limited to multiplayers gaming. There was a mini FIFA and Mortal Kombat tournament sponsored by Sony and played on PS4s. Project cars, a brand new simulation racing game was also on display and was also part of the tournament under the single player title.
GTX980 and a 144Hz Monitor anyone? Yes? No?
Towards another corner of the hall, a group of gamers gathered round a PC that looked strangely familiar. This was the RLG Sniper and its counterparts, the Raptor, Warlock and Viper, brought to you by Redline Technologies. Seeing a long line of people waiting to try it out, we decided to see what the fuss was about. We joined this line curious and we left impressed. This was a beast that had no issue handling Witcher 3 maxed out at Full HD.
Getting Their Geek on, pt. 2
The Avurudu games took a small break and we ourselves decided to take a small break and wonder around to see what else the celebrations had to offer. In the adjoining room was the cinema for which this hall was given its name. This would play host the game development workshop that took place the next day. Whilst I typed this, my friend took the opportunity to take a bit of a snooze, after all, it was a cool environment, literally.
After the lunch break it was back to the Avurudu games. This was the Cosplay Kumara/Kumari. It was that time that we got to know who exactly the characters were. As such we had:
Princess Azula from Avatar
Catwoman (In saree)
Deadpool in Bathik
Daredevil
Post-Apocalyptic Survivor
Daredevil (Another one)
Monkey D Luffy (clad in a Sarong)
Lara Kitty with Wings (A seemingly normal harmless cat who also had wings)
Sakura Haruno from Naruto
Ryu from Street Fighter
Fionna (A female take on Finn from Adventure Time)
Naruto Uzumaki
A Racecar Driver that reminded us of Dilantha Malagamuwa
To help with judging we had two characters from Sri Lanka Comicon, Poison Ivy AKA Angela Jayatissa, Penguin AKA Sajith Kandanaarachchi and Raveen Wijetilleke, Founder of GamerLK. The judging criteria took into account points such as creativity, how thought out the costume was and how much effort had gone into it.
As a bonus point, some of the characters were asked to face off against each other. As such, we had Deadpool going up against Daredevil, Catwoman going up against Lara and even a Daredevil faceoff. Later, Deadpool faced off against Ryu who wasted no time in channeling a hadaouken on Deadpool and using some killer moves. Not to be  outdone, Deadpool also faced off against none other than the Pirate King, Monkey D Luffy himself.
At the end results Daredevil No. 2 was crowned Avurudu Kumara, whilst the title of Avurudu Kumari went to Princess Azula and her rather fiery personality.
After the Cosplay competition, we had the crew from Pruve Comics showcasing some of their artwork.
They even had some action figures for sale.
With that, the Geek Avurudu Celebrations officially drew to a close. We were rather impressed with the turnout and we eagerly await next year's Avurudu celebrations.