A few days back Sri Lanka's first ever Google Campus Week: "Get Ready to Google" was organised comprising of two days of jam packed Google-ness right throughout the halls of Asia Pacific Institute of Information Technology (APIIT). Both days were open to all students of APIIT and kicked off to a good start at approximately 5:30pm.
Day one began with a photo and video booth that was held at the canteen. It was set up just like any Google event, simple, fun and exciting. Students snapped pictures with their favourite Google Products and even did a few moves for a secret "Happy Video". They had the crowd going with thumping beats of EDM and it turned out in to a "podi" dance session.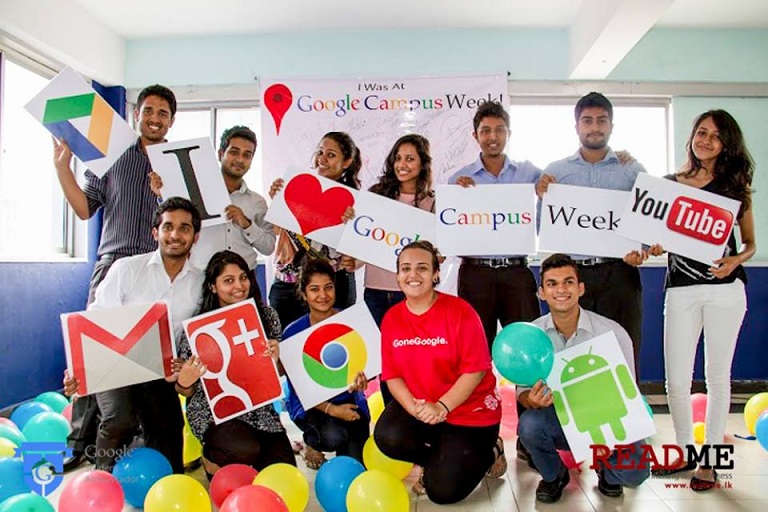 As twilight set in, registrations began for the evening session. The room was buzzing with students and guests amused and happily satisfied with the sweet refreshments of cupcakes for the first 25 "Early Birds", followed with drinks and snacks for the rest.
Laksheta (that's me) opened the evening session with three important rules for Google Campus Week: Enjoy, Learn Something and Learn Something. She called it "The Google Adventure" where she shared her journey of being a GSA and also introduced the other Google Communities that exists in Sri Lanka.
Castle in the Cloud
We then had Pasindu De Silva a fellow GSA take stage on his presentation "Castle in the Cloud". He introduced the Google Cloud Platform and effectively shared the knowledge of could platforms and its powerful use. "You need to go beyond that and make software many people can use" he stated and wrapped up his session with a trivia that had the crowd guessing.
Sticking to the surprises, we had Erica Hanson the Program Manager for Emerging Markets Outreach from the Google Head Office in Singapore along with Rohan Jayaweera the Country Consultant for Sri Lanka and Maldives at Google grace the occasion.
Chasing Passion
Erica took stage to a hearty welcome and kicked things off with a trivia question. She then began her talk on "Chasing Passion!" Erica shared three important dear life stories that made her believe that chasing your passion is the best thing you can do no matter the circumstances you face. Erica then had an interactive session with the audience with students eager to know the secret to chasing their passion. Erica concluded with wise words to anyone wanting to chase their passion: Know what you're good at. Understand your strengths. Build relationships.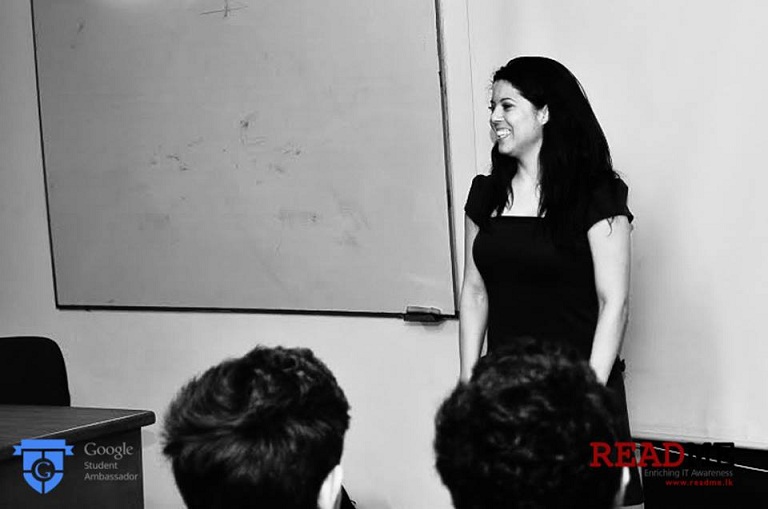 If you were Google
The final speaker for the day, Shafraz Rahim a fellowGSA. "What can you learn from Innovation at Google". He got the attention of the audience with his first question "If you were Google and asked to be innovative; what would you do?" that got students thinking. Shafraz then elaborated on the learnings from Google's Innovation practices that students can apply to their life and daily routine to stay ahead and concluded his presentation with a brief question and answer session.
The 2nd day… Unassigned Leadership
Day two kicked off with registrations in the evening and (like the previous day) the 25 early birds got their special cupcakes and other refreshments.
Rohan Jayaweera kick started the evening session with his talk on "Unassigned Leadership". He undoubtedly had the audience spell bound with his charisma and talent on being able to tackle the hard topics. As per his request no content from his presentation can be spoken about, so we hope you get to one day experience his talk. It will be worth every moment as it was filled with truth and hard facts that will make you want to rethink your purpose here on earth. Rohan concluded with a fun and very interactive question and answer session.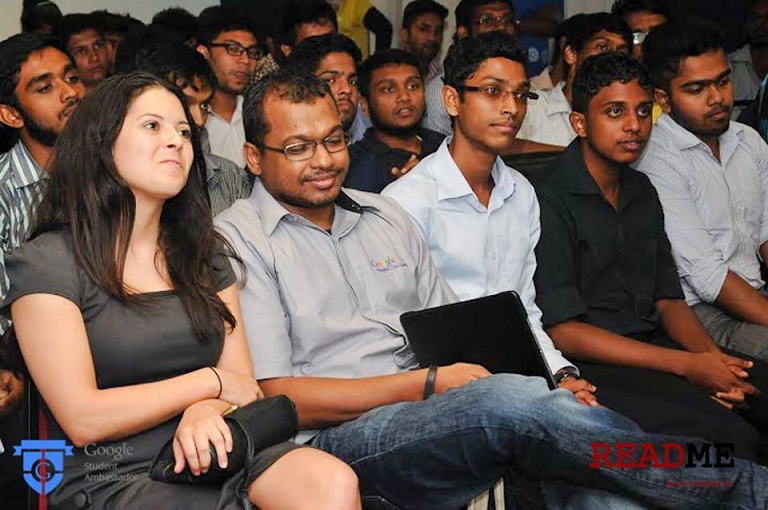 GBG Women
Induleka Nanyakkara the Co-Manager of Google Business Group (GBG) Colombo took stage with her introduction of "GBG Women". She explained that GBG Women is for all women keen on acquiring skills and mentoring to set up a business through the use of available Google Products. She proudly announced that GBG Women will be launched this month in Sri Lanka. Induleka then concluded with an interactive discussion with the audience on start ups.
Insight into Google Glass
Then came Amalan Dhananjayan a Software Engineer at Exilesoft to present on "Insight into Google Glass". Amalan started off with a detailed introduction to how Google Glass works, and then moved on to talk about its features and upcoming predictions. A fun fact: Apps on Google Glass aren't called software. They're called Glassware. He concluded with a very interactive question and answer session with student eager to know more about Google Glass and it's innovations.
Rolling the Dice
The last speaker of the day was Keshan Sodimana the Country Engineering Consultant for Sri Lanka at Google. Keshan began his talk "Rolling the Dice" and stressed that failure is the first attempt to success. He then continued to share his own experience in knowing when to roll the dice on life and how to know how to deal with the numbers you have been dealt with. He concluded with an important message to all "You CAN be extraodinary".
With that being said Laksheta took stage and recapped the past events and speakers making the necessary important highlights. She concluded the evening with a big hearty thank you speech and a group photo!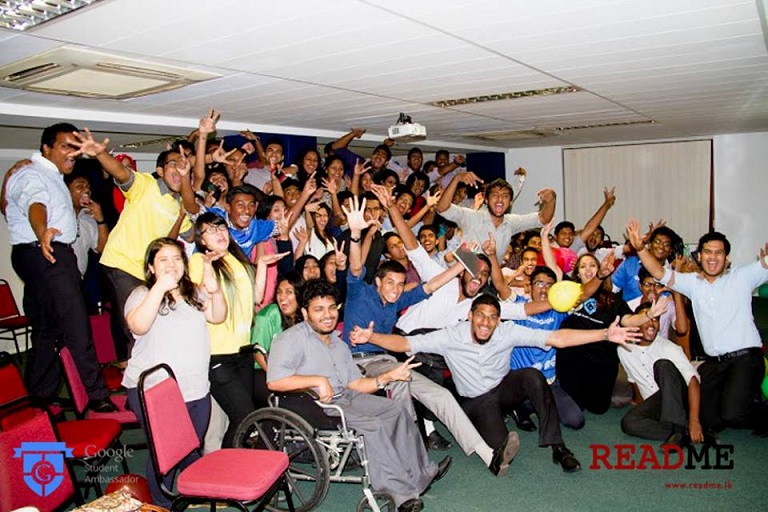 Oh in case we forgot to mention they also had a Android Treasure Hunt where little android figure were hidden throughout the campus and those students that spotted it had to take a "Selfie" and upload it to their Google at APIIT page on Facebook.
Also watch out for the special "Happy Video" Coming out next week.