Kaymu.lk, the latest entry to Sri Lankan e-commerce, has taken a lot of flak from people.
They're not alone; their parent company, Rocket Internet, has often been derided worldwide for essentially copying successful business models. Sri Lankan irritation over Rocket's ventures here is nothing compared to Silicon Valley's disdain. Nevertheless, Rocket Internet's execution is apparently as rigid and meticulous as the Roman army, and it works: they're aggressively digging into the fledging Sri Lankan e-commerce scene with a handful of startups. Kaymu, in particular, is huge: since it started in Africa in 2012, it's spread to over 32 countries.
In the interests of fairness, we put across some questions to Gandhya Senanayake, head of PR at Kaymu, who kindly consented to spare us some time and answers. Again, in the interest of fairness, I have not edited, modified or made the smallest change to the answer format in the name of storytelling.
Here follows my attempt to put some hard questions to Kaymu, especially with regard to their competition, to see how this particular machine works.
Could you introduce the team behind Kaymu and your parent organization, the Asia Pacific Internet Group?
We have a very dynamic and young team behind Kaymu.lk. They have an entrepreneurial outlook and drive to whatever they do. We can safely say that we have a bunch of the smartest minds in Sri Lanka. Our team is always looking for new challenges and innovative ways to enhance Kaymu.lk. Currently, Taimur Khan and Guni Brar act as our Co-Country Managers.
Talking about our parent company, Kaymu Sri Lanka is a part of the Asia Pacific Internet Group (www.apacig.com) which is a joint venture of Rocket Internet and Ooredoo. The group's network consists of 13 e-commerce and online marketplace companies, operating across 15 countries. Since it was founded in 2014, APACIG has become the leading online platform in Asia, building top internet companies in the region.
Getting down to business. Sri Lanka, for its small size, has a number of e-commerce sites, and e-commerce is all about market share. What made Kaymu decide to set up in Sri Lanka?
Unlike other e-commerce ventures, Kaymu Sri Lanka has already tried and tested its business model in other emerging markets across Asia, Africa, and Eastern Europe – and it has been a success.  Sri Lanka has a huge potential for growth in the e-commerce sector. More than 20% of Sri Lankans are online, so we want to drive entrepreneurship while empowering those who are struggling to sell and market their products.
One of our unique features is that we showcase products from street stores to malls and branded shops. We further boast a trusted delivery network island wide that is able to connect sellers and buyers all in an efficient and professional manner. As a new player in the market, there will be shortcomings, but our aim is to learn from our mistakes and improve our customer experience as much as possible.
If you had to list three of your biggest competitors here, what would they be? And what do you believe is your edge over each of them?
Strictly speaking we don't consider any other e-commerce platform as our competitors. We invite everyone to use our platform to enhance their e-commerce presence. We currently have a majority of online sellers selling their products on Kaymu.lk as well.  Talking about the edge we have over others, Kaymu is aiming to be the one stop shop for everything. We have the largest assortment of products and intend to increase that assortment continuously.
We also provide logistics support to our sellers and buyers. Along with our wide range of products available, this ensures the best deals and variety of goods to the online buyer.
Let's consider the elephant in the room: ikman.lk. Since its launch, ikman has spent a massive amount of money in advertising getting their brand into the Sri Lankan consciousness. And while it doesn't have Kaymu's shop/seller functionality, they are very successful. How do you intend to hook your sellers onto your platform for the long term with ikman around?
We have a unique model providing sellers an additional avenue to increase their sales online without any additional costs. Kaymu allocates specialized seller managers to provide sellers with one to one support regarding online sales, logistics support, customer service and running marketing campaigns for free. Not only will the sellers have a free online store, they will receive support and guidance to increase their market share as well. From a buyer's perspective we provide an assortment of over 25,000 products at competitive prices through our vast range of sellers, islandwide delivery and a user-friendly platform to name a few ways we can hook sellers and buyers.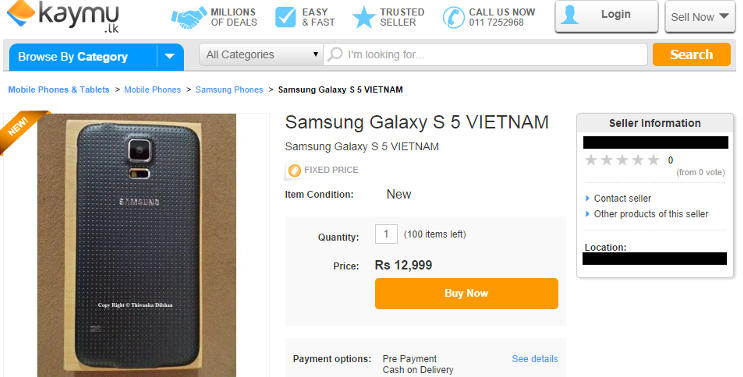 Kaymu is an online marketplace that facilitates transactions between buyers and sellers. We do not own the products that are sold at any point in time. As such, we expect members of the community to adhere to the highest ethical and legal responsibilities, which include the obligation to only list goods that are legitimate and do not infringe on copyrights.
Sellers who list to sell replicas, counterfeits or other unauthorized items may be subject to removal by Kaymu. Repeated postings of counterfeit or unauthorized items shall result in the immediate suspension of a seller's account.
Kaymu's standard Terms and Conditions outlines the responsibilities the sellers have to ensure listed goods abide the relevant local and international intellectual property and copyright obligations.
How does the Kaymu back-end process work from a human perspective?  What does the team do?
Our team is a continuously growing one. We identify the  best selling shops in the market and invite them to bring their offline or online stores to the Kaymu platform. Once online as mentioned before we provide end to end to support to all our sellers through, customer service, island wide logistic assistance, and running marketing campaigns of their products. We also securely facilitate the financial transactions between the buyers and sellers by providing cash on delivery services to all customers.
What is your forecast for the future of e-commerce here in Sri Lanka?
Sri Lanka has a booming middle class which is searching for a large quantity of products within a wide price range. With an internet penetration of more than 20% of the total population this is a highest compared with other South Asian region countries as a percentage. This adds up to simply put, lot of people searching for goods online. Sri Lankans are known for their ingenuity and hard work, hence after the end of the conflict, thousands of small and medium and sometimes even large scale businesses have opened up around the country, from Jaffna to Galle. These businesses are not online and are missing out on a large consumer base. So we intend to bridge that gap in Sri Lanka in a positive way.