HP's past, present and profile is not something that needs an introduction – given their presence, even the most IT-unaware consumer has heard of HP. Today at Cinnamon Lakeside, the global tech giant showed off their latest entry in the Sri Lankan market: the Elitepad 900. Let's start off by saying it was a brief but very classy event – HP certainly knows how to take the stage.  Hats off to the beautiful receptionists.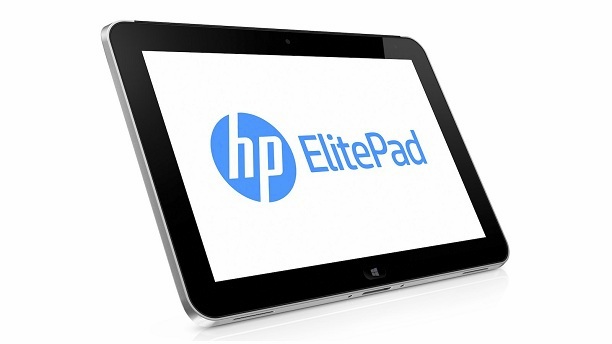 Out of the box, we're simultaneously interested and disappointed in this one. The Elitepad's a very recent product. HP is pushing this as a complete notebook / laptop replacement for corporates. To that end, it's got a LOT of neat concepts behind it. It's a Windows 8 tab with a whole lot of expansibility: you can plug it into a neat dock that turns it into a desktop. It comes packed with a ton of device ports just so you can plug in anything and everything you'll normally fix into your desktop. The "protective cover" is actually an extension that comes with a slim battery, plugs into the tab itself to increase the number of USB ports and adds HDMI support – all in all, if you're looking for a total replacement to that lil' notebook you're running, this is the upgrade you need.
On the other hand, this is also where the Elitepad 900 underperforms: it doesn't try to be anything more than a little notebook replacement. From the 1.8 Ghz Intel Atom processor powering it to the 2GB of ram running inside, it offers pretty much the same power you get from a cheaper sub-40,000 rupee notebook PC – but with a hefty price tag running upward of Rs 100, 000. That, in today's world, will not draw heads: that will net you a solid laptop (HP or not – you have a pick of half a dozen brands) with a Core i5 processor and the works.
To offset this, it comes with a 64 gb Solid-State Drive and a host of original HP software and has (from our observation) – significantly higher build quality than 90% of the tabs out there. We liked, for instance, the HP software that automatically identifies when you take photos of documents and makes them clearer. It's also got some very good concepts running behind it – it's more like a plug-n-play desktop than a tab. But when push comes to shove, the specsheet doesn't quite stand out, which is a pity. This is on par with almost every other Windows 8 tab out there. Nothing more, nothing less.
So…slightly generic? Yes. Bad? No. It's a decent buy, The Atom processor is a necessity, because it's an x86 architecture – in layman's terms, it's what enables any desktop app to run properly on this tab. All Windows 8 tabs run something similar. There's an SSD in there: that brings very fast boot times to the table. Windows 8 is also brilliant on a touch device. Keep in mind that's original Win8, which is expensive by itself. If HP keeps up with Intel's advances in processor technology (Haswell, we're looking at you here) – we might eventually see some true, touch-powered "mobile business desktops" in the Elitepad series – offering laptop-like levels of performance and better functionality. The verdict: the Elitepad isn't really mature yet.  The tab market is heavily dominated by the Ipad and a melee of Android devices – all of which, with a few app installs, can be beefed up to similar levels of functionality. But if HP throws their weight behind this one, there's no limits to where it can go. The Windows 8 market is catching on. HP's clearly got the timing right.
*Have something interesting and IT related to share? email the [email protected]