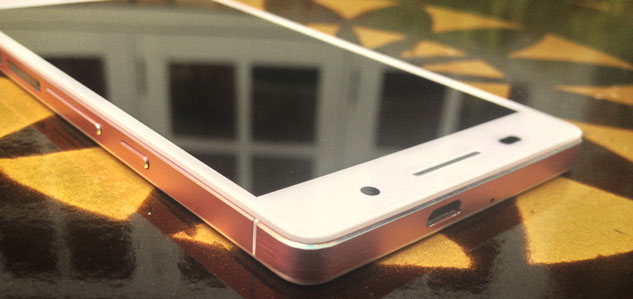 The Look & Feel
The Huawei Ascend P6 was holding the title as the world's slimmest Android phone up until recently. At a glance people tend to think it's an iPhone, yes I also thought so, when I first saw it at the Ascent P6 launch event. Probably the brushed metal side-band with diamond-cut edges gives that iPhonish look.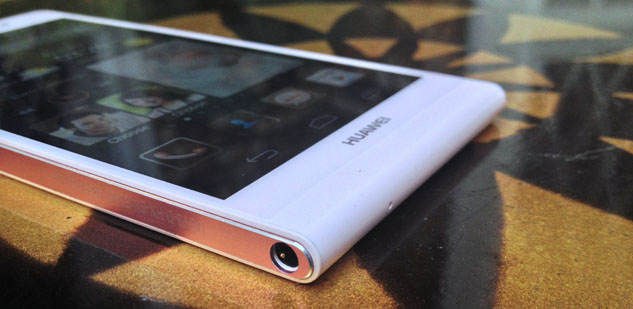 Yes, it is a beautiful handset with a simple and clean design. Apart from the rounded plastic bottom, which makes resting your little finger comfortably. Both the rear panel and sides are aluminium which gives it a premium look and feel.
I was stunned, thinking that the P6 comes withouts a standard 3.5mm headphone jack. To find out Huawei designers have placed it right at the bottom of the left hand edge with Dolby Digital Plus sound enhancement. I am sure lefties like me will have issues holding the handset while the headphone jack is plugged in.
Hardware
Talking about it's hardware spec, the P6 comes with a home-built Huawei K3V2 chipset coupled with a Quad-core 1.5 GHz processor and 2GB of RAM. You have the option to select either the 8 or 16 GB varient with microSD card supporting up to 32GB. And the handset comes in black, white and pink and we've got a pink device for review 🙂
And it has the basic sensors, namely the Accelerometer, gyro, proximity, compass, temperature.
The Display
The Huawei P6 is fixed with a 4.7 inch, 720×1280 pixels IPS-LCD panel with 312ppi pixel density. The color representation of the P6 is very good, enabling you to adjust the color temperature from cold to warm. The screen has good viewing angle too. Check out the display comparison between the Huawei Ascend P6 and the Google Nexus 4 and decide which looks better.
The minimal gap between the IPS + LCD capacitive touchscreen and the Corning Gorilla Glass gives the display a nice effect.

Huawei's EmotionUI
Have you seen an Android device without an 'apps drawer'? Yes, Huawei's latest EmotionUI does not have an app tray, all your installed apps are on the homescreen just like on iOS, but of course you get to customise your homescreen with widgets unlike on iOS.
The Huawei's Emotion UI lets you choose the shortcuts that appears in the lock-screen for quick access. And also a few nifty motion controls to make your life easy – Flip to mute; Pick up to reduce the ring volume; and Raise to ear to answer or make calls. Apart from that I feel there is still a lot of improvement to be done to make it perfect. What makes me say that is, I could not find a way to select multiple files inside the photo album. Am I missing something?
Camera
The Huawei P6-U06 sports a 8MP primary camera with autofocus and LED flash, and features Geo-tagging, HDR mode and face & smile detection. It can capture 1080p video at 30fps.
And it also has a whooping 5PM front cam or in other words a 5 mega pixel secondary camera. It's good news for 'selfies' out there, you don't need to go in front of a bathroom mirror to take a high resolution snap of yourself anymore 😉
The Huawei P6's camera software includes a some useful filters and panorama mode to make your experience easy enough and does the work of shooting high dynamic range (HDR) photos. Basically the camera interface is pretty solid, standard and clutter free as you can see from the above screenshot
The P6 is competent when it comes to shooting Full HD 1080p video as well. The video recorder comes with some neat features such as HDR Video mode, Image Stabiliser, Object Tracking, where you touch the object you want to focus on and the camera will then track and focus on that object.
 The Battery Life
With the P6's un-removable 2,000 mAh Li-Po battery I was able to manage keep the phone alive for almost 6 hour. That's with:
5 to 10 min of calls
10 to 15 min of surfing the net and YouTube'ing
60 min of non-stop gaming (Temple Run by my kids)
And mind you the tethering/hotspot was active throughout that six hours. Therefore I feel you can manage through a 8 hour work day with normal use. For me a normal use mean, answering half a dozen of short phone calls; few SMS which I don't bother to open; reading emails and couple of other apps whenever there is a push-notification.
Verdict
Would categorise it as a mid-range premium quality smartphone with the investment.
 PROS: Display, Look & Feel
CONS: UI needs improvment