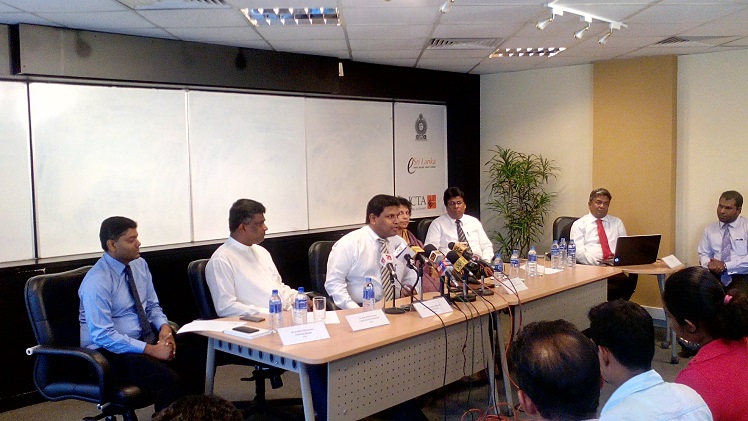 Free Wi-Fi for everyone! In an election manifesto filled with some rather radical promises, that was one which still stood out. Whether you were a believer or not, you'll be happy to hear that ICTA (Information and Communication Technology Agency) in collaboration with all telecommunication operators announced that steps have been taken to provide Sri Lankans with free Wi-Fi at major locations around the country at a speed of 512Kbps, with a data limit of 100MB per month for each citizen (photo by Sharon Dinasha Stephen).
Speaking at a press conference held at ICTA HQ, Hon. Ajith P. Perera, Deputy Minister of Foreign Affairs and Telecommunication led up to the news by stating that the youth and the middle aged citizens of our country consider the internet one of life's staples. Be it for business or personal use, connectivity, like electricity and water, is fast becoming a necessity for Sri Lankans in both villages and cities. He went on to say that the present government considers it their responsibility to ensure provision of this, which led to President Maithripala Sirisena promising free Wi-Fi zones in all major locations in Sri Lanka as part of his campaign. Admittedly, this was met with doubt and decried (on Facebook, no less – ours is truly a 'social' government!) as a marketing ploy to obtain more votes, but with the help and support of ICTA it is in the process of becoming a reality.
The plan is for free Wi-Fi to be provided in around 1000 specific locations across the country. The first 250 locations will be operational by the end of this month (31st March 2015), with the 750 remaining being completed within the next 60-90 days.
Apart from the technical and policy issues, it was necessary to select locations for implementation that would ensure that the public has convenient access to internet. As such, all state universities and railway stations, as well as central bus stands, divisional secretariats, A-grade base hospitals, public parks, libraries, museums and certain government offices were chosen as access points.
"This is a revolution" stated Hon Ajith P. Perera, going on to explain that the project will create new employment opportunities, new markets and more opportunities. Voters in India, he said, were promised free Wi-Fi at the elections, similar to what we were promised, but they need around 12 months to set it up. In contrast, we will have 250 locations within 100 days with the rest put in place within three months.
Mr. Muhunthan Canagey, Managing Director/CEO of ICTA explained how the project was an ambitious dream for ICTA. He thanked the telecommunication service providers and the people at ICTA and the TRC for their extensive support, citing it as a great example of public and private sector cooperation.
He went on to explain that most of the technology and the infrastructure needed has been put in place, but as this is a first-of-its-kind effort across networks, there are still a few technicalities to clear up, and the telcos need to purchase more equipment. He also stated that ICTA has not funded this initiative and that the Government has also spent nothing – so public funds were not used. Rather, it has been the responsibility of the service providers to make sure that they put the requisite equipment in place
Mr. Canagey went on to explain that the Wi-Fi must indeed be given to all citizens across the country and that usage patterns will be monitored once the project is underway to ensure that access is given proportionately. He said that this is just the beginning and there is no intention of stopping at 1000 locations; to develop further, the providers will need time to gather resources, but that will not dampen the project's momentum.
When asked about the Government's views on censorship especially with regard to explicit content, Mr Canagey replied that sub groups will need to be created to assess and deal with aspects such as misuse of resources. However, he said that how technology is used depends on the person using it, and the ultimate aim of this initiative is betterment of society. He remarked that this government does not believe in restricting citizens' access to information as that was what drove democracy in the recent elections.
Questions were also raised on whether 100MB per month per citizen is sufficient. The reply to this was that 100MB was agreed upon as an initial baseline and analysis of data patterns would show where usage is concentrated. Following this, the quota could be modified and programmes such as Samurdhi can benefit from various data packages offered to those with different income capacities.
When speaking of monitoring usage and selecting the best locations, aspects such as Spectrum usage, power and location have to be taken into consideration. In order to use the service, a triple-A (Authentication, Authorization and Accounting) server will be used so that regardless of the network used, a citizen can have an account registered under one user name and password.
Once logged into the portal, you need to fill 3 fields, of which one is your NIC number. Upon confirmation, a user name and password will be sent to you that can be used to login to any of the Wi-Fi centers around the country.  Those with no mobile phones can walk into designated centres to register for a username and password.
In conclusion, the Minister said that we should cultivate this project, acknowledging that there will be problems but asking the media to stay with the project and thanking them for their support in the weeks to come.
As the project progresses, it will be interesting to see how the telecom providers handle the demands these new connections will make on their systems in addition to the existing data requests from customers. We've all noticed that speeds are not always what we could hope for – and that's on the connections that we pay for! In addition, as they have to bear the costs involved, operators would have to find a way to pass them on to consumers to make it sustainable. How they choose to do that remains to be seen. Those in the Government (and ICTA) also seem rather optimistic – some might say naïve – in their view that good intentions will be enough to prevent abuse.
Points for effort, we say, but let's see what happens in practice.