Local angel fund Lankan Angel Network has come together with Dialog's Ideamart ICT developer platform to enable software developers who already working with IdeaMart to take the next step and access funding and mentoring to transform their apps into business successes.
As such, this newly minted partnership between the LAN and Dialog's Ideamart not only lets developers rapidly build and deploy a plethora of mobile apps, but it also now provides them with the funding and mentoring needed to turn ideas into true business successes. LAN's partnership is actually part of its Venture Engine initiative, so in reality they're doing what they've always been doing – helping startups rise – but now they're tapping into IdeaMart's star players as well.  What's the catch? You have to apply before the 20th. Drop by www.ventureengine.lk/ideamart.php now.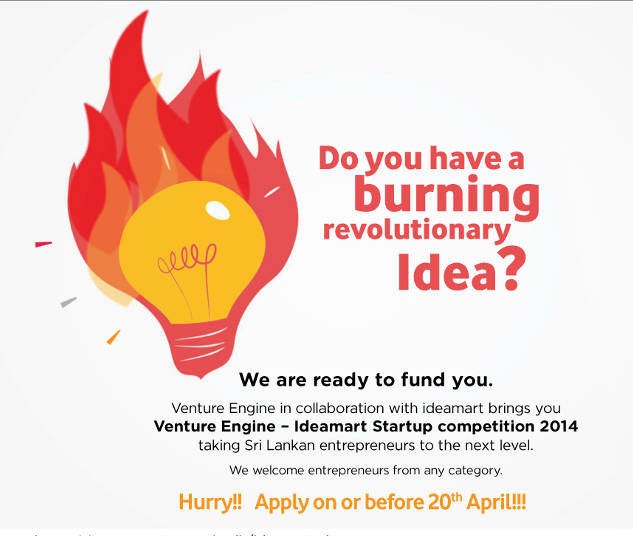 Sharing his thoughts on this partnership, Dr. Hans Wijayasuriya, CEO of Dialog Axiata PLC, said: "Today, over 350,000 retail and enterprise consumers engage with the Ideamart community creating vibrant returns for our innovative service creators. In tandem with Ideamart's growth we are extremely privileged to partner with Venture Engine, which has broken new ground in Sri Lanka with respect to the creation of a start-up venture funding eco-system. The partnership between Venture Engine and Dialog will aim to provide Ideamart innovators with the opportunity to upscale proven ideas and revenue generating services, into sustainable businesses," added Dr. Wijayasuriya.
Speaking for the Lankan Angel Network, Mano Sekeram, CEO of 99X Technologies, stated, "Considering the great many options available to young IT professionals in Sri Lanka, it is important we provide alternatives to those who are brave enough to strike out on their own at a very early stage. While Dialog's Ideamart provides the platform, we at the Lankan Angel Network are proud to offer the funding and mentoring, and even global networking and access, required for apps to thrive worldwide."