Work it harder. Make it better. Do it faster. Makes us stronger. More than ever hour after. Our work is never over. This seems to be Intel's mantra for 2014.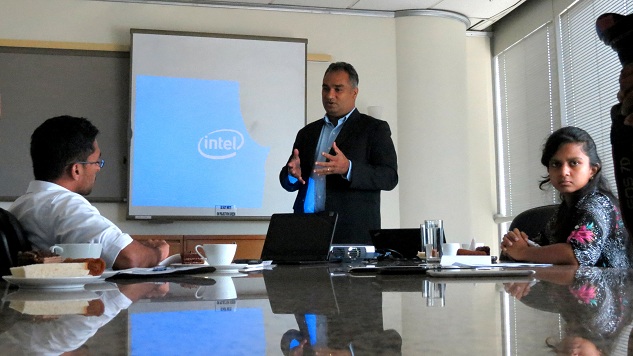 2013 was a big year for Intel, managing to swipe quite a few milestones under their belt. While Intel did steal the spotlight with their 4th Generation Core Processors and Big Data, they did slip a bit when it came to losing the console chip making to AMD and having to shut down production of mother boards. When questioned to as why Intel lost footing, we were assured that the former 2 incidents weren't loses, but merely redistribution of work forces.
"The internal talent and experience of twenty years is being redistributed to address emerging new form factors." Those new form factors will likely include small PCs as well as notebooks, tablets and mobile phones. However, the days where Intel will make motherboards for the traditional tower case desktop PC will be over. While Intel is getting out of this particular market, other PC hardware companies such as Asus, Gigabyte and MSI are expected to continue to make new desktop motherboards. Intel says it will keep supporting those platforms, stating, "We're making significant investments in the enthusiast platform with our K SKU portfolio and new Intel Core Extreme Processors. "With that being said, it's time we keep our eyes open for what Intel has in store for the year 2014."
Ever since the advent rising of smart phones, we're becoming closer to being one with technology. We wake up with our phones in hand and go to sleep with them next to our heads. We have apps for work out schedules, diet plans and medical checkups. 2014 will be a drastically different. There's only so much you can integrate with your smart phone and call it a telephony device. This is where wearable devices kick in.
Google Glass is just the tip of the iceberg. A new generation of wearable tech is heading our way and it will transform the way we experience the world. Imagine when wearable devices are with us 24/7. The amount of data, information, and personal content that will be exchanged will be so tremendous, security will become even more important. Challenges around things like privacy, security, identity and reputation. As a result, there is a lot of governmental and regulatory activity to help clarify this emerging area. It will be fascinating to see what emerges around the globe.