IPaidABribe made huge waves when it was first launched in India (even the BBC was talking about it back in 2011). The premise was both simple and complex at the same time: IPaidABribe offered Indians a place to share, boast and vent about the corruptions they dealt with on a daily basis. By doing that, it effectively swung a giant spotlight onto the maze of bribery going on inside India, a country so corrupt that state doctors would charge patients thousands of rupees despite the service being free.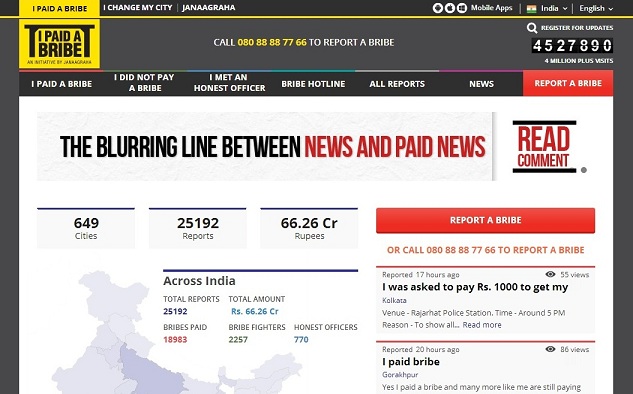 The website was a massive success. Within two months of launch some 10,000 bribe experiences had been reported. The service – initially begun by Indian non-profit organization Janaagraha – spread to Pakistan, Kenya, Zimbabwe, Morocco, Greece, Ukraine, Azerbaijan – and now Sri Lanka.
The Sri Lankan site, ipaidabribe.lk, offers the same basic functionality present in the other versions. This version is operated by the Diri Saviya foundation. This being Sri Lanka, it seems to pay a lot of attention to government-service related corruption. It's public – and it's trilingual.
Providing a space for the public to highlight corruption is just one aspect: the overarching aim of the site – and the people behind it – to be able to provide detailed recommendations on how the government could combat corruption. Of course, one wonders if in the process the government will simply end up combating itself. 
At any rate, ipaidabribe.lk is open – using it is entirely up to you. Thankfully, you don't have to venture any details beyond what you need to – every report you make can be anonymous or you can share it with both government services and media. Perhaps a snapshot of our country's corruption, hosted online, will help people realize that that small bribe to the traffic policeman is a large boost to corruption throughout Sri Lanka.