Smartphone ownership is rising; this is a fact even in Sri Lanka. After all you can get a decent Android phone one nowadays for around Rs. 20, 000. With this trend it's no surprise that more people are now getting online with smartphones; and they can give an experience similar to a PC while being a lot more convenient since they're small and portable.
As such, many businesses are revamping their websites for smaller mobile screens, after all its annoying swiping around all over the screen to view stuff.
One of these businesses that recently went mobile is Keells Super. Announcing this JayKay Marketing Services CEO Mr. Charitha Subasinghe stated ''We are delighted to announce that our, customers can now use their mobile to shop their groceries, giving shoppers the complete experience by simply accessing m.keellssuper.com or keellssuper.mobi".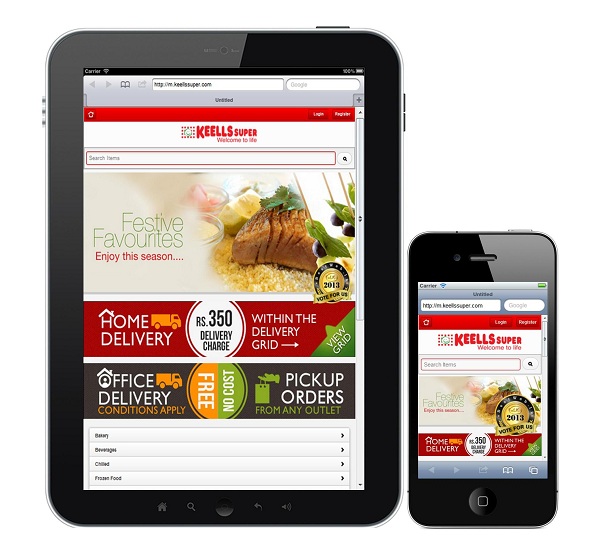 Nalaka Umagiliya, Vice President of John Keells Holdings and Head of Business Systems for Retail and Consumer Foods sectors added, "As a company which is dedicated to serve their customers better through effective use of technology, we proudly announce you that we have extended our online presence by launching the first ever m-commerce enabled online super store in Sri Lanka, appreciating the importance of our presence in rapidly growing mobile Internet population in the country"
Keells launched its original e-commerce website back in 2002, and at the time of writing, it is the only online supermarket here in Sri Lanka.
Currently, Keells has around 25,000 registered customers on its website. From the website, you can place a pickup order for your groceries or you can have it delivered to your house while relaxing at home, if you live in either: Colombo, Kandy, Kurunegalla, Galle or Matara.
While I couldn't get the chance to test the delivery service, I was able to test the mobile version of Keells' website. As you can see from the pictures, the mobile version adopts the iOS design cues, which made it easy for me to browse around the site, even more so than the desktop version of the website, plus it looks good too.
Only issue with the mobile website was that, when selecting the city, the website would reload so as to allow me to select the relevant suburb, but this is negligible as it only takes just a second or two.
Bottom line: next time you want to order from something from Keells online, feel free to give their mobile version of the website a try.
Keells Super online changes domain [update as of 06/04/2020]
As of 6th April www.keellssuper.com is under construction. Currently, orders are accepted via its new site. However, the website is limited to 1,000 users at a given time, and it opens for business at 6.00 AM until the daily quota is filled. Orders are also limited to selected areas, which the website has specified under "Delivery Grid".
Additionally, Keells Super has a separate website for ordering essentials. Orders here can be placed according to pre-arranged grocery packs, including selections for fruits, vegetables and meat.
In case you're looking to order your grocery delivery options in Colombo, you can refer the updated list here.