A start-up that has an increasing number of followers, customers, one hardly hears anything nasty about takas.lk on social media. The CEO and his team attribute their success story to the constant stream of feedback received from their customers as well as their adherence to customer service best practices. 
The online store has three priorities they seem to get right: customer service, convenience and choice. This was proved right by a recent survey conducted, aimed at evaluating customer satisfaction.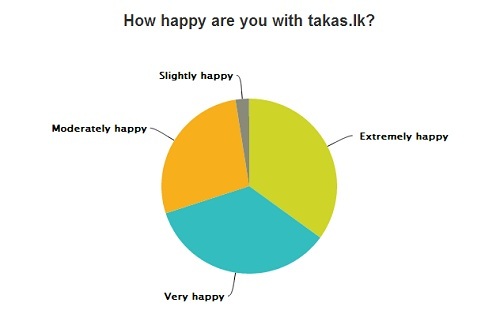 The management believes that irrespective of online trading, e-commerce too has guidelines that ought to be complied with, in order to retain a loyal base of customers.
i) Honesty
Never try to make a sale, but always try to win a customer. More often than not, required sales targets prove to be contrary to winning a customer. However, takas.lk believes that this could be avoided by being honest with the customer. The honesty begins with trust and progresses to loyalty, thereby also assuring the achievement of sales targets.  
ii) Keep to your word
It might be a business relationship, however, if a promise is made to customer on same day delivery, then same day delivery it should be. Keeping one's word would also be a foundation to a great relationship with a loyal customer.
iii) Listen
The age-old saying, 'Customer is King/Queen' continues to be true. The customer often shares a perspective, previously unnoticed or overlooked by the manufacturer / seller.
iv) Be Courteous
First impressions count. Smile when your customer meets you at the door, remember the magic words: 'Please, sorry and thank you'. Chivalry is not dead.
v) Trust your Customer
While you would want your customer to trust you, the relationship ought to work both ways. Trust has to be given, in order for it to be received and vice versa. Takas.lk was the first to introduce Cash on Delivery (CoD) in Sri Lanka. It's a risk the online store took, which turned out to be convenient for most people that others soon followed suit.