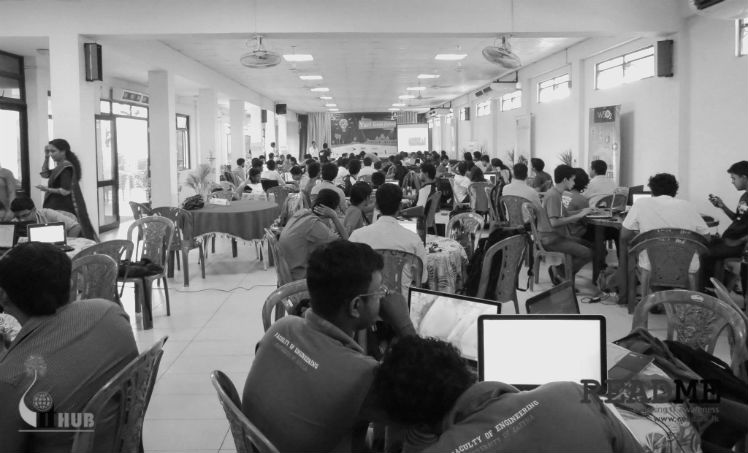 By now, everybody knows the story of Yarl IT Hub . Back in 2010, three people met over a coffee and decided that something needed to be done. They wanted to create a culture that would foster innovation even at the expense of failure.
They went ahead and posted this on Facebook, and soon attracted similar likeminded people. This became the the Yarl IT Hub – initially just a Facebook page. At the start, nobody was quite sure what to do or how to do it, but eventually, over repeated meetings, they hammered out a few plans. The first was an open source project – a school management system that would tap into regional IT talent, especially graduates from the University. The second was the have regular community meetups to keep the movement alive. They didn't know what would work, so they modelled it after a system implemented in Kenya, a commune of sorts where they'd get industry experts to come in and teach people mobile development.
The third idea was the Yarl Geek Challenge, a knockout pitching tournament of sorts where groups would emerge, flesh out ideas and pitch them to judges in increasingly different (and diverse) stages. This year, with Season 3, it's more in the format of a hackathon. We're here and online courtesy of Hutch Sri Lanka, and over the past few hours we've seen some good ideas and some iffy ideas. Nere's a list of those that caught our eye:
A Java based digital net meter accessible through a web page, complete with past records and the whole nine yards. It's unclear as to whether this product is aimed at cl – oh, wait. They're competing with all government and private meter reading infrastructure. It would make a lot more sense to sell the system to the government and private companies.
Spacey.lk – a rent-a-space interface of sorts. The proposal is thst there's plenty of people looking for office and meeting space – for instance, startups. Then there are  the people who have spaces like this – from individual owners to corporates like hotel chains. To make things better, they intend to have a manual filter in place – a sort of like a rent-a-space system with foursquare and reviews plugged in. Quite an enthusiastic pitch.
Armates – something ad agencies might be interested in: a system for turning ordinary spaces – like, saw, that table in the middle of two seats on the train – into interesting things – possibly interactive menus and such, possibly advertisement, with a system that can push augmented content to a smartphone app. We're not sure if Sri Lanka has the numbers to make this work, but this sounds like a cool idea –  we've seen similar ideas popping up in great sci-fi, like some William Gibson's works.
A stock market monitoring platform that also uses SMS alerts
A vehicle identification system, ostensibly meant to be opening gates automatically, but one which might eventually be adapted to something like police purposes.
Of course, we have no idea who'll actually win or get funded – these are some of the most promising in our eyes. As of the time of writing, the first day is over: the mentors have been assigned to these teams, the judges have dropped by for a preliminary look and work is underway. Let's see what emerges from the YGC Season 3.