Good morning, folks. It's cloudy skies here in Colombo (with just a bit of rain) and here we are at the Dell Solutions Tour 2014, at the BMICH. This event is comprise of two events, actually: the first is the conference, the second being the parallel Dell e-carnival being held next door. As we type this, the country manager of Dell, Lacksmindra Fernando, has embarked on the illustrious story of Micheal Dell, a success story that's firmly entrenched in the minds of anyone studying business the world over.
The audience, comprised largely of men in formal shirts, is a collection largely comprised of Dell Solutions vendors and clients curious about the Dell powerhouse. We're told that a number of regional experts have flown in especially for this conference, so expect lots of client solutions talk, product showcases, breakout sessions and more.
Our twitter handles, @ReadMeLive and @readmelk, are already buzzing with the word on the event as and when things happen. With that in mind, this live blog is now live – let's begin.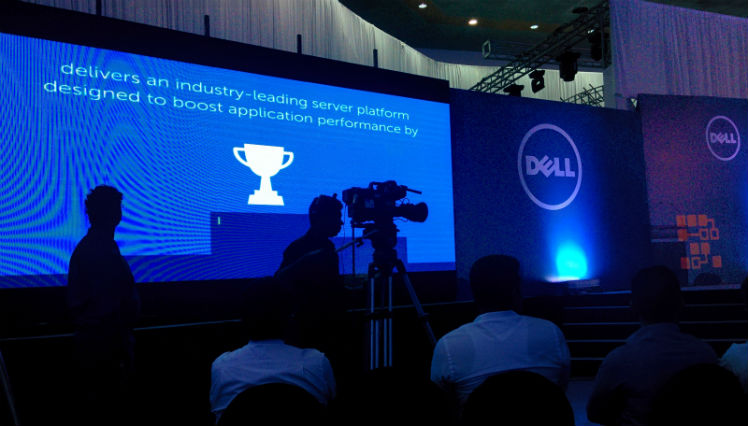 10.38
Sumir Bhatia is next. He's the GM of Enterprise Solutions for South Asia.
"You've heard that everybody's doing selfies, right?" he says, taking a selfie on the stage. "We're creating data. This is something new. Do you know that from 200 to today, 14 years, 52% of the Fortune 500 companies don't exist anymore? They've either been bought out or shut down. That shows you the changes. Those who adapt, survive: those who didn't – that 52% – they're gone.
That's a reality today. The world is changing. Our kids are growing up differently. We do business differently.
"Let's go back. When I started my career, we used to talk about reliability. We used to say, okay, our systems are 99% reliable. We used to sell the concept of keeping the lights running. And now, do we do that? No. It's taken for granted. The adoption rate of new technologies is going up – especially the cloud; not just the occasional stuff you see in the newspapers, but real, practical applications – Salesforce.com, Google Drive – the adoption rate is phenomenal. We're seeing new tech coming in so fast.
And so, I'd like to start by bringing you a product that we've just launched: the new generation of Dell PowerEdge servers."
With that, Indika De Zoysa, the country business manager of Intel, and Lackshman make their way to the stage and start hammering away at a set of drums as Dell's new product rises gently onto the stage.
10:43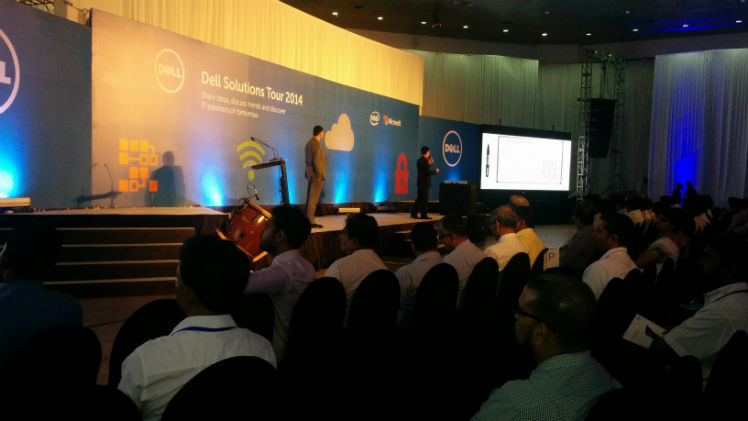 Foo, See Han comes up on the stage next to explain the PowerEdge. This is the 13th generation of PowerEdge servers, which started hitting the news barely a month ago. The PowerEdge R730 and R730xd servers are 2U server solutions (which are being talked about here) that run on Intel's Haswell Xeon E5-2600 v3 processor family, which is also a very recent announcement, with DDR4 memory: the idea is that you can sort of build your own cloud, given that most of the cloud companies have Dell hardware involved at the back end (exempli gratia: Google).
10:56
Eric Kang is up next, educating the audience on how to pick storage servers. The first thing he touches on  flash storage and how that's rapidly overtaking standard HDDs in the industry. Anyone familiar with SSDs will know how this works: the hard drives can't keep up with the CPU. Dell has something they call Fluid Cache for San, which creates a shared, distributed cache pool among servers for better read/write performance.
As the conference nears an end, Nithin Acharekar then takes the stage and describes Dell's moves into networking. Dell Networking is the rebrand of Dell's networking arm – what used to be called PowerConnect and Force10. That said, it's now time for Harjeet Singh Rekhi, who runs Dell's multi-billion dollar PC and Tablet arm as well as the software & peripherals business for South Asia.
"Of all the numbers on this slide," he begins, pulling up a Powerpoint filled with numbers in boxes alternating with photos of people. "The one on the top-right is my favourite: 3 billion people now use the Internet."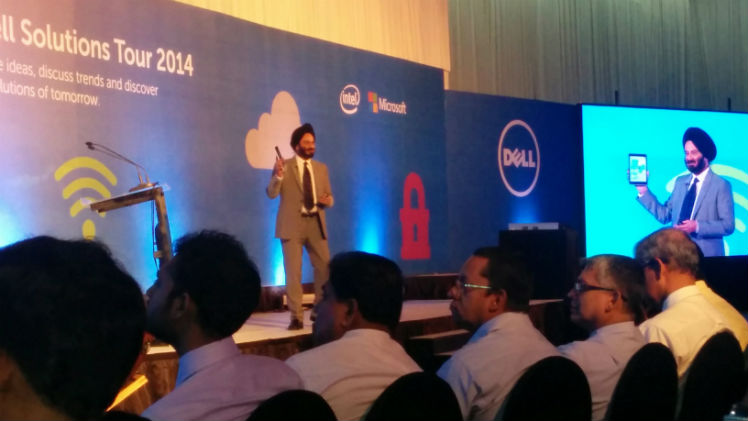 "And we're seeing what many of you have already realized – multiple device ownership. We have not one, but two, three devices per person that connects to the Internet. So what we're looking at is tens of billions of devices in use in the world over the next ten years.
Curiously, we were talking about printing, and someone asked: when was the last time I printed anything at the office? It's been two to three years. And we realized that for competitors that rely of printing for revenue, that's a death knell. And we're older generation: the younger generation exchanges more data than we do with even less paper than we do.
There's a lot changing. A few months ago Microsoft announced that they're going to give Windows free to devices less than $200. Microsoft has never given anything for free, and that's probably why Bill Gates is the richest man in the US."
11:12
He pulls up a slide: it's filled with headlines about the PC industry. HP is splitting into two companies; Toshiba considers exiting the consumer PC market; Samsung's moving; Sony's moving.
"These are not Photoshopped," he says. "We think there's more of this coming. Companies are reacting in ways nobody ever thought possible. We're going to see more of this. If I was an HP employee, I'd be very worried."
"This is important for us. We're going to continue in the PC business."
12:07
"In the old days, what did we look at when buying a device? We used to look at amazing silicon – clock speeds, RAM. Was it a Pentium 4? A Pentium 3? Then we'd look at the platform. Can it run XP? Lastly, we'd look at the user experience.
Now it's inverted. Now the first thing we look at is the user experience. Does it suit our purposes? Then we look at the systems and software. It's not about Ghz anymore.
What's happening is the lines are blurring. Smartphones and laptops are meeting in the middle in the Ultrabook convertible line. Now we need devices that can both consume and create the content that we use everyday."
12:26
As this wraps up, we proceed to the e-carnival; things have been moving in the hall next door: the winners of the Dell Power Pitch are being announced and awarded. The Gamer.lk stalls have been set up and competitors are filtering in. We're seeing the red-on-black of Phoenix Gaming, the green Techmorph sigil, and a scattering of Xiphos Gaming supporters in black. With the conference behind us, it's time to take off and join in.