Orion City, in Dematagoda , is a large place. It houses a sizeable chunk of Sri Lanka's IT industry – from the monolithic Virtusa all the way to small, agile coder outfits like Meteorhacks. Every morning, a small army of programmers cross these gates and filter into their respective offices, where they presumably get on with hacking the Matrix. But we're here for something else.
In a room somewhere inside this complex – in Block C, to be precise – sit a bank of 3D printers, humming away, replicating computer-generated models with inhuman precision. They work for Nissanga Warnapura and Dyan Prakash, a two-man tag-team that keeps these machines fed, serviced and busy.
This is 3D Concept Studio, Sri Lanka's first – and only – 3D print shop. Rows of printers are stacked against the walls. We instantly pick out two Ultimaker 2's – we've seen these models before – but we're unfamiliar with the rest, some of which seem to have undergone some heavy customization. Piled under, between and around them are detritus – boxes of plastic filament, toolkits, a haphazard scattering of rejected prototypes and experiments.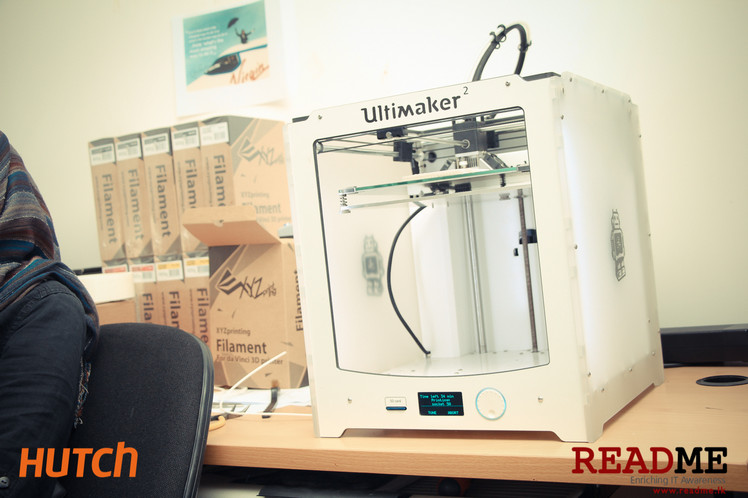 Break a leg. Buy a printer
Technically,3D printing is something that's been around for quite a while. In 1984 a man named Chuck Hull invented stereolithography (US Patent 4575330 A), a process to print layers of material on top of each other. Sri Lanka, being slower to catch on, didn't quite get into 3D printing until Nissanga broke his leg.
"A year ago, some of my friends and I started a basketball team for a shot at the Carlton Cup," he says with grin. "We were terrible. We never thought we'd get in, but we did – and sometime in the middle of the whole thing, I tripped over myself and broke my leg. It was probably the most embarrassing basketball fail you'd ever seen.
"So I ended up spending a lot of time at home researching stuff on the web. At MAS, I was involved in RND – what we call "mouse mileage": working with the bleeding edge tech to make everything that much more productive. So I was researching CnC – computer controlled cutting machines – and came across a whole set of 3D printers. This was obviously going to be huge."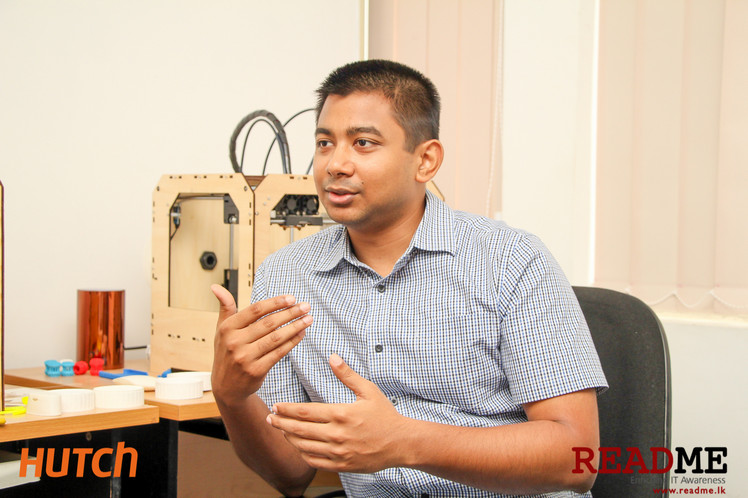 "So I thought: hey, I'm at home for a couple of months. Why not bring one down?"
At the time, the University of Moratuwa had already dabbled in 3D printing – but the operation was quite costly. Nissanga opted for a more cost-effective alternative. The first machine came from China, and to his surprise, he realized that 3D printing was actually more affordable than he'd expected.
Pretty soon, he'd started taking orders from friends – and before long, he had a couple of customized Makerbot printers and a partnership with Takas.lk on his hands.
The orders started pouring in. His first commercial order was a custom paperweight with a company logo – the owner wanted to give it to his clients, and couldn't get it done anywhere. Soon there was quite a bit of buzz around this new startup operating out of Gregory's Road, and Nissanga was making waves as he demonstrated 3D printing at various events. That's how he met Dyan, the amiable, bespectacled geek sitting beside him.
They immediately became friends – and pretty soon, partners as well. Dyan, a talented 3D designer and an old-school Pokemon fan, is the "eager beaver" of 3D Concept Studio, forever experimenting with new ways of doing things. The results of his latest experiments – low-poly models of Bulbasaur, Squirtle, Charmander; a dangling robot figure with movable limbs – lie scattered around the studio.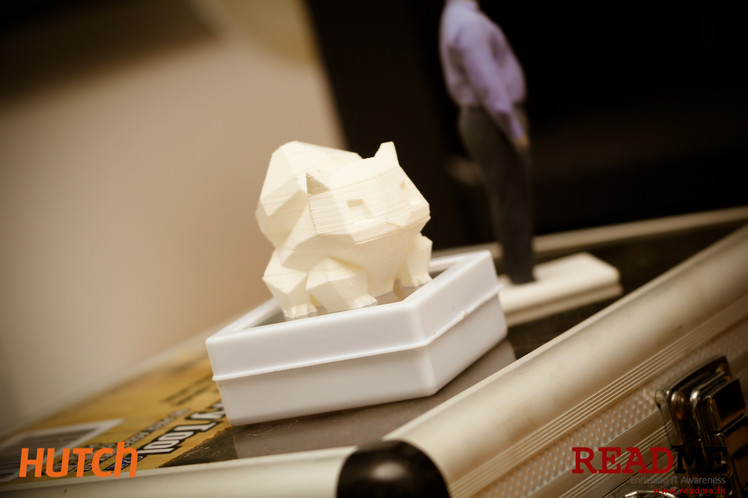 But back to the story. People started to notice. Especially in October 2013, when they launched 3D printing workshops and a 3D print design competition in partnership with

Takas

.
Perhaps it was the 25,000 rupee prize for the competition, or perhaps it was the quadcopter workshop that struck a chord; either way, the buzz intensified. DailyFT ran an article about 3D printing. By that time, their Facebook page was racking up the orders, and they were already doing everything from toys to prosthetics.
"We realized we were bringing in structure," says Nissanga. "We started from giving prices per item and had gone to giving specific prices – per centimeter cubed.  We had the costs and figures worked out."
"I got an order to print a dog tag from Thingiverse. I delivered the order – and almost the next day, they ran an article on us. That went huge. The mileage we got from that article was fantastic. When the orders started pouring in after Yamu,I started categorizing sales into categories – personalized, engineering, architecture.  We got a lot of personalized item orders –  things like custom pens – where people would see a product and want it changed slightly to suit them better. But the biggest orders were in engineering and architecture projects. A lot of people had realized the value of prototyping new building designs.
So we decided that in the next twelve months we would focus on those fields. The requirements called for moving parts and multi-part printing. We realized that for architecture, you not just have to print the model, but you have to model it in such a way that it's printable – hollowed interiors, cross-sections. We started investing more in printing."
How to make a lightsaber
Today, 3D Concept Studio caters to a deceptively large market, producing everything from mock lightsabers to robotic hands for student projects.
"It's very interesting how the orders come in," explains Nissanga, when I ask him how they interact with clients. "Facebook, SMS, calls, email, random people calling in – and then it can come in as an image, 3DS file, even a description of what they want to do. It's a creative process, right? People aren't always sure is what they want to do. So we're very patient. The first thing is understanding what the customer wants to achieve."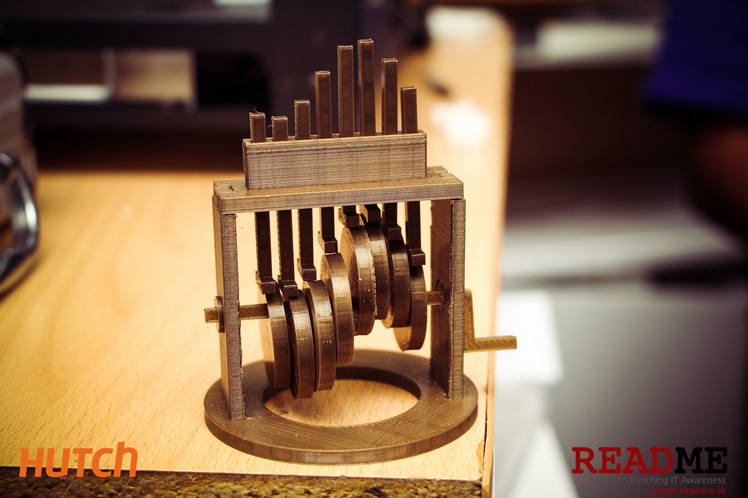 The next step is getting the design into a usable format. 3D printing has strict requirements when it comes to models. Firstly, all geometric impossibilities have to be ironed out – you cannot have an interior that's larger than the exterior. Solid shapes – like walls – sometimes have to be hollowed out to save time and plastic. Sometimes they get a file they can use with corrections: sometimes they get models so bad that they have to rebuild from scratch.  This is Dyan's forte, and it's a necessary part of giving a quotation. Once this process done, Nissanga and Dyan can estimate the costs (in time and plastic).
But just as often, they don't get a usable format. In that case, they bill customers by the hour.
Where things get interesting is the costs.  "There's a lot of ways we can cater to what someone wants," says Dyan. "For example, we have clients come in and say 'This is my budget'. In that case – say you have 5000 bucks – you wouldn't expect to get a model that'll cost you 10,000 bucks. But that's where things get flexible. We can drop the print resolution, print rougher and faster, then smoothen it up to expectations by hand – that's the post process."
In fact, this post process is a large part of what enables them to work at the rates they give. Want a cost-effective gloss finish? You can either print it at high resolution in expensive material – or print cheap and let them apply the finish after it comes out of the printer. Can't afford the high resolution needed for a smooth sphere? That's easily remedied.
The process is akin to sculpture: the sheer number of things you can do with the model after the shape's set is overwhelming. The best part is that they don't charge for the post-process work.
"The cool thing is, we're still the cheapest. Even for color. A lot of people charge per color, but we offer the same price per item – in different colors. We offer ABS plastic, PLA, nylon, soluble ABS – that's an amazingly useful alternative to wax models. We also have flex PLA – so if you want to produce a rubber slipper, we can do that."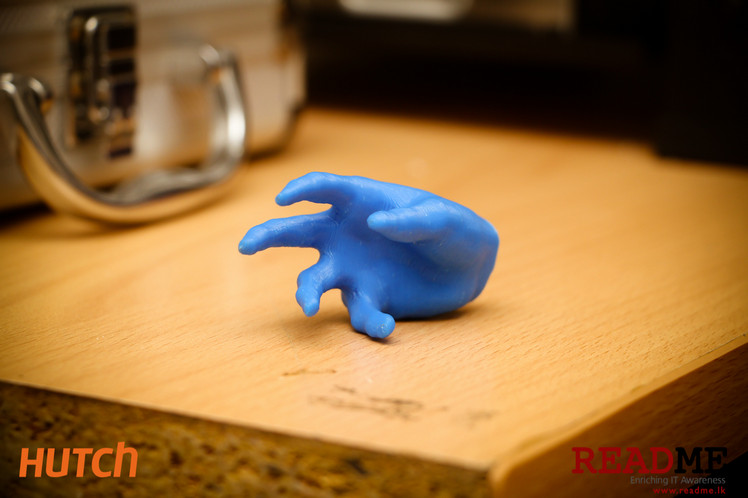 The actual printing is a very time-consuming process. Print jobs can take anywhere between 25 minutes and 25 hours: they often run the machines overnight.
Both are paranoid about the machines, so it's not uncommon to see Nissanga or Dyan walking in at 11 in the night to check up on things. The security guards, used to people who generally rush out at 5 o' clock and return only the next morning, make exceptions for their eccentricity.  
In fact, so attached are they to the machines that they've named each one. Each model is different: some models are best suited to one type of print, the other model work better with certain materials and so on. Each of them has their own favorites – Dyan loves the shiny new tech: Nissanga loves his old reliable workhorses – the older hackable machines. And when they look at a print, they know where it should go and which printer would do it better.
Working with the printers isn't an easy task. Unlike traditional printing, there are a whole lot of variables in them – material, print speed and resolution are just a few of them. It's also a chore to keep the machines operating efficiently. Maintaining a machine at optimum takes a great deal at work – the nozzles move and print microns at a time, so each movement has to be as precise as possible – and for that, each machine has to be taken apart and serviced once a week. The habitually tidy Nissanga handles this part of the workload, while Dyan has mastered messing around with the setting to make the machines run at optimal levels.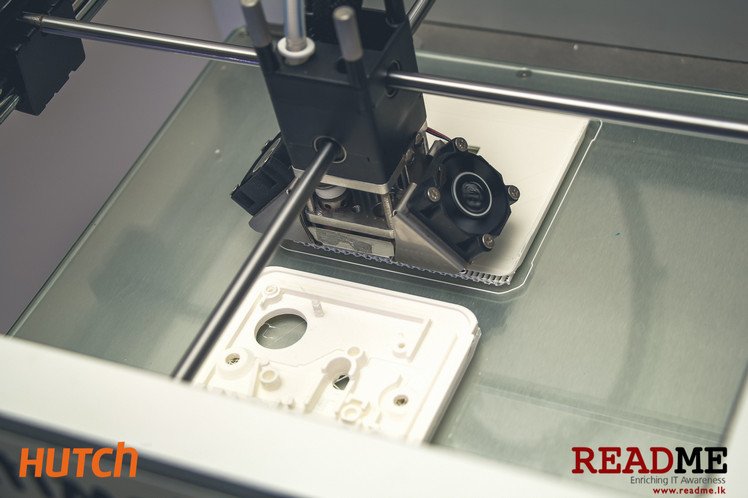 And so far, everything works. It's held together by careful maintenance and equally careful work.  "We are as good as our last sale," says Nissanga. "So for each sale we put 110% – this is not some stuff you get from a motivational speaker: we've actually worked hard."
From bigger bottles to better bottles
However, attracting clientele is not their biggest challenge. What Nissanga and Dyan really have to deal with is changing mindsets. "People are still in what I call "the screen printing" phase," explains Nissanga. "They've seen something and they want it personalized. People were ordering bottle and saying "can you print me a grip onto this?" Then they were doing taller bottles or shorter bottles.
"It takes people a while to think out of the box. From that taller bottle clients go to using 3D printing to generate prototypes. They realize that 3D printing isn't just a one-trick horse. They say things like 'I want a bottle that's larger and more sophisticated, but I want it to hold only this many millimeters.'"
"This is the sweet zone – this is product development using 3D printing. This is what we want people to make use of. You're not just limited to customized pens or phone cases. You can create anything." 
And often, they find themselves doing the impossible – or at least, what most people, used to traditional manufacturing processes, regard as impossible. One of these sits on Dyan's desk – a yellow spiral column trapping a loose sphere behind narrow bars: it's one unit – no breaks, no seams, no way of getting the ball in or out. Both the ball and the column encasing it were both printed together in one go. He regards it as a technical triumph.
Needless to say, they both have stuff that they want to create, but the job not only keeps them busy – it also keeps them interested. Even without the huge array of projects that come in, they both share a deep fascination for this process – a process of bringing dreams into the real world, like a sculpture in reverse.  "When something comes out of the printer – it's hypnotic," says Dyan.  "It's something you've seen in a sketch translating itself into real life."
Sometimes they even come up with wacky projects of their own. For example, Dyan once had to take a photo of a printed prototype for a customer. As someone who suffers from unsteady hands, he had difficulty holding his smartphone straight enough to take a clean shot. He promptly 3D printed a stand for his phone and let that take care of the job.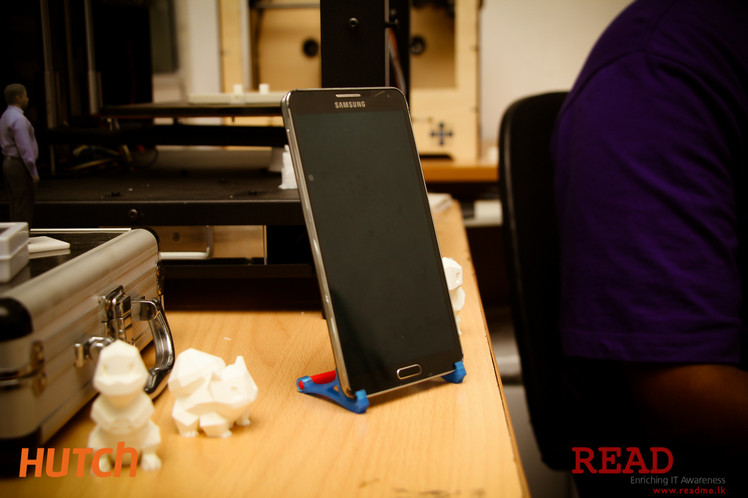 They don't plan to stop here, either. Nissanga has plans – plans involving, but not limited to toys and practical prosthetics. "I have a nine year old customer building an Iron Man helmet," says Nissanga happily. "And we're bringing in liquid printers soon – that's a first for this whole region. We're already ahead of Indian 3D print firms and on par with most European countries. We're only going to get better."
The future, for 3D Concept Studio, is like one of their prints: limitless.