Snapchat's turned out to be quite popular, especially for sexting. It's simple – snap a picture, share it, and within 1 to 10 seconds, the message deletes itself. It's great for, say, sharing embarrassing photos of yourself – in fact, Snapchat counts some 700 million photos and videos being sent each day.
Enter Digify, a Singapore startup that offers a similar experience – with documents. We're talking images, PDFs and Office files. Not only does this enable you to send Mission Impossible-ish documents to your colleagues and employees, you can also use it for actual secret stuff that you don't want being spread. Like, uh, movie scripts (Quintin Tarantino, we're looking at you here).
However, Digify's developers don't really see it as being a Snapchat-like system. Digify, unlike Snapchat, plays the security card very well. It relies on a server that stores the file – the receiver accesses the file on the server, not a downloaded file on their device. It's only viewable using the app and unlike Snapchat's photos, cannot be easily recovered by drive scanning. Files are encrypted for good measure and Digify even shows you how many times a file has been viewed – and for how long – and by whom. The app also doesn't like you taking screenshots – it'll immediately revoke access if you try to take a screenshot on your phone; on the desktop (yes, there's a desktop version), it flat-out disables screen capture while the document is being viewed.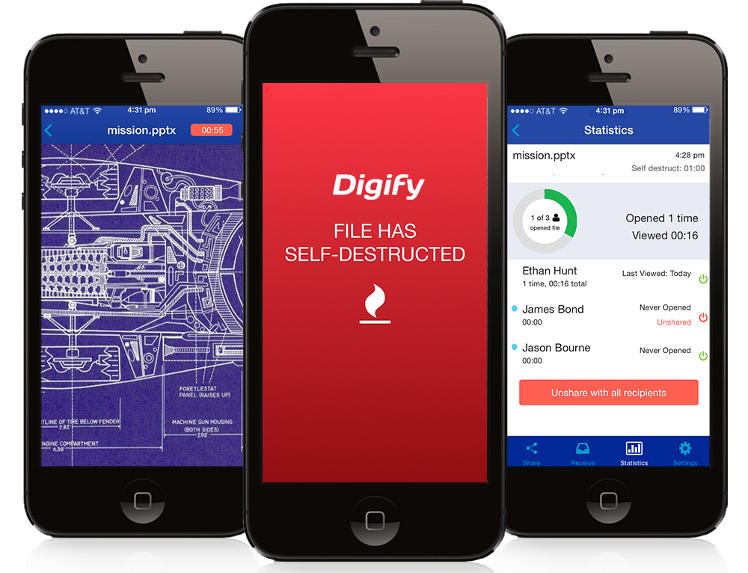 Nothing's foolproof – for example, someone with a decent memory can simply memorize and replicate the whole thing. You could take a photo of the screen. Still, it's a very interesting product – your documents may have just gotten a little bit safer. And did we mention that it has Dropbox integration? If you want to try it out, you can get it on the Play Store here.