[bsa_pro_ad_space id=1]
Charging your smartphone can become a hassle sometimes. Especially if you're at a lecture or class and your phone dies. Well now a few budding entrepreneurs from South Korea are aiming to change that. Yolk, a solar design startup in Seoul are working on a portable solar charger. So what's the deal about that you ask? Well for one, their intention is to make it as thin, powerful, and visually appealing as possible.
Called the Solar Paper, the device is able to fit comfortably between the pages of ye average notebook. Its not all about looks though. The company claims that the device can output power equivalent to a wall charger on a sunny day. Now that's impressive for something so thin and light. Speaking of which, did we also mention that the Solar Paper is 85 percent smaller and 75 percent lighter than its closest competitor? It also weighs 4 ounces compared to its one pound rival.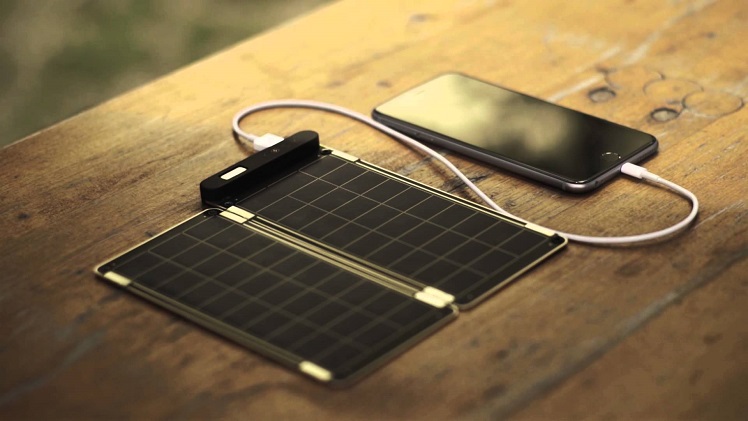 Yolk's (named after the yellow of eggs, which is cooked sunny side up) UX for the Solar Paper is deceptively simple. One simply connects up to four panels together by their magnets, then hook up the device to the main panel with a USB cable, and track the power current level on the main panel's small LCD screen (which boasts 95 percent accuracy).
The device can charge anything from GoPros to smartphones and even iPads, basically anything with a USB cable external batteries, and walkie-talkies to smartphones and even iPads. Whereas the industry standard for power efficiency for solar power is arouns 11-15%, the Solar Paper boasts an efficiency rating of approximately 20.8 to 22.8% (efficiency is measured by exactly how much sunlight is absorbed by the panels and is then converted to usable power.
The entire device consists of sets of two 5W, three 7.5W, and four 10W panels with the two-panel set folding up to 9 cm x 19 cm x 1.1 cm. According to Yolk two-panel, 5-watt charger would charge an iPhone 6 in approximately 2.5 hours on a sunny day, with additional panels resulting in a quicker charge.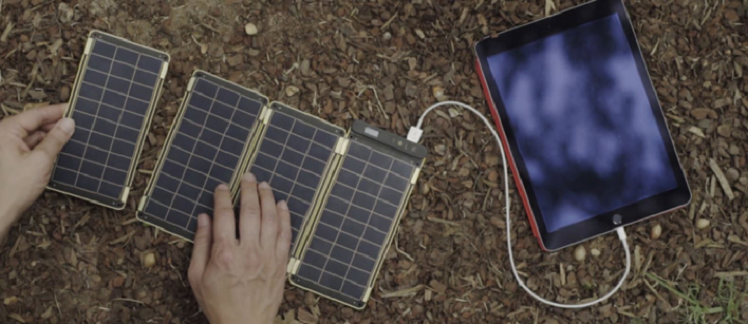 It also has several magnets affixed to is so that you can let the panels stick to each other as well as to metallic objects such as poles and tables, in order to reduce wear and tear if one were to repeatedly fold and unfold the panels.
Using a feature called "auto-comparison technology", the Solar Paper is able to monitors the power levels and resume charging if the current level drops (in case of a cloudy day). This alleviates the need for you to unplug and replug the power cable if the device stops charging. On the other hand, if it's really sunny outside, the heat sensor in the panel will cut or drop the incoming current in order to protect the PCB.
That being said, the material isn't indestructible. It is graded IP64 water-resistant, meaning it's dust-proof and splash-proof and comes backed by a limited six-month manufacturing warranty. Designed to last five years under good care, it supposedly should do better than its competitors that tend to lose their charge after around 3 months.
It is also not recommended to use the device in rain or winter conditions, and neither does it absorb artificial light (so you can forget the idea of keeping a spotlight focused on it if there's no sunlight). It's also not waterproof so don't get any ideas about that either. Contact with direct sunlight is also not recommended for the device plugged into the Solar Paper.
Solar Paper is making waves on Kickstarter with its US$50,000 goal reached in just 32 hours since its launch on July 8. Kickstarter pledges have already kicked off (pun intended) from US$69 for the 5W pair, which is expected to retail for around US$120. The total raised for now lies somewhere in the region of US$528,000.
Thoughts? Comments? Feedback? We would love to hear from you.