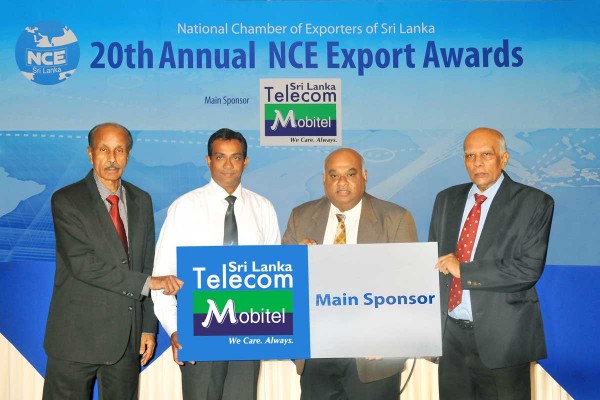 Mr. Chandika Vitharana, Senior General Manager – Sales & Distribution, Mobitel handing over the sponsorship cheque to Dr. Jagath Peiris, President, NCE. Also pictured here are Mr. Patrick Amarasinghe, President Emeritus, NCE and Mr. Rasa Weerasingham, Executive Director, NCE.
Sri Lanka Telecom Mobitel is proud to announce that it is the Main Sponsor of the 20th Annual National Chamber of Export Awards to be held on the 21st of September this year. This is the 7th consecutive year that the National Mobile Service Provider will be supporting this endeavour of the NCE as its main sponsor, as they honor the 'best of the best' within the export sector. Positioned as a telecom brand that cares always, Mobitel expressed the brand's commitment to nurture and promote local exporters who continuously contribute to the development of the nation's economy.
Mobitel also recognized the Chamber's efforts to widen the reach of this year's awards to regional SMEs, commenting that it was this outlook and willingness to recognize true champions that has helped the NCE grow from strength to strength over the years.
Speaking at the event, Mr. Chandika Vitharana, Mobitel's Senior General Manager – Sales and Distribution stated, "Our vision is 'to lead Sri Lanka towards an info-com and knowledge-rich society through our service offerings', and as technology evolves, we are proud to say that Mobitel has always been at the forefront of Sri Lanka's mobile services industry. As a result, we are consistently equipped with the latest technology, and thus, we are able to offer these unrivalled facilities to export enterprises, service providers and exporters across the board, spanning any industry via our suite of business enterprise solutions, offering them access to a number of facilities and services. This drives them towards a knowledge-enhanced society which is ready to face the challenges of a dynamic industry. We strongly believe that adapting technologies that reflect excellent solutions and tools can support the economy's progress. This stands true especially for a Chamber such as the NCE which spans over 450 export-oriented companies covering a wide sector of products and services, all of which could benefit immensely from adapting a host of business solutions that best suits each company."
In Sri Lanka's telecommunications sector, Mobitel leads the way in delivering unmatchable business solutions to both the public and private sectors. Being the first to introduce ground breaking 3.5G technologies to the country, Mobitel has opened new vistas of opportunity to the entire population. Through its ever evolving suite of Enterprise Solutions, Mobitel truly lives up to its promise of 'We Care. Always.' by providing a host of solutions ranging from customer communication to problem solving, increasing efficiency levels – ensuring that every touch point is an engaging and optimal experience.