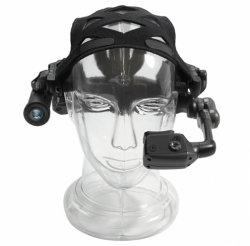 It looks like something out of Splinter Cell or Ghost Recon, but this isn't just a HUD in a game: it's a real industry-class computer that you can wear and control with just voice and head gestures.  The Motorola HC1, as this gadget is called, is designed for military and industrial situations where you absolutely need to keep your hands free. 
Outside of the Call of Duty scenarios that come to mind, the HC1 is a very real, very rugged device.  It sports an 800 x 600 full color micro display right in front of the eye, which makes it look like it's a 15-inch screen in your vision. It runs Windows CE Pro on a TI OMAP 3 dual-core 800 MHz CPU, complete with 512 MB of ram, expandable MicroSD storage, Bluetooth, WiFi (802.11b/g ) and USB ports for connectivity. There are also two noise-cancelling microphones on that display panel to handle audio input, and the unit can be entirely controlled using voice and head gestures alone. That's quite a chunk of power for a headset.
While you (probably) can't play Angry Birds on this thing it's ideal for "mission-critical" situation – i.e.: serious enterprise or military purposes where the last thing on your mind is Angry Birds. Explorers. Construction workers. Technicians in the field. Soldiers. The almost-reliclike Windows CE is ideal for mission-critical situations because it's fast, simple and doesn't hog up resources like the fancier mobile OSes do. Given Motorola's legendary toughness, you can expect the HC1 to be almost indestructible.
The HC1 is apparently built on  the concepts demonstrated by the Kopin Golden-i, another Windows CE headset manufactured by Motorola using technology from Kopin and software written by Ikanos. The specifications for both look almost the same, and both devices sport gargantuan prices. The Kopin Golden-i is $2500, while the Motorola HC1 is priced around $4000 to $5000