Open data has always been a hugely contended issue-especially with governments. The idea is simple: that certain datasets should be freely available for every citizen to use as they wish, free of copyrights, patents and means of legal control.  Needless to say, the open data movement was initially met with resistance from a great many governments.
However, times are changing. Great strides have been made for open data – a good example being the United Kingdom's data.gov.uk project, which as of the time of writing hosts data spanning from maps to government employee salaries to crime statistics. 
Great strides have also been made by citizens with open data. Perhaps the most dramatic of these is Indonesia's crowd-sourced Kawal Pemilu (Guard the Vote) project, where tech-savvy watchdog citizens used election data to prevent election rigging in their Presidential Election in July. It's a very impressive – and also startling – example of the power of data.
Sri Lanka, too, has its own Open Data Initiative. Using these 8 Principles of Open Government Data, the government e-portal www.gov.lk now hosts 89 datasets from the Board of Investment, Central Bank of Sri Lanka, Department of Motor Traffic, ICTA, Import and Export Department, the SLBFE (we presume sharing data comes easy to them),  and the Sri Lankan Police. They're also searchable by category – from Agriculture to Crime to Population data.
In most cases, the latest datasets seem to be from two years ago. Upon downloading a dataset, you'll be able to grab a Microsoft Excel with the data, like this: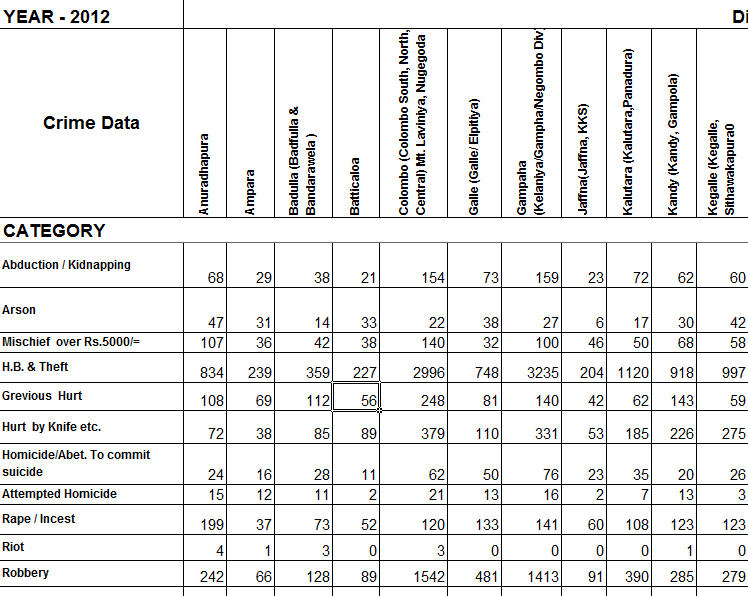 It's a small step for e-governance and one giant leap for Sri Lanka. As internet and technology penetration spreads, open government data is rapidly becoming a keystone of accountable governance. The data.gov project by the US government lists 163 international regions with open data projects – even Russia and China have government datasets available to the public.
Perhaps the most prominent local example is Manthri.lk, a Sri Lankan political watchdog site that we've spoken about before. Manthri.lk uses data analytics rather than rhetoric to show insights minsters and showcase political trends in the country. Some of what the data reveals would make many voters rethink their votes.
While the gov.lk data is largely outdated, it's a fledgling project headed in the right direction. It's also an interesting insight into how certain government departments operate. – note how "Grevious Hurt" and "Hurt by Knife etc" are two different categories according to the police.
Like the initiative, the general public of Sri Lanka has to progress to a point where this data actually becomes useful to the population at large – remember, we're in a country where most people don't have access to the Internet and where the majority has yet to evolve beyond using Facebook. There's no telling how this project will impact Sri Lanka in the next five years.
Note: the Western Province Department of Motor Traffic (other provinces have not been added) seems to be a flawed query at this stage, since it merely returns every dataset published on the portal.